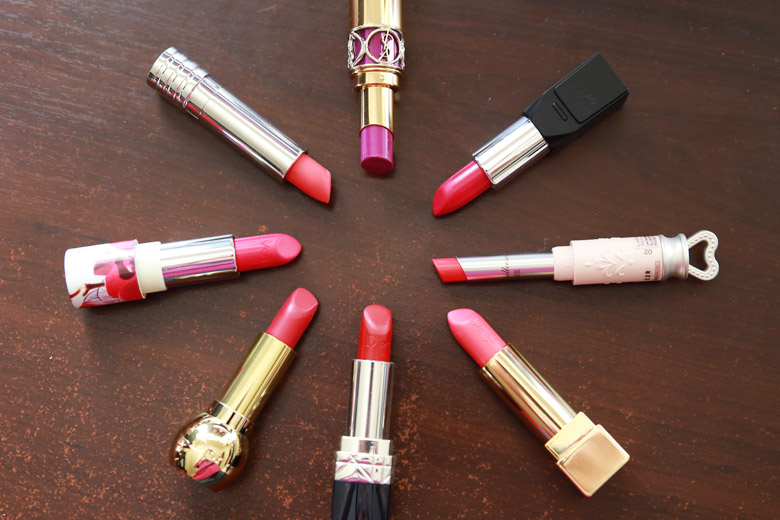 I didn't used to like bright lippies. They scared me and to be honest, I thought they'd make me look like an old auntie. So I steered clear of bright lipsticks and lipglosses for many years.
Not long after I came to Australia, I remember browsing a local Priceline pharmacy where there was a sale going on at Revlon. For some unknown reason, my eyes were drawn to a particular ColorBurst lipstick by Revlon in True Red. It was a classic blue-toned red and hot diggity, it was bright. I knew I most probably wouldn't wear it yet I bought it. I kept it in my lipstick drawer for months before I even took it out again.
One day, I finally decided to try it out. I applied it, looked in the mirror in horror at how bright the lipstick was but thought "I'm going to wear it, dammit. I'm going to try my hardest to rock this red lipstick". When I got to the train station, I thought everyone was staring at my red lips and how daring I was to wear such a bright lip colour (I was paranoid, of course; no one batted an eyelid. Commuters weren't even looking at me). As the minutes went on to an hour, 2 hours and up to 5 hours later, I felt my confidence go up several notches. My day may not have started off very well but it sure ended on a high note. Even though nothing particularly special happened that day, I felt different. I felt stylish and confident. I didn't get a rat's behind what others thought of what I wore or how I looked. I rocked that bright lipstick that day and it felt pretty damn good.
Bless you, Revlon True Red. Bless you.
Don't underestimate the power of a bright lip. It can do wonders. 🙂
Bright lips make you look like you've put in a lot of effort in your makeup
If you don't have any eye makeup on other than mascara, wearing a bright lippie alone can make you appear as though you've put in a lot of work in your makeup when in fact, you really haven't. I'm quite hopeless in doing that beautiful, perfect smokey eye look that shows a clear gradient in colour on the eyelids and most of the time, it would just be one shade of eyeshadow and an eyeliner for eye makeup. When I put my glasses on, it looks as though I might as well NOT have bothered with eye makeup because you most likely won't even see that eye makeup.
However, once I apply a bright lippie, my makeup effort appears elevated by 100%. It's my version of a quick and easy makeup cheat that guarantees positive results every single time. 🙂
Bright lips give your overall appearance a lift
Feeling a bit drab? Looking a tad dull? Need to be somewhere for a special occasion but don't have the time to re-do your makeup? My tip is to 1) brush your hair (that wind-tousled beachy, crunchy, messy hair look belongs at the beach. In my opinion anyway. Brush that hair, for goodness' sake!) and 2) put on a bright lippie. Don't worry if you don't have any eye makeup tools to sort your eye makep out. Pop on that bright lippie, straighten out what you're wearing (tuck what needs to be tucked in, etc) and see the difference.
Bright lips exude confidence
This is the most important point of having a bright lippie on. A bright lippie isn't something most women wear on a daily basis (if you do, good on you!). I definitely don't wear them every day. However, when I attend an event or when I need to meet a lot of people yet I'm not feeling very confident about myself, I put on a bright lippie and suddenly, it appears as though I'm a confident woman out to conquer the world. Sounds superficial, I know, but it works wonders. Everyday Tine may be nervous about a meeting but once she puts on a bright lipstick, Everyday Tine goes in and Superwoman Tine comes out. Superwoman Tine kicks ass. Call her an alter ego if you will but I love that confident, bright-lipped Superwoman Tine. 😛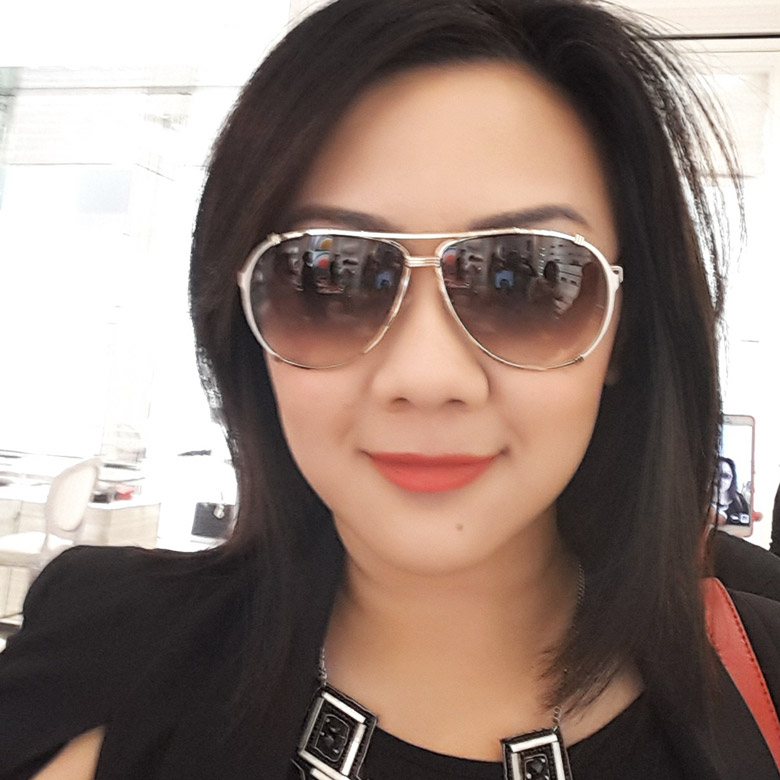 If you're afraid to put on a bright red lipstick, start small with a red stain instead. If you're use to nude, dusky rose, light pink, etc colours, try something different and go a notch brighter. In the selfie, I was wearing Dior's new Rouge Brillant lipgloss in 844 Trafalgar. It's a strong orangey-red lipgloss but can be blotted out to a stain. Don't be afraid of bright lipsticks and lipglosses because you can always blot them out for a more subtle effect if you're not keen on the full-on bright lip.
Having said that, bright lippies can also cause those godawful lipstick-on-teeth moments so make sure you have a mirror in your purse and check your teeth every now and then for any lipstick residue on your teeth. To prevent lipstick from getting to your teeth, stick your finger in your mouth and then pull it out. Your pursed lips over the finger will leave all that extra lipstick on the finger.
It doesn't even have to be a classic blue-toned red. It can be a bright tangerine, eye-popping fuchsia or even a deep burgundy. It just has to stand out from your usual subtle colours. I love Bourjois' Rouge Edition Velvet in Ole Flamingo (fuchsia), YSL Rouge Volupte Shine in No. 19 (purply fuchsia), Dior's Rouge Dior in 999 (classic red) and many more. All you'll need is mascara and a properly-applied bright lipstick. See the transformation!
Step out of that comfort zone and give bright lipsticks/lipglosses a go. Bring out that confident Superwoman in you. 🙂
Homework for the weekend (if you're not keen on wearing it during the week): wear a bright lipstick!
Do you enjoy wearing bright lippies? Which one's your "kick-ass" lipstick?