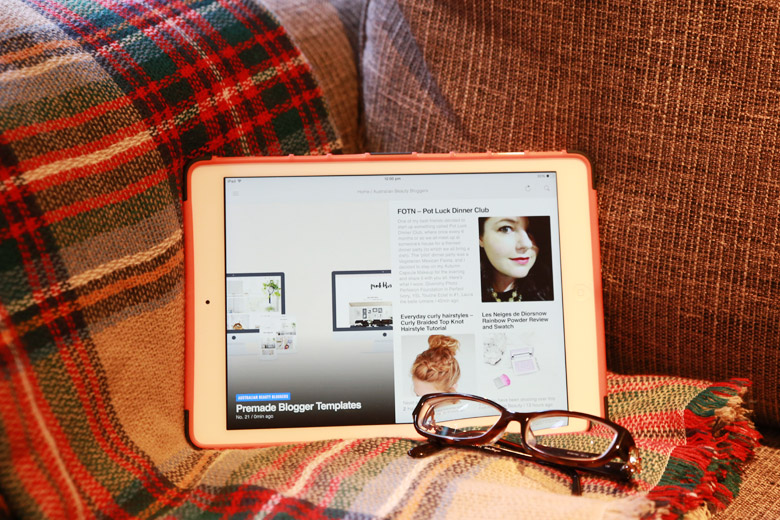 With the saturation of blogs of all kinds of niches on the blogosphere, I must admit that it's getting exceedingly difficult to find the ones that really give me the wow factor. Of course, there are the ones that I consistently enjoy that have been around for years. I'm talking about the ones that I stumble across that don't just make me want to linger and lurk past the first 5 pages; they also make me want to subscribe to their newsletter and give them my money to buy their products.
As my blogging hero Pat Flynn would say, these are the ones that make me want to be a raving fan.
There are a few blogs that I've been really enjoying for the past year or so and, quite frankly, they're the blogs I check out first each time I check my blog reads on Feedly.
Rebecca is based in the UK and I'm head over heels in love with her blog. Her photos are very consistent in a certain theme and they're so pretty, it hurts my eyes. In a good way. She's also very consistent in her blogging. She doesn't do individual product reviews but creates stories around a few at a time. She also provides a lot of tips on being self-employed and working from home.
I've enjoyed Carly's blog ever since I stumbled upon it a few years ago but she's been smashing it big time lately. Very few blogs actually make me think, laugh and cry at the same time, yet Carly manages to do that. Her "Do Silly Things for a Bus" crowd funding campaign was a success (it was to raise funds for a new school bus at a special needs school that she works part time at) and I'm so happy to have been able to contribute a little to her cause.
Jessica has been blogging for a while now and I've followed her on Twitter for a number of years. Her addition of non-beauty topics like personal finance budgeting chats, planning videos and so on made her blog even better than before. The best part of her blog that I look forward to every week is her "Thoughts of the Week". It's hilarious. I've been meaning to do something similar for a while now but realised, I don't have that many thoughts to share. 😛
I first heard about her when Paris B mentioned her several times on Twitter. I checked out her blog and realised that she's actually been blogging for quite some time. Ms Hirons is a very popular facialist in the UK and by George, she's so damn funny to read and watch on her YouTube channel. She doesn't mince her words if a product is bad and every time she says "Bob's your uncle!", I wet my pants a little laughing. She knows her beauty shizz and I've purchased a good number of skincare products based on her recommendations.
Holly's blog is somewhat similar to Rebecca's (From Roses) with a similar style of flat lay photography. However, she adds her own personality and flair into her blog posts and often post articles on blogging and photography. I go to her blog for doses of prettiness.
I stumbled upon her blog a few months ago and instantly added her to my Feedly. Dee absolutely kills it with her stunning product photography. While she uses a lot of white space, every picture is crystal clear and is a joy to consume. I must say that she has one of the best beauty photos I've ever seen on the blogosphere and I've seen a lot! I clearly have lots to learn.
Ling is the beauty blogging brains behind The Best Beauty Blog (she still cringes at the choice of this name. I thought it was genius) and she launched a lifestyle blog called Ling Out Loud late last year. She's often known as the TMI queen, as in she delivers too much information of herself and her family on the blog and social media. Ling is funny. She's funny! Do you know how hard it is to find a blog that can make you literally laugh out loud when you read it? Humour is easier to convey via video but Ling does it so well with her words.
There are more that I frequent but I'll just stick to these few today (the rest I've probably mentioned to death now on BA). If you don't know any of these blogs or haven't checked them out yet, do give them a go. Lots of great stories, new things to learn and beautiful, beautiful pictures. *insert heart-eyed emojis*
What blogs are you're absolutely loving lately? Share them in the comments below so that we can check them out too! They could be beauty, fashion, food, lifestyle, anything!
Bloggie Wednesdays
is a series of articles just on blogging. They contain tips, how-tos, discussions about anything and everything you need to know about blogging and how we can be better bloggers. If you have any suggestions, tips and tricks about blogging you would like to share with us, or if you have any questions you would like me to address, please let us know in the comments.