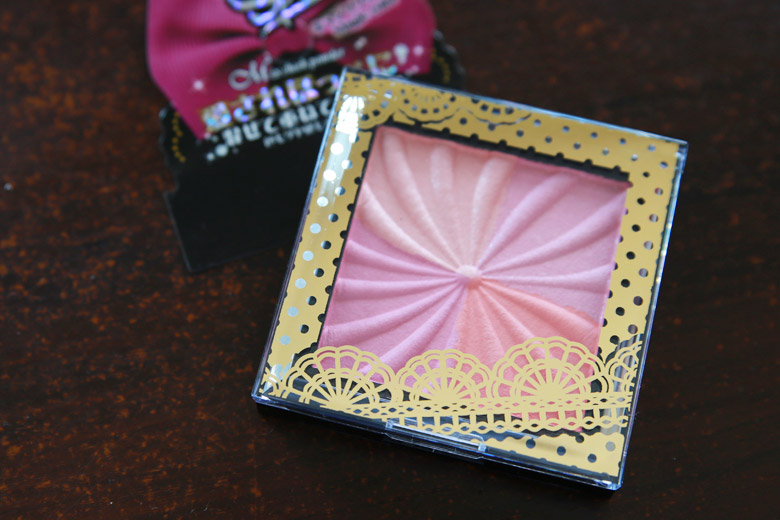 Okay I must admit that while I adore Daiso and all of its cheap $2.80 goodness, I'm a bit of a snob when it comes to their cosmetics range. I don't know what's in the skincare and makeup because 1) I can't read Japanese and 2) $2.80 for good skincare and makeup does seem a tad far-fetched to me. So while I've spend a lot of money on Daiso products (you'd think that $2.80 per item is pretty inexpensive, right? So you'll keep throwing stuff into your shopping basket and realised at the checkout counter that you've spent at least $28 on those tiny items), I usually steer clear of the cosmetics section.
That was, until about a week ago, I stumbled upon a shelf that contained their latest makeup range. At least, I think they're the latest because it was on a special shelf. Oh my, the blushes sure look pretty! The eyeshadows looked like something I'd find from Japanese makeup brands like Lavshuca, KATE, Anna Sui, Cezanne, etc. I figured the eyeshadows must be shimmer central given that most Japanese ones are so I decided to picking a blush up to try instead. I bought the Mix Cheek Powder in Magic Colour (that name gave me a bit of a laugh) and y'know something? It definitely was not a waste of $2.80 at all. 😉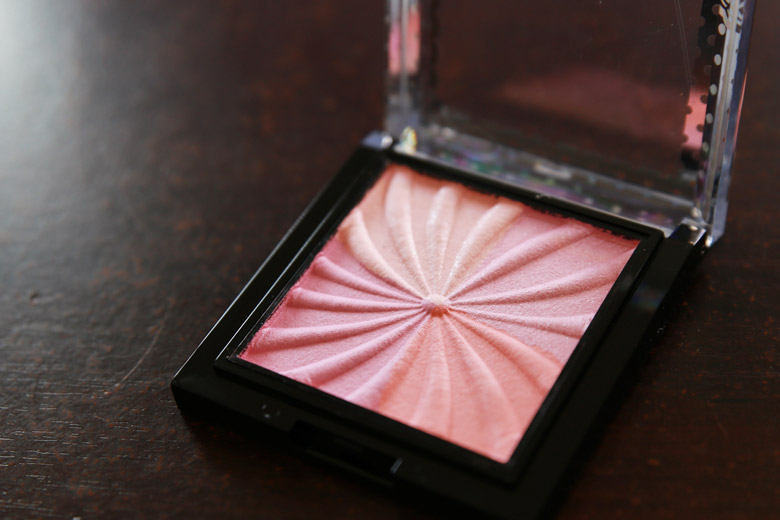 Look at that blush and tell me that doesn't remind you of something you'd see in a Japanese or even a high-end blush. It's gorgeous!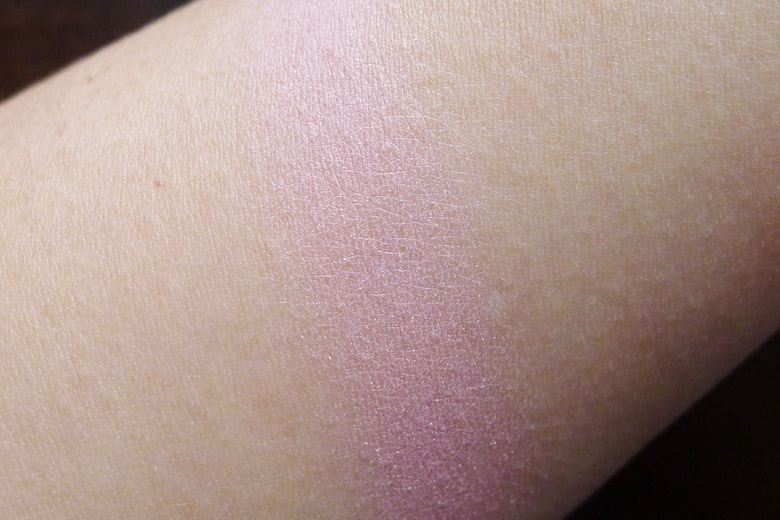 The Magic Colour is a mix of baby pink and light coral. It shows more of the baby pink on the skin than the coral. The top half of the blush is full-on shimmer and the bottom half of the blush is fully matte. I was initially quite worried about the shimmery top-half but when I swirled my blush brush over the entire pan, it didn't pick up that much shimmer as I expected. In fact, there must not be a lot of shimmer in there (hallelujah!) because this looked more like a matte blush to me. The result is a rosy pink sheen on the skin, which is lovely. There isn't any noticeable flecks of glitter on the skin and my cheeks looked glowy, not sparkly.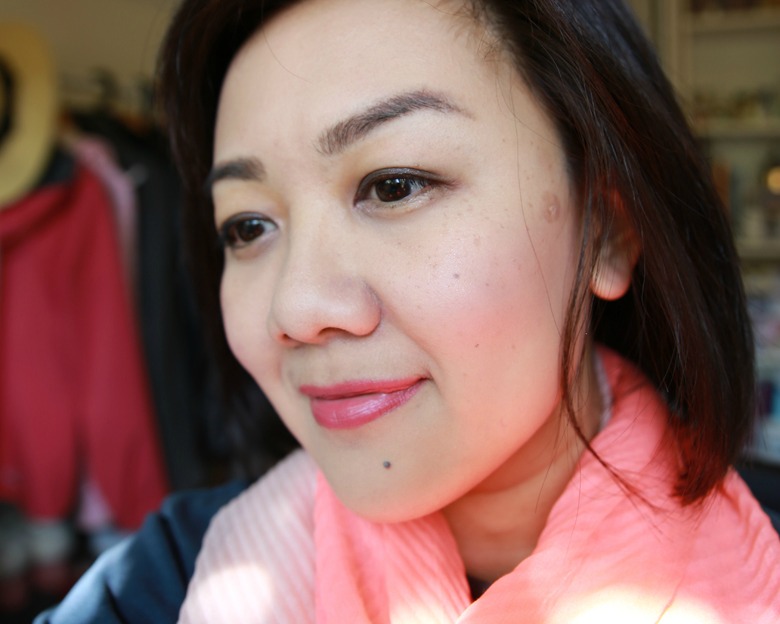 Another good and very surprising thing about this blush is that there's barely any powder fallout from the pan. I've used a lot of blushes that were 10 times the price with heaps of fallout. I expected this to be messy and gritty to the touch but this wasn't the case at all. While I wouldn't say it's buttery soft and smooth, it's certainly not gritty.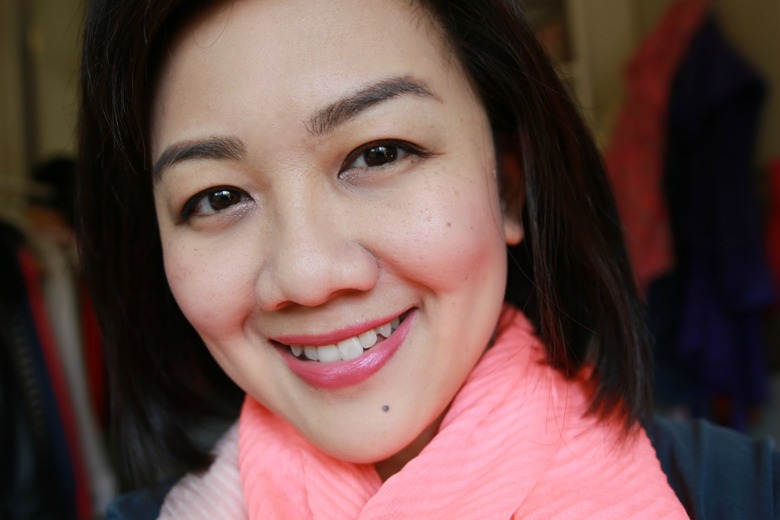 Of course, it had to be said that this blush, like a lot of shimmery Japanese blushes, is quite sheer so I had to pile on a good number of layers before it showed on my skin. But when it's on, the lasting power is surprisingly good. I fully expected the blush to disappear after 8 hours but most of it stayed on my cheeks all day.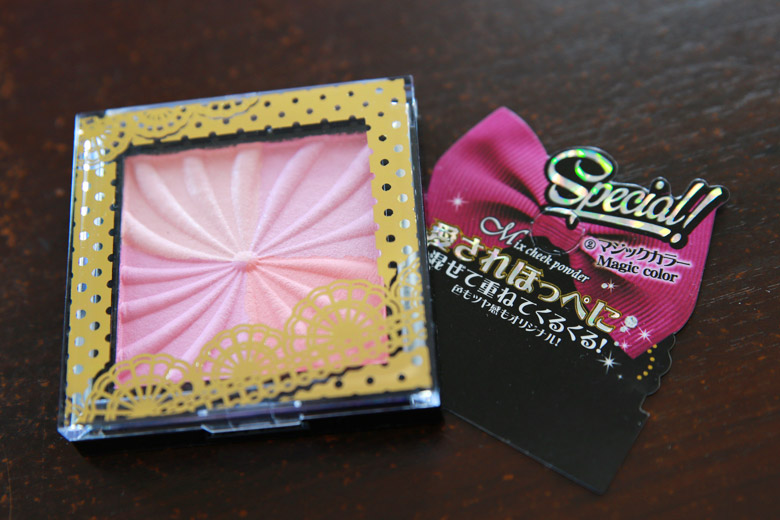 I'm impressed, Daiso. In fact, I half expected this blush to be rubbish (yet I bought it. I'm weird that way) but it surpassed my expectations and more. If you're at Daiso, keep a look out for this blush. It comes in 2 other colours but I think the Magic Colour is the prettiest of the lot. At $2.80, heck, it's even cheaper than a cup of mediocre coffee. 😛
Have you tried any cosmetics from Daiso? Is there any that well-surpassed your expectations?