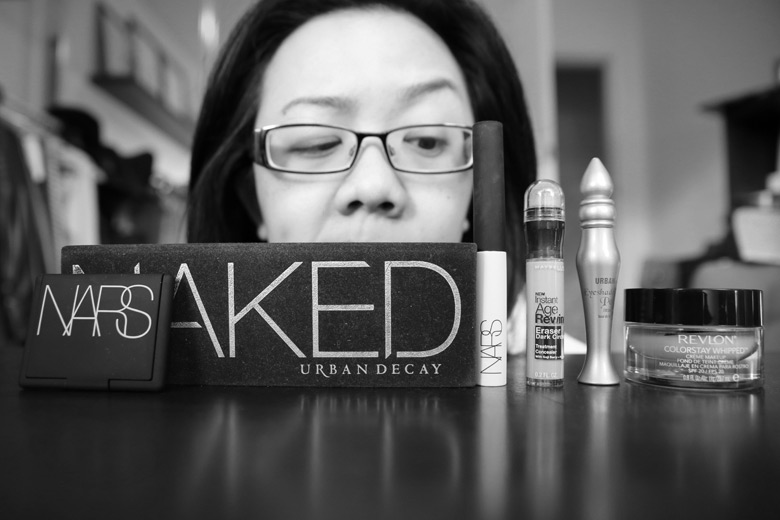 Today's post was inspired by a blog post and video by one of my favourite YouTubers, Lily Pebbles. When I first saw the video, which was about disappointing product packaging, it made me think of all of the good products I've tried that came with less than desirable packaging. And boy, there were many. I'm sure you've heard me whinge about bad packaging one too many times too. 😛
After rummaging my beauty cupboard and drawers, I came up with a few that I still have which have lousy packaging. I actually had more but they were either given away or chucked into the bin because they've expired. I still keep and use these because I love the products. I just cannot stand the packaging.
I've raved about this foundation many times on the blog and it's no wonder why my skin absolutely loves it. It gives me just enough coverage I need, it's incredibly light and leaves a beautiful finish on my skin. I've tried a couple of liquid-to-powder foundations prior to this and I still like this the most. But geez louise, what is up with that terrible packaging? It's a bottle with a wide hole (in comparison to the small bottle) and it just screams to be tipped over. I have spilled this on my dresser one too many times and once, it almost went on my dark carpet. I love this foundation but I really wish L'Oreal had come up with better packaging than this. Maybelline's Dream Wonder Fluid Touch Foundation may not be as good as the Eau de Teint in my opinion, but at least their fake "dropper" makes application far easier.
Urban Decay NAKED eyeshadow palette
This is the first NAKED eyeshadow palette Urban Decay came up with and out of the three popular ones, the NAKED 1 is my favourite because it contains both warm and cool tones in the eyeshadows that can give you a wider variety of looks compared to NAKED 2 and 3. However, I'm not a fan of the packaging at all. Palettes 2 and 3 came in a metal tin but palette 1 came in a velvet encased cardboard. Velvet and eyeshadow pigment do not mix well and it attracts dirt like magnet.
Maybelline Instant Age Rewind Concealer
Confession time: I don't always use concealer. To me, it's an added step to my makeup routine and unless I need to conceal major blemishes, I usually can't be arsed with one. Having said that, I do use one under my eyes from time to time and the one I really like is Maybelline's Instant Age Rewind Concealer. It's very creamy, so easy to blend and doesn't cake up under my eyes. The only thing I don't like about it is that sponge tip applicator that is stuck to the product. I have to rub the sponge with rubbing alcohol each time before using. I've been meaning to rip the sponge off and just use the concealer but haven't gotten around to it yet. After writing this post, off it goes.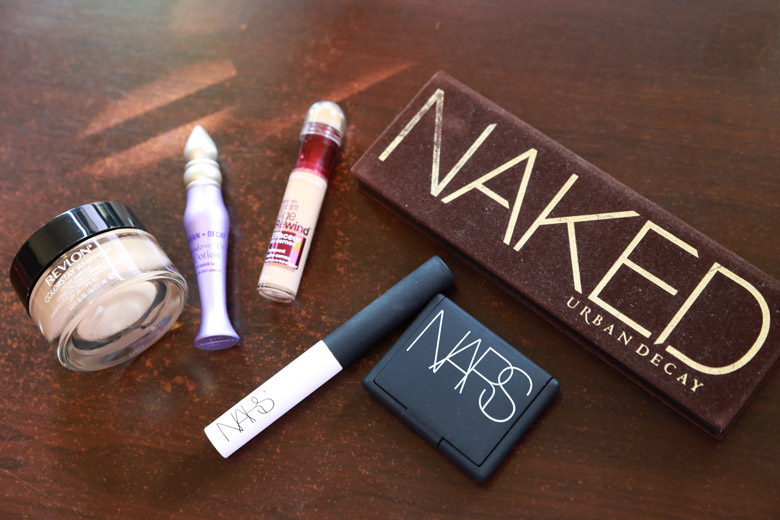 Urban Decay Primer Potion and NARS Pro-Prime eyeshadow base
I put this two together because while they're both very good eyeshadow bases for my oily eyelids, their packaging annoy me for the same reasons: 1) I can't see if I've finished the product and 2) the wands cannot get all of the product in the tubes so I'd have to actually saw the base off and scrape the product into a small jar. Too Faced's Shadow Insurance (also one of my favourite eyeshadow primers) come in an easy-to-use tube. Why couldn't these come in a tube instead? I certainly don't need the doe-foot applicators and there'll be less product wastage.
This is my all-time favourite full-coverage foundation and it looks fab on the skin. Now, I normally wouldn't have minded the glass jar packaging terribly, until I found out that testers for this foundation came in plastic tubes. This makes me wonder, why couldn't this be placed in tubes instead? Sure it may not look nor feel as fancy as the glass jar but it would have been mighty convenient for travelling. It would also be more hygienic than having to dip my finger in. I would be very happy if this came in plastic easy-to-squeeze tubes.
NARS … anything
I love their blushes and their eyeshadows certainly are beautiful. Their lip products cannot be faulted either. But personally, I cannot stand the rubbery packaging they come in. They may look pristine when new but when you've used them often (and so you should!), you'll find that the rubbery surface attracts fingerprints and oil. If you live in a hot and humid climate, the rubbery bits can even melt.
I could go on and on with lousy product packaging but this blog post would turn into a thesis. You'll notice that I've only mentioned disappointing product packaging of makeup. In terms of skincare, I seldom come across products with poor packaging. In general, I don't really like jar packaging because I don't want to have to dip my fingers into lotions and potions if I don't have to, especially when it comes to lip balms. However, if the product is very good, I'm not terribly fussed even if they come in a jar as long as they also come with a spatula. Most of the skincare products I use come in bottle or tube.
Products that come in bottles with pumps are winners in my book; at least, the packaging is. Next would be products that come with a dropper. Now that's good too. Bottles that have vacuum-style pumps are best as that ensures the least amount of product wastage as possible. For products that come in jars, I like the ones where there's a plastic cover over the jar and a tiny hole in the middle, and you press the plastic cover down and one "pump" of cream comes out (e.g. Kate Somerville's Nourish Daily Moisturiser or Dr Lewinns' Reversaderm Antioxidant Regenerative Cream).
Product that don't need to be kept in an opaque tube or bottle should be packaged in translucent one instead. At the very least, it's easier for us to know how much product we actually have left without needing to guess.
Okay, it's time for me to get off the disappointing product packaging soapbox now. Like I said, I really could go on and on. 😛
Now it's your turn. What are the products that you like but packaging you can't stand?
This post contains several affiliate links. By purchasing something via these affiliate links (at no extra cost to you), you're supporting Beautyholics Anonymous, which I highly appreciate. For more information, please read our
disclosure policy
.