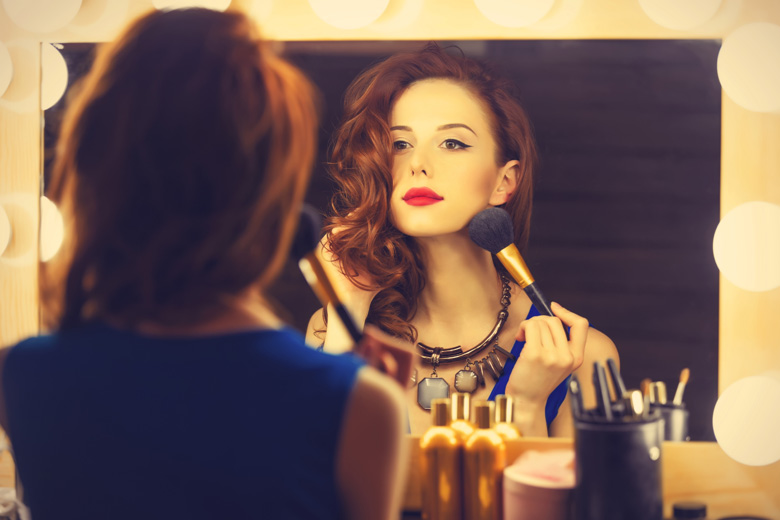 © Masson
I'm currently writing this blog post up while sitting at a cafe, having a cup of coffee … and I don't have a lick of makeup on. That's right, I'm out of the house and all I have on my face is sunscreen. No foundation, no BB cream, no lipstick.
I know. Horror of horrors.
The thing is, it doesn't bother me at all. But if you were to ask me if I felt naked leaving the house without any makeup on up to a couple of years ago, I'd give a resounding HELL YES.
When I say makeup, I don't mean a full face of makeup. Not in this context anyway. I'm not talking about having eye makeup on, bronzer or even blush. At the very minimum, it would be foundation or BB cream and a tinted lip balm. And nope, I don't have any of those on right now and I don't feel naked at all.
But you see, it wasn't long ago that I would think otherwise. I would actually apply BB cream or foundation, blush and a lipstick before even just going to a grocery store. I wouldn't even think of going to a shopping centre without makeup on. I'd feel really naked and exposed with my blotchiness, redness and hyperpigmentation for all the world to see.
I can't even remember when it was that I started wearing foundation. It must be just before I started working. I've told this story before but I'll mention it again for those who are new to BA. Soon after I started working, I was having lunch at the factory canteen one day when a male colleague sat next to me, turned to me and said very matter of factly, "you know, you really should put some foundation on".
SAY WHAT NOW?
Believe you me, if I knew him longer than I had at that time, I would have blasted him for what he just said. But I didn't know him well at all and I became so red in the face that I very quietly and quickly finished my meal and excused myself.
That weekend, I rushed to MAC and bought my first expensive foundation. And I didn't stop wearing foundation to work or out the house until many years later. I wouldn't even go to Woolworths without at least slapping some BB cream on. When my cousin Beetrice came to visit, she was surprised that I was so dolled up just to go to the grocery store. She even asked me "Err, we're just going to Centro, right?"
So how did I stop feeling naked without a lick of makeup on? I'll toot my own horn here a little and say that it was due to religious caring for my skin. Skincare is very important to me and I made damn sure that my skin looked and felt the best it could. A lousy canvas wouldn't hold nor show off the best paints and the same goes for our skin. While my skin is still rather red around the nose and I still have a lot of hyperpigmentation, it looks good enough without me needing to have foundation/BB cream when I leave the house.
And you know something? It feels pretty damn good to go out without any makeup on and still feel confident about myself.
Funny story? That male colleague I mentioned earlier actually asked me out a year or two later. We had gotten to know each other better then and while we didn't end up dating, I did tell him about the foundation story. He had absolutely no recollection of that incident, but it stayed with me till now. A woman may forgive but she never forgets.
I still draw the line at going to Woolworths in my PJs though. I haven't given up on life yet. 😛
What about you? Do you feel naked without any makeup on? Do you need to have foundation/BB cream on when you leave the house?*
*Staying in the car doesn't count