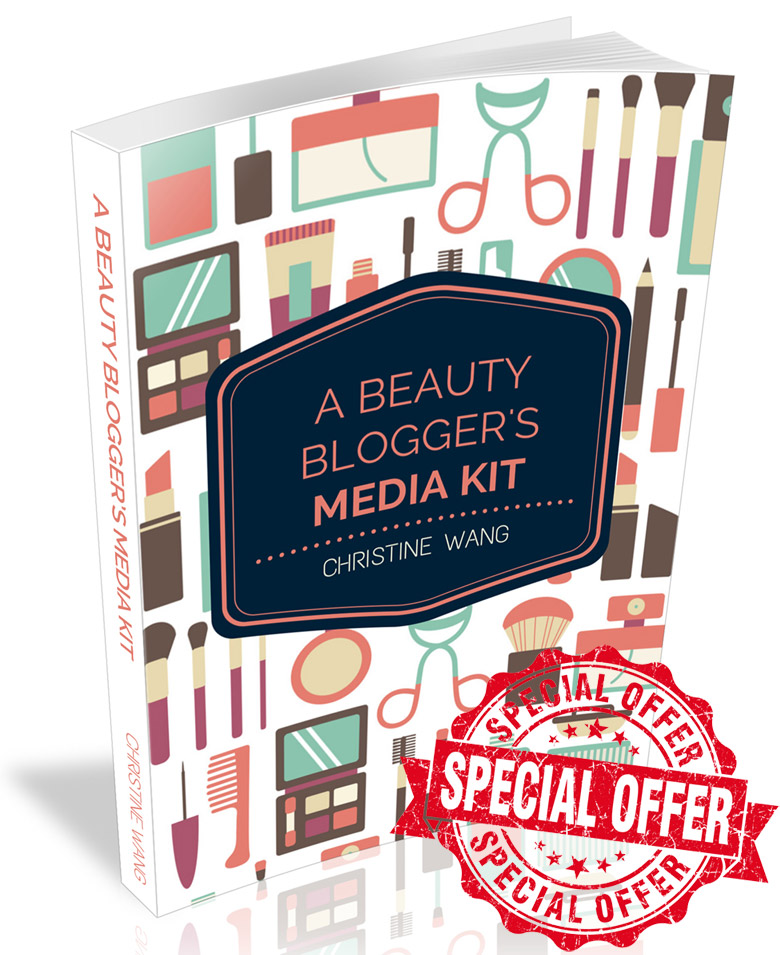 A few years ago, I released a free ebook called "A Beauty Blogger's Media Kit" to assist beauty bloggers in creating their media kit for when they'd like to start working with brands/PRs. I'm very happy to say that it was well-received and many of you even emailed me to thank me for the resources to help them get started.
Fast forward a few years later, I'm afraid that ebook has become rather outdated so I decided to revamp the whole book, update it properly and in the process, I added a lot more content to the book compared to the previous one. I'm so excited to finally launch the ebook today!
If you're subscribed to my weekly email newsletter, BA Insider, you'd have seen sneak peeks of the ebook weeks ago and participated in the soft launch of the ebook last week (*sneaky cheeky plug starts* if you're not subscribed already, do join in the fun and the BA community as I post a lot of content in there that aren't available on the blog*sneaky cheeky plug ends*).
Today's the proper launch on BA and I'm so excited about it! 😀
I've created a new page for the ebook to explain what's inside but I thought I'd share them here as well given that this is, after all, a proper launch. 🙂
Here's a look at what the ebook offers
What is a media kit?
Why do you need a media kit?
What is in a media kit?
Social media the heck out of your media kit
Services you provide Writing the media kit
Okay you've created an awesome media kit. Now what?
Exercise common sense Example of a media kit
Let's talk about rate cards
What goes in a rate card?
How much do I charge?
How to create a rate card?
Get your terms and conditions in order
Invoicing
And so much more!
Here's also a little sneak peek of what's in the book: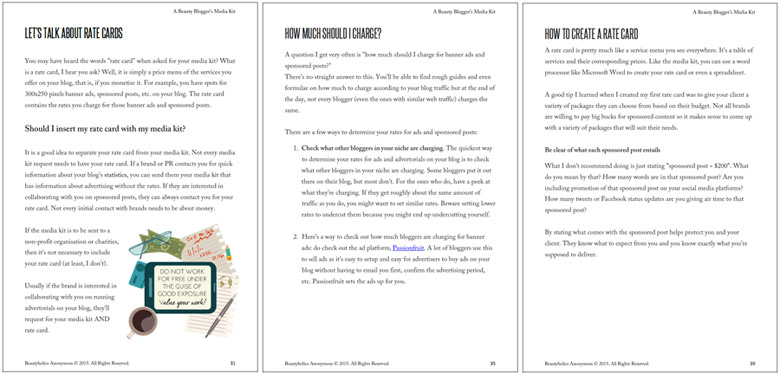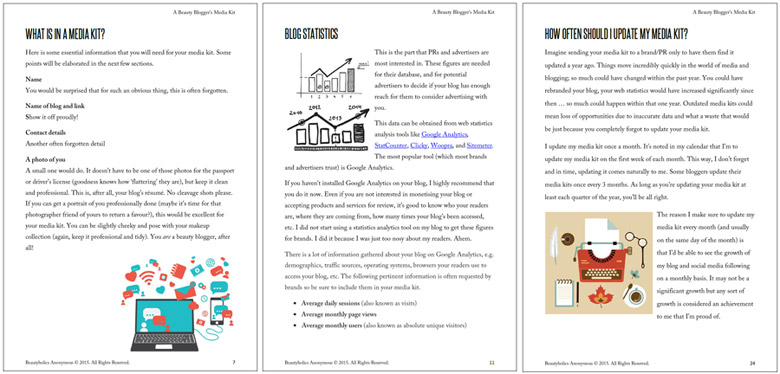 As I mentioned earlier, I've created a proper page for the ebook so please click on the link below to check it out. I even have a very short video clip of what the ebook would look like on an iPad, just so you know what you're getting.
Now comes the question that I know you're going to ask: is this a free ebook? I'm afraid not. I want to be honest with you here and tell you that I'm afraid I can no longer offer that resource for free. This is why I've added a lot of new content in the ebook that was not seen before in the old ebook or even on the blog. For example, I've not written about rate cards on the blog before, not even on a Bloggie Wednesday post, so the section about rate cards will help you in deciding the rates to set for your sponsored posts and other questions you may have on creating a media kit and rate card.
Thank you for understanding. 🙂
The ebook retails at US$9.95 but for the next 48 hours and 48 hours only, I'd like to offer you a 50% discount off that retail price. For the next 48 hours, simply enter the discount code BAEARLYBIRDIE50 upon checkout and you'll get a cool 50% off US$9.95! This offer is only available for you readers.
Enough of me talking here. I'm sure you'd like to know more about the ebook, right? Er, right? 😛
Once again, the discount code is BAEARLYBIRDIE50.
Thank you so much for your support (I really, really appreciate it. Lots of virtual high-fives for you!) and I cannot wait to see the awesome media kits you come up with!
Update: The early bird promotion is now closed. Thank you very much for your support!