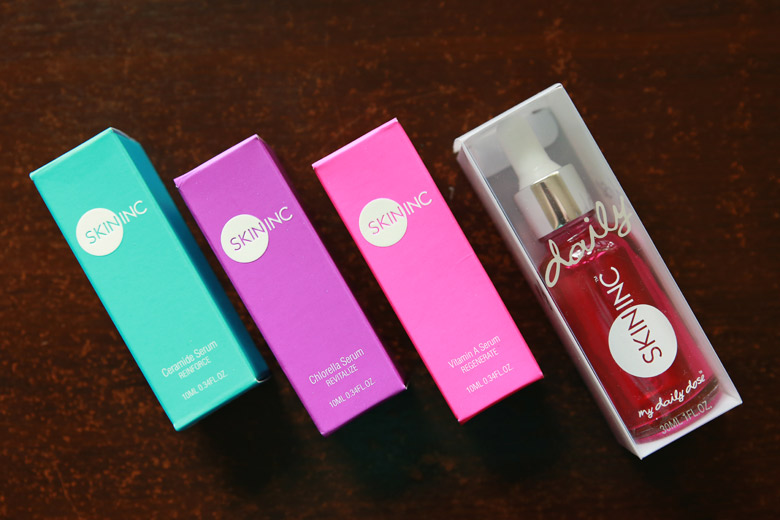 I've heard good things about Skin Inc but so far, have only tried one of their products and that's the Pure Deepsea Hydrating Mask. That mask helped to save my skin from some issues I've been having a while back and it made me curious to try out their serums too.
Luckily for me, not long after I gave the mask a go (which I ended up loving), the kind people at Skin Inc reached out to me and asked me if I wanted to try their customised serums. I remembered reading somewhere about Skin Inc's customised serums and I was definitely keen on giving one a go.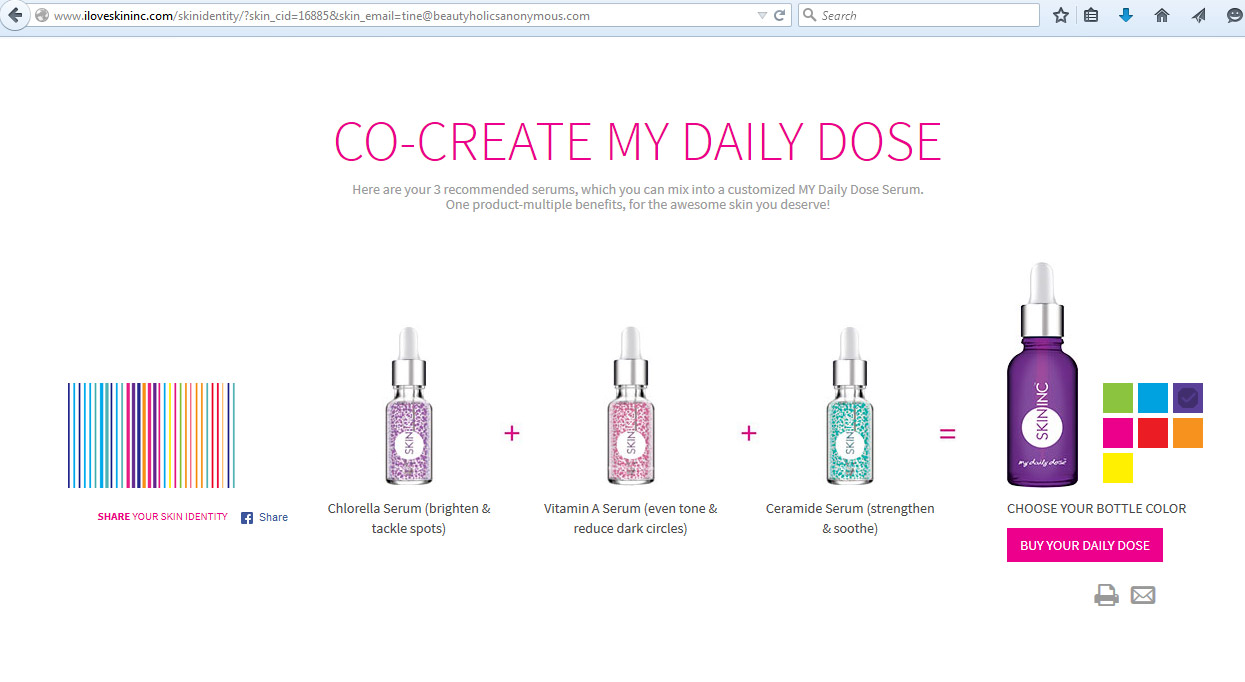 Firstly, I had to take a Skin Identity test where Skin Inc asked a lot of questions about my skin type, how I'm taking care of my skin, what my skin concerns are, what the condition of my skin was when I did the test and so on. At the end of the test, Skin Inc came up with 3 different types of serums that are to be combined into one bottle: the Chlorella Serum (to brighten and tackle spots), the Vitamin A Serum (to even out skin tone and reduce dark circles) and the Ceramide Serum (to strengthen and soothe the skin). I was even allowed to choose the colour of the bottle I wanted my customised serum to come in! I chose a purple bottle but they ended up sending me one in pink, which was fine with me.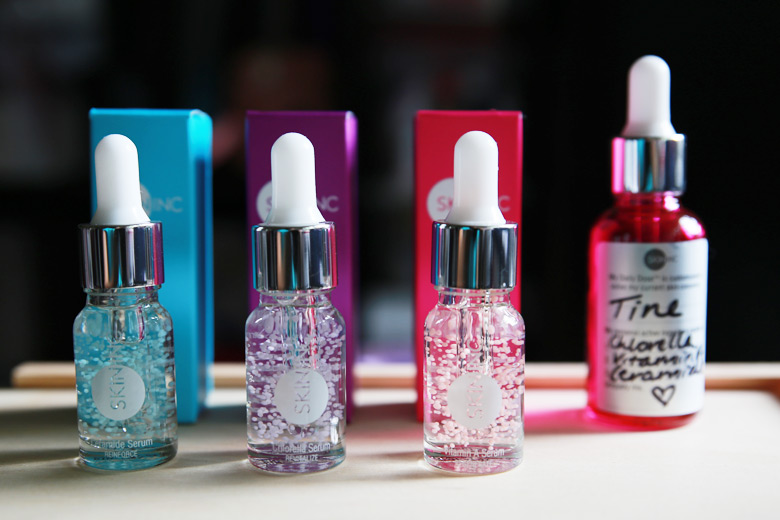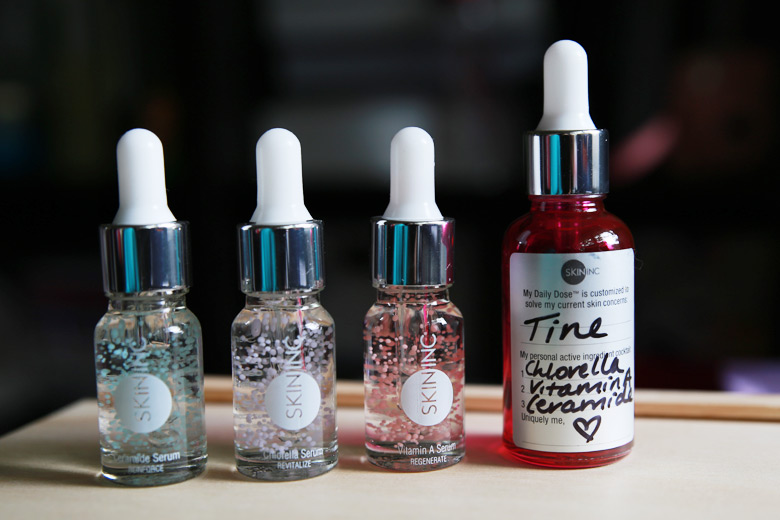 The thing is, I thought the serum would come mixed in one bottle. When the package arrived, they came in three separate 10ml bottles of those serums I mentioned and one empty 30ml bottle. It was up to me to pour all three serums into the big bottle. It was like Chemistry class all over again; there I was picking up the serum with the dropper cap, dispensing it into the big bottle and giving it a really good shake to mix all three serums. I thought it was fun! 🙂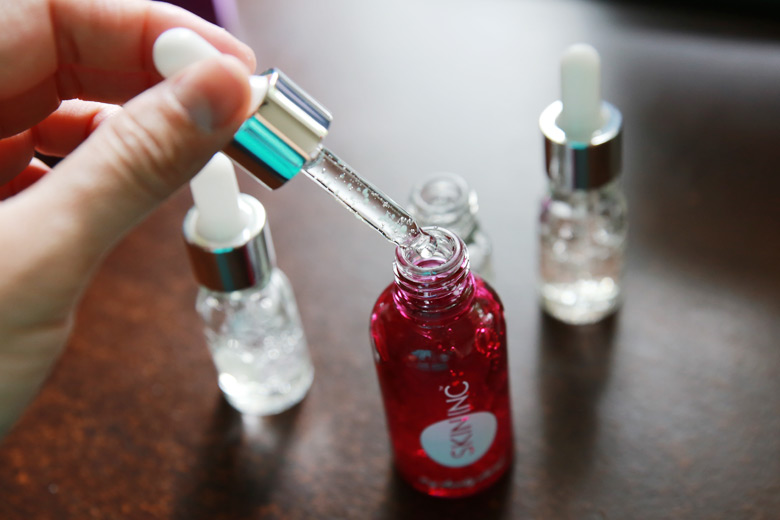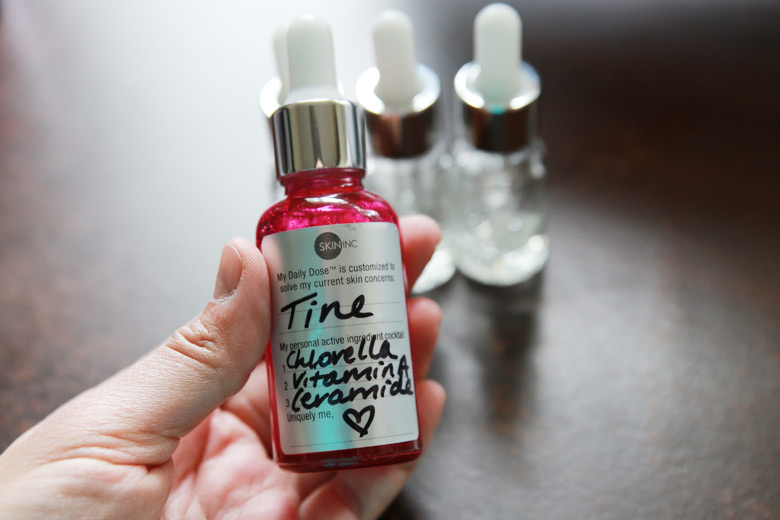 Even though the biggest bottle was stamped 30ml, all three serums only came up to 3/4 of the bottle. I used a lot of rubbing alcohol and tried to keep the area as clean and sanitised as possible but I had to wonder if it was a hygienic move for me to create my own serum that way. Oh well, so long as I don't experience any breakouts or make my skin worse, it's all good. Plus I had fun mixing the serum and I didn't have any problems using this on my skin at all.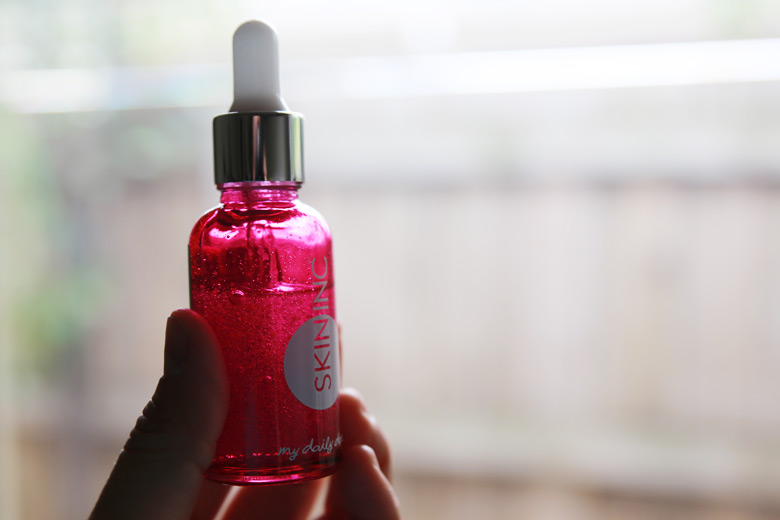 As far as the serum goes, I really like it. It has a viscous texture and feels a tad sticky when I first applied it on my skin but it absorbs very quickly leaving my skin feeling soft and refreshed. The ingredients mixed well together to form a good hydrating and brightening serum. I noticed an overall radiance to the skin, my fine lines slightly softened and my skin feeling very boing-boing the next day.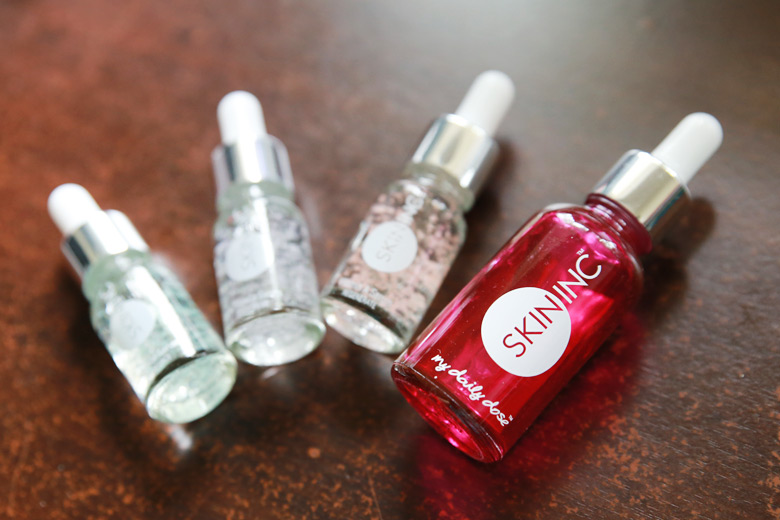 As for the Vitamin A serum, I wouldn't really call this a retinol serum. It contains retinyl palmitate, which is a milder form of Vitamin A. Skin Inc doesn't mention what the retinol percentage is for this serum but I'm guessing it's very low. What I love most about this serum is how nourished it makes my skin feel. It helped me a little during my shitty skin phase and nourished it further now that my skin is back to normal.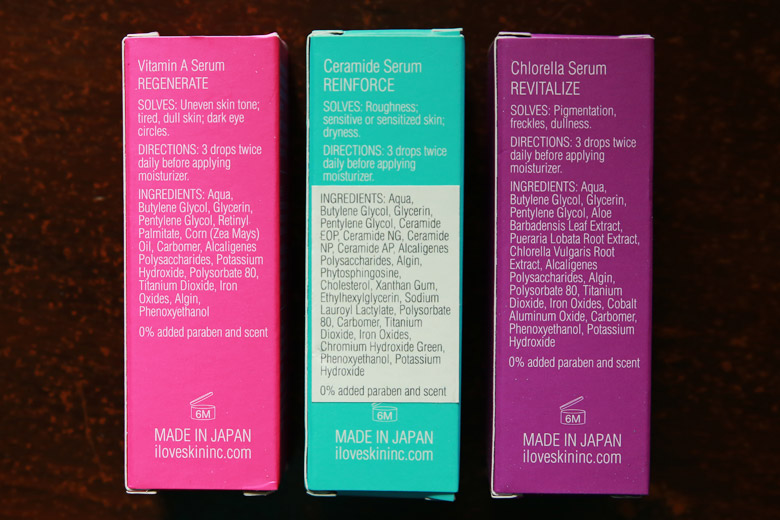 With 9 serums to choose from, the customised My Daily Dose serum consists of 84 possible combinations of 3 serums blended into a single bottle. Now that sounds pretty darn cool to me.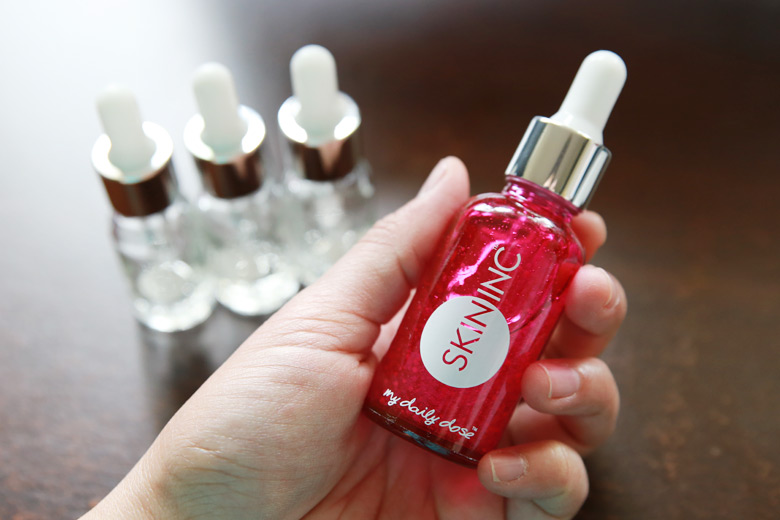 Skin Inc is available exclusively at Sephora (you can also get this at Sephora Sydney). I must say though, that this serum is expensive. Each 10ml serum is AU$62 (at only 10ml, that's a whopper) and the My Daily Dose serum that includes 3 10ml serums plus a bottle to mix in retails at AU$199.
What I like about it: The fact that I get to customise a serum according to my needs, play Chemistry class and mix all the serums together is already a winner in my books. Oh, and it nourishes my skin very well too! (and all that brightening, line softening, blah di blah)
What I do not like about it: Even though I made sure my work area was as clean as possible when I mixed the serum, I wasn't sure if it's a hygienic move to mix the serums myself. Ah screw it, I had fun and my skin certainly didn't complain. 😛 Having said that, it's also an expensive serum.
Have you tried Skin Inc's My Daily Dose serum? What do you think about customising your own serum? Pretty cool, eh? If you have made your own Skin Inc My Daily Dose serum, let me know what your serum combination is!
This product was provided for editorial consideration. For more information, please read our
disclosure policy
.