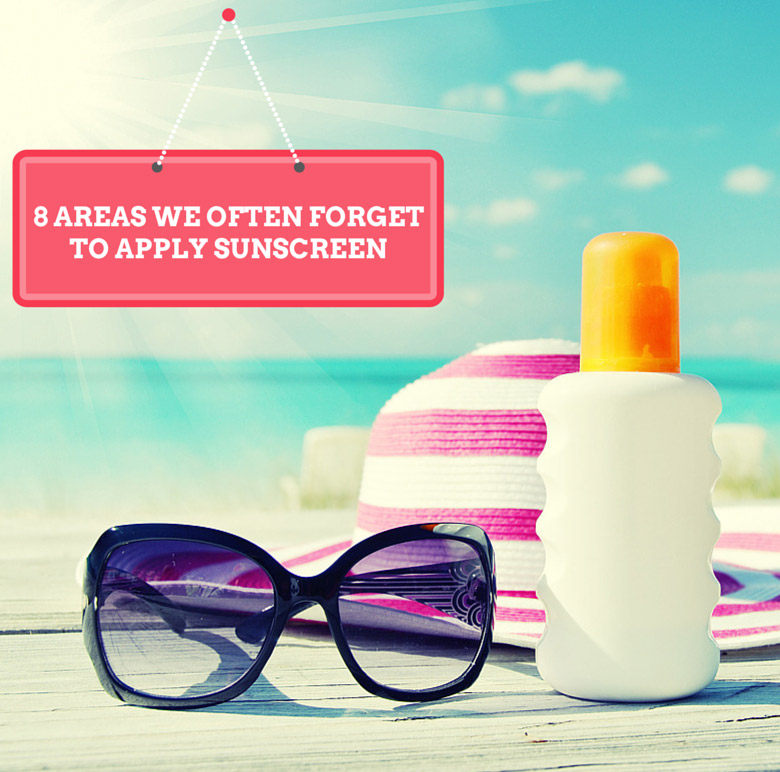 Even though it's almost winter Down Under now (hah, I bet readers on the Northern Hemisphere must be going "we just left winter behind!") and that it's getting gloomier and colder, we often forget that we still need to wear sunscreen nonetheless. As long as we make it a part of our skincare routine, forgetting to wear sunscreen before we head out would be like forgetting to wear a bra before leaving the house.
On the other hand, even though I'm pretty darn religious when it comes to wearing sunscreen, there are parts of my body that I sometimes forget to apply sunscreen to. Some of these areas are often exposed to UV radiation from the sun and they're particularly susceptible to sun damage in summer.
Here are 8 areas that we often forget to apply sunscreen. And by we, I mean me.
1. The back of the neck
I used to forget about this area and to be honest, sometimes I still do. These days, I make sure to reach to the back of my neck when I apply sunscreen on my neck and decolletage. Can't hide the back of my neck with hair anymore now that it's short.
2. Our ears
This is one area I always forget. Now that I have much shorter hair, my ears are often exposed. In fact, I forgot all about applying it on the ears until I read it somewhere a week or so ago. And I thought "oh dear, the ears! I forgot about the ears!".
3. The tops of our feet
This is important, particularly if you enjoy wearing sandals and flip-flops. The tops of my feet are so crinkly now, it's awful to even look at them. That's when I realised that I haven't been applying sunscreen all the way to the tops of my feet. I don't know why I always just stop applying sunscreen at the ankles. Gah! *face palm*
4. Backs of our hands
When you apply sunscreen on your face, remember to squeeze a little onto the back of your hands and apply it like hand cream.
5. Decolletage
Okay, this is one part that I always apply sunscreen to but believe it or not, it's an often forgotten area for many. Our face doesn't just end at our face. It stops at our boobs. I once met an Australian celebrity (not going to mention her name) who was in her 40s. She had the skin of a 25 year old and the neck and chest of a 60 year old. Of course, she could have had work done on my face but what I'm trying to say is this: remember that your skincare and sunscreen goes all the way to the boobs as well.
6. Armpits
I don't do this, not even in summer when I wear sleeveless tops. WHY DON'T I DO THIS?!
7. Midriff
I don't wear crop tops and my midriff is rarely exposed so I don't have to worry about this too much. However, if you do wear crop tops and your midriff is exposed, make sure you slap some sunscreen on your midriff and waist as well.
8. The backs of our knees
Guilty as charged. Gosh, I don't think I've ever applied sunscreen on the back of my knees!
Sigh … if only there's a vat of sunscreen we can just jump into, eh? Then we wouldn't have to worry about what is exposed and what isn't. 😛
Are there any spots on your body that you often forget to apply sunscreen to? You do wear sunscreen, right? Right?