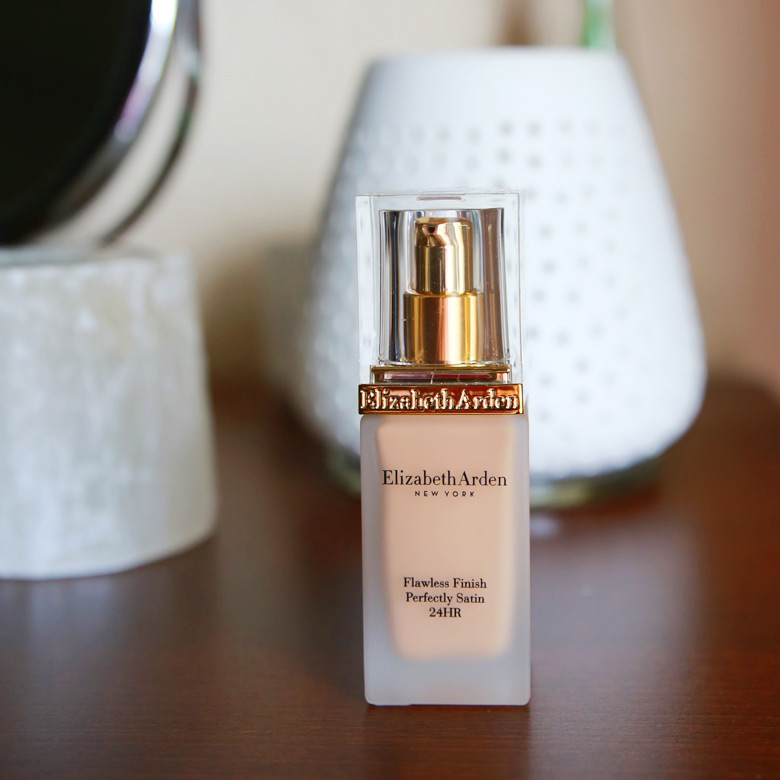 A couple of weeks ago, I shared a lovely new lipstick I discovered from Elizabeth Arden. I had the opportunity to try out a couple of items from Elizabeth Arden and I must say, I'm pretty darn impressed. Elizabeth Arden is a brand I associated with my mother as she used to use a lot of their products when I was growing up and honestly, back then, I used to think that the brand was a bit "auntie" for me. Of course, this was back in the 90s and 20 years later, they must have gone through a thorough revamp because boy oh boy have they come up with some great gems.
Well, that and also I've become a bit of an "auntie" myself. 😛
Today, I'd like to share a new foundation by Elizabeth Arden with you and that's the Flawless Finish Perfectly Satin 24Hr foundation. I had a bit of a makeover at Elizabeth Arden, which was when I first gave this foundation a go. The makeup artist applied this on my skin with a flat foundation brush and I was half-expecting for this foundation to look very thick and cakey on my skin. On the contrary, this foundation performed really well!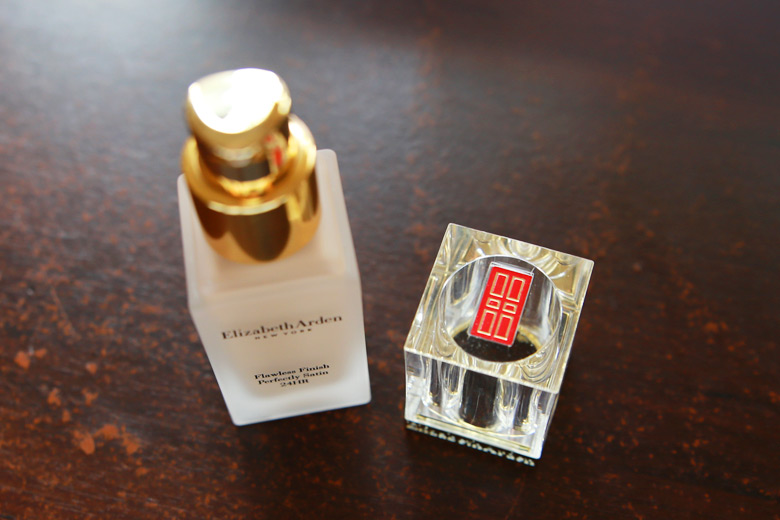 First of all, let's talk about the packaging. It's beautiful. It looks mighty classy, from the clear and gold cap with the iconic red door on top to the frosted glass of the bottle. This foundation comes with a pump, which makes dispensing of product a breeze.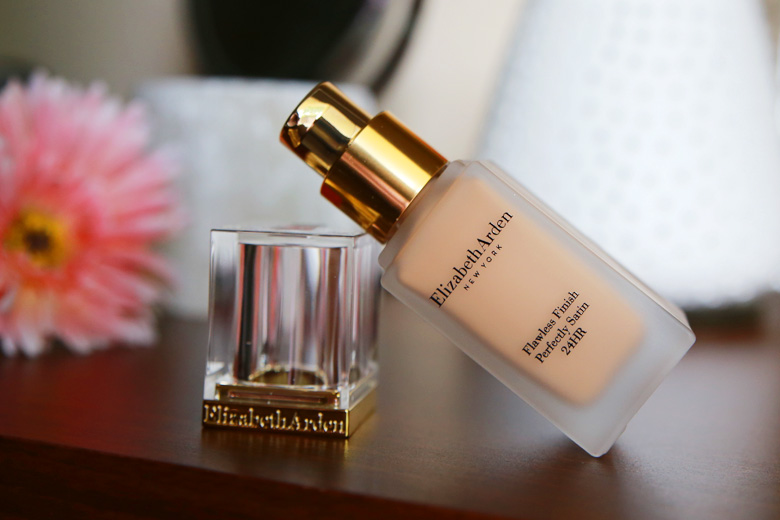 The texture is light yet creamy and blends well. It dries fairly quickly and leaves a matte finish on the skin. In terms of coverage, I'd give it a medium but it's definitely buildable to an almost full coverage (use very light layers for this or else it will look cakey).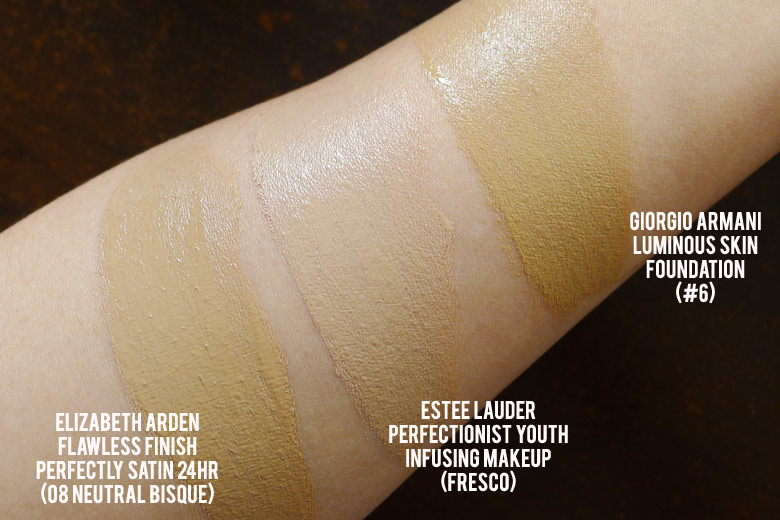 I didn't think I'd like this foundation but I really do. It looks great on the skin and looks even better as the hours go by. Longevity is good with this one; I've had this on for over 12 hours and there was barely any fading.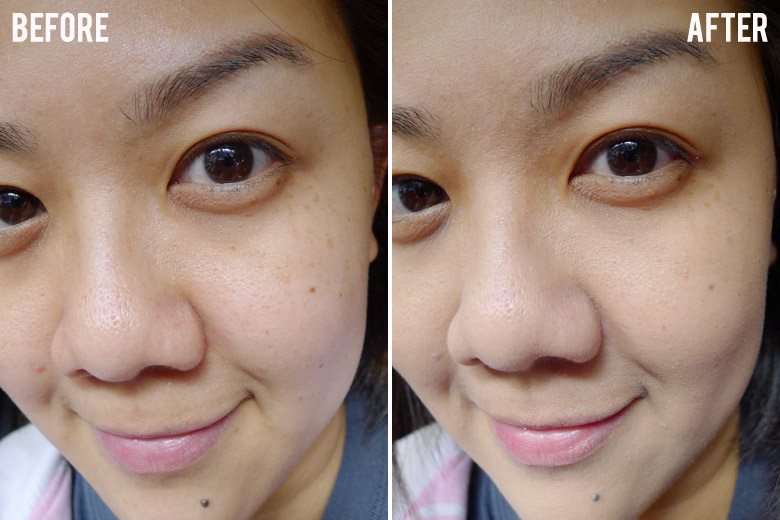 The only thing I'm not too keen on is how this applies on my nose. I like to apply my foundations with my fingers and I usually have no problems blending the product around my nose. While this foundation blended beautifully everywhere else on my face, it appeared streaky around my nose. I tried using a buffing brush to fix it and it looked blotchy. A flat foundation brush made it look even streakier. The only way I could sort this issue out was to use a makeup sponge (I used the Real Techniques Miracle Complexion sponge) to slowly and gently dab the area.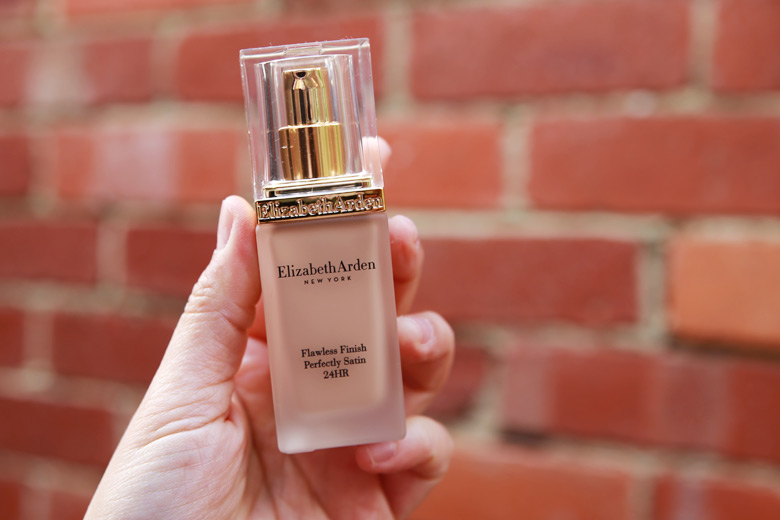 Other than that, I find this a solid foundation. I have combination skin and this looked great on me. I did get a tad oily on my T-xone after a couple of hours but hey, nothing a quick blot with a facial blotter cannot fix. This didn't look cakey on me at all even with the matte finish.
A good thumb's up! 🙂
Elizabeth Arden's Flawless Finish Perfectly Satin 24Hr foundation is available in 7 colours and retails at AU$50.00 for 30ml.
What I like about it: Sophisticated packaging, beautiful finish on the skin that doesn't look cakey (despite it being a matte foundation), has good lasting power.
What I do not like about it: It doesn't blend very well around my nose when I use my fingers to apply the foundation on that area. The problem was promptly fixed with a moistened makeup sponge.
Have you tried this foundation or any other products by Elizabeth Arden? What are your favourites? I bet one of them's the popular 8 Hour Cream!
This product was provided for editorial consideration. This post contains an affiliate link. By purchasing something via these affiliate links (at no extra cost to you), you're supporting Beautyholics Anonymous, which I highly appreciate. For more information, please read our
disclosure policy
.