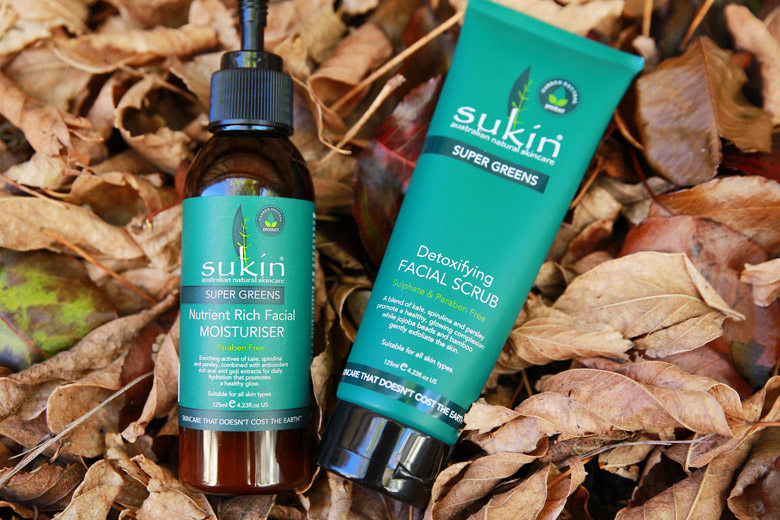 It's been a while since I've given Sukin's skincare products a go. I love their body wash and I get them from time to time, especially when there's a sale going on (it smells and works similar to Aesop's but at much better prices) and their facial washes are pretty good too.
Last month, Sukin launched their new Super Greens range. The products contain a blend of super foods like kale, spirulina, chlorella, acai and goji. The range was developed to communicate a message of promoting a healthy lifestyle choice (i.e. EAT YOUR DAMN VEGGIES) that consumers can also extend from their health to their skincare regime.
Now, I'll be honest. A few months ago, if I were to see this range, I'd be laughing my bum off. Me? Consume kale and spirulina? You have got to be kidding me. The thing is, after Tim bought a professional blender for the kitchen and started have green juices on a daily basis, I got sucked in too. Yes, folks, I'm loving green juices now. For someone who can't stand eating kale (I only eat really dried out kale), spirulina and the like, I'm loving them blended in a cup now.
So no, I didn't laugh at the Super Greens range by Sukin. In fact, given my love for green juice now, I was actually pretty keen on giving them a go. A couple of products landed on my desk for review and I thought hmm why not? I'm drinking 'em green juice; let's see how these "super food" skincare products work on the skin.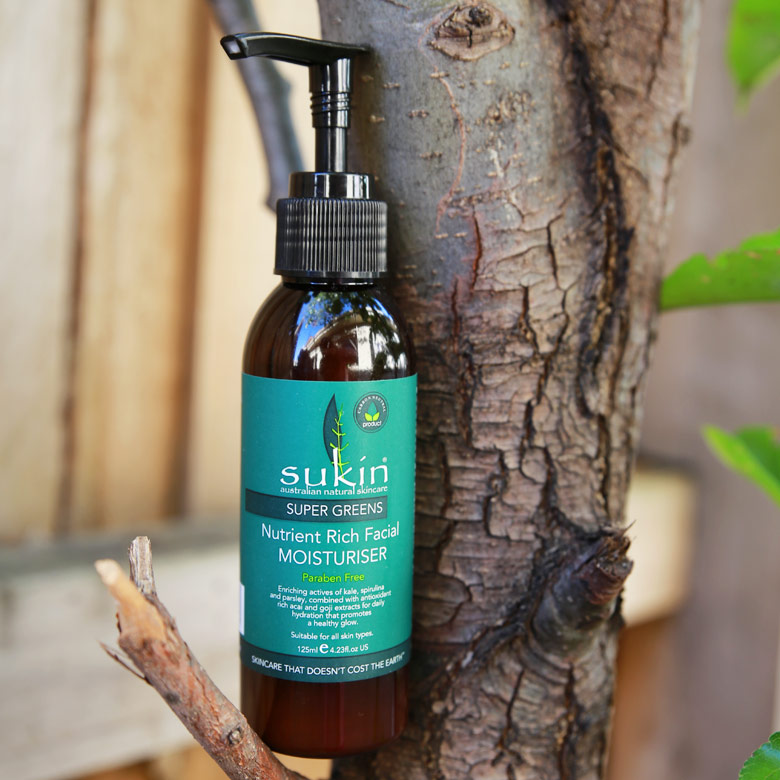 When I first saw this moisturiser and read the name, I was actually quite worried to give this a go. See, when I glanced at the name, I thought it meant "rich facial moisturiser" and that was when I thought this wouldn't work for me at all because I want something light, not rich. My combination skin doesn't take rich moisturisers very well so I was rather apprehensive in giving this a go. I finally did and thought "hang on, it's not as rich and thick as I thought it would be!".
Yes, silly me didn't realise it was "nutrient-rich". Look, if they added a hyphen in between those two words, I would have thought very differently, okay? Grammar, people! 😛
Anyway, back to the moisturiser. I started using this as my night cream because I thought it was a rich cream but it turned out to be quite lightweight. It's easy to absorb onto the skin and despite it having kale, spirulina, parsley and chlorella extracts, it doesn't actually smell like vegetables, if you know what I mean. In fact, it smells quite lovely. It does have a rather sweet and floral scent to it. If you're not a fan of scented skincare products, you might want to give this a miss.
I must say, it's a bang on decent moisturiser. I didn't like the original Sukin moisturiser much but this one tickles my fancy. It's light, doesn't leave any greasy residue and keeps the skin moisturised and hydrated throughout the night. As it's not as rich as I imagined, I used it during the day as well and it worked just as well. Best of all, it didn't break me out.
Well, that's a win already in my books.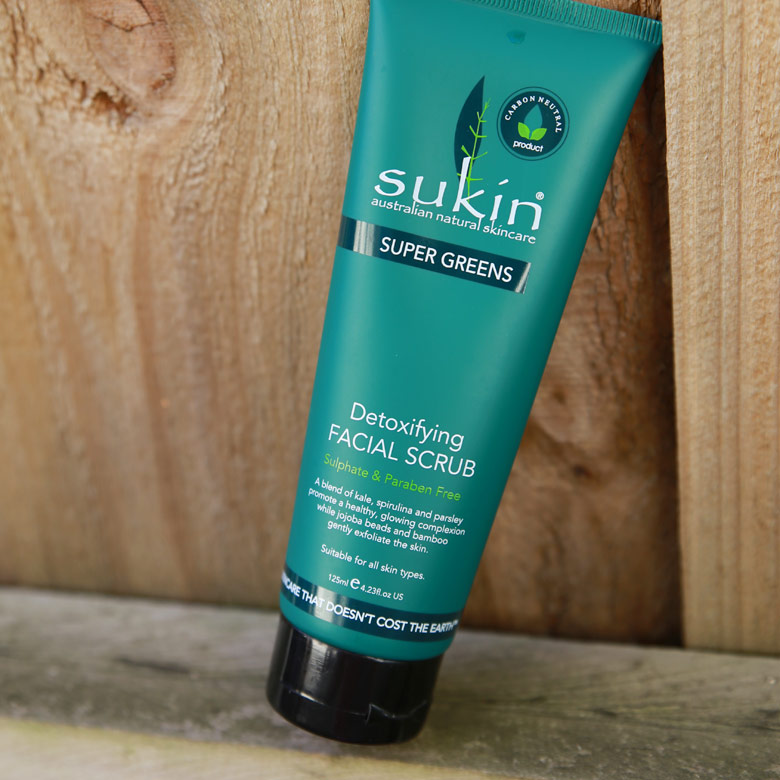 This is quite a scrubby, er, scrub. It contains a lot of grainy bits that are used to exfoliate the skin. Micro beads of jojoba and finely ground bamboo make up the grains for this face polish. It's not as harsh as, say, St Ives' scrubs.
When you add water to the scrub, it forms into a creamy facial wash. It doesn't leave the skin feeling dry or taut and the polishing beads do a good job in exfoliating without going over the top. For a facial scrub, I'd say this is A-okay.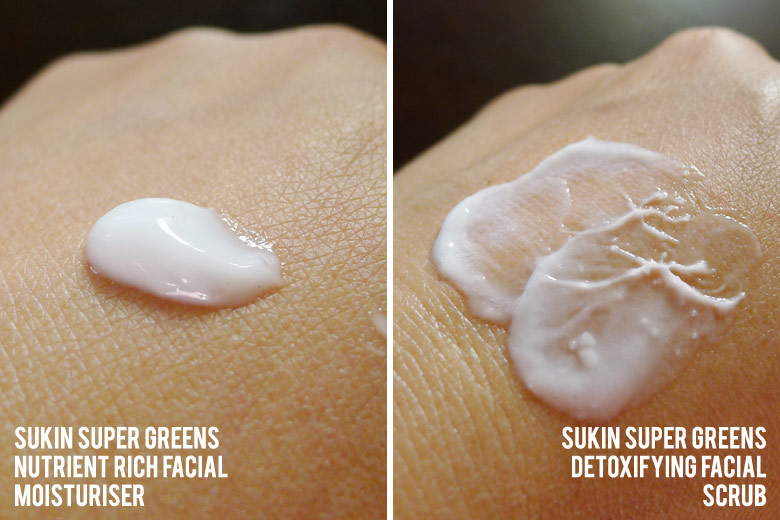 So, do the added greens make any difference in the products at all? To be honest, I can't tell. To me, these are just a regular moisturiser and facial scrub. Good ones, I'd give them that, but I really cannot say that the blend of kale, spirulina, parsley, chlorella and so on made any difference to my skin. I've always called plant extracts fluff ingredients and I'll have to say the same for these.
However, if you're looking for a good and affordable moisturiser, I wouldn't hesitate to recommend the Super Greens Nutrient Rich Facial Moisturiser. At AU$12.95 for 125ml, it's a very decent size and price for what it does, which is to moisturise your skin. And that, for me, is good enough for a moisturiser. It works very well on my combination skin and I didn't find it thick and oily at all.
The scrub is a good one to add to the regime as well if you're a fan of facial scrubs. It doesn't feel harsh on the skin but leaves it clean, glowing but not dry.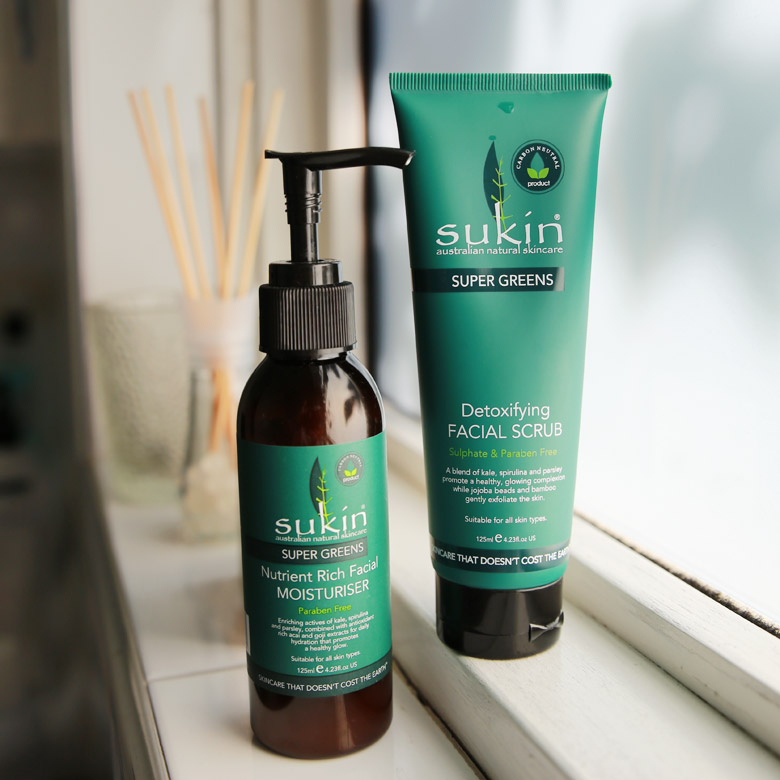 All jokes aside, really, people, eat your veggies. Take care of your skin. You know, all that important stuff. 🙂
Have you tried the Sukin Super Greens range? If you have, did you like it? Are you a fan of any of the super foods?
These product was provided for editorial consideration as part of the Beauty Directory Expert Panel. This post also contains several affiliate links. By purchasing something via these affiliate links (at no extra cost to you), you're supporting Beautyholics Anonymous, which I highly appreciate. For more information, please read our
disclosure policy
.