THE GIVEAWAY IS NOW CLOSED. THANK YOU FOR PARTICIPATING!
Note: This is a sponsored post.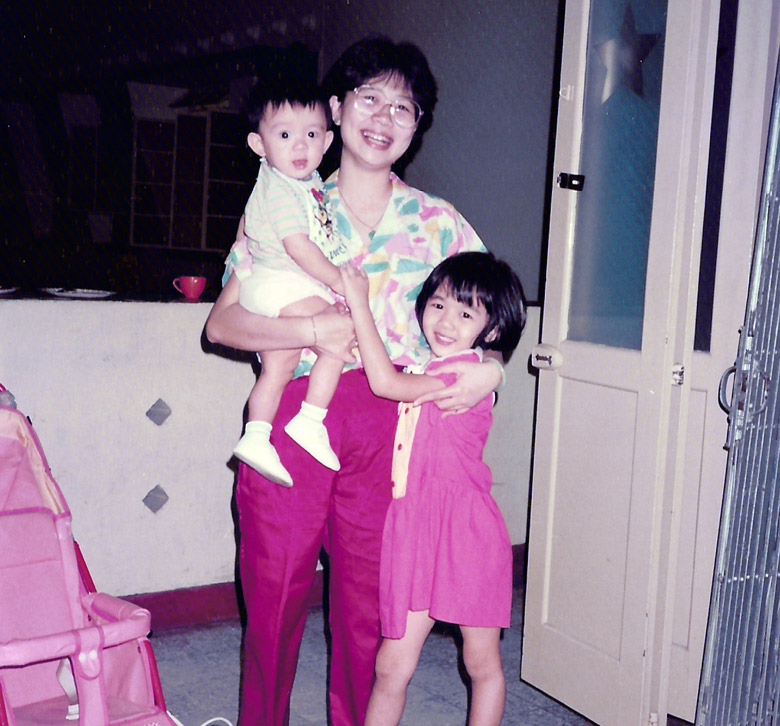 Mum, my brother and I circa October 1985
Growing up, I was a very girly girl. I adored wearing dresses, accessories and jewellery, lots of them. I remember the very first bracelet that I had. I couldn't remember if it was my mum or my grandpa who gave it to me but nevertheless, I absolutely loved it. I still remember it to this day.
It was a pearl bracelet. It's not very fancy; it's a simple bracelet of small cultured pearls strung in an elasticated band that I could easily slip on and off my wrist. Man, I wore that bracelet everywhere (except for school because that wasn't allowed). I wore it during the day at home, I wore it to church, I wore it to concerts and so on. Heck, I even wore it to sleep. I wish I could show you a picture of me with that bracelet on. I had Mum rummage her big collection of old photos but she couldn't find it.
Unfortunately, as I loved and wore it so much, eventually the elasticated band wore out and one day, it snapped. I lost at least half of the pearls and I couldn't get anyone to fix it for me. I was devastated. In my childish anger and frustration, I told myself that I will never ever wear another bracelet again.
Well, I was, after all, just 8 years old. 🙂
I started wearing bracelets again when I was in secondary school. Mum gave me a delicate gold bracelet when I left home for the first time for uni in the UK. I never took that bracelet off (not even when I showered) until just when I was about to leave the UK for home for good, the bracelet finally snapped. When I left home again for work (this time, to Japan), Mum gave me another delicate gold bracelet that was similar to the one she gave me years ago. Even though I no longer wear that bracelet on a daily basis, it's still in perfect working condition and I still have it with me today.
If I'm ever blessed with a daughter in future, I'd love to be able to pass that gold bracelet on to her one day.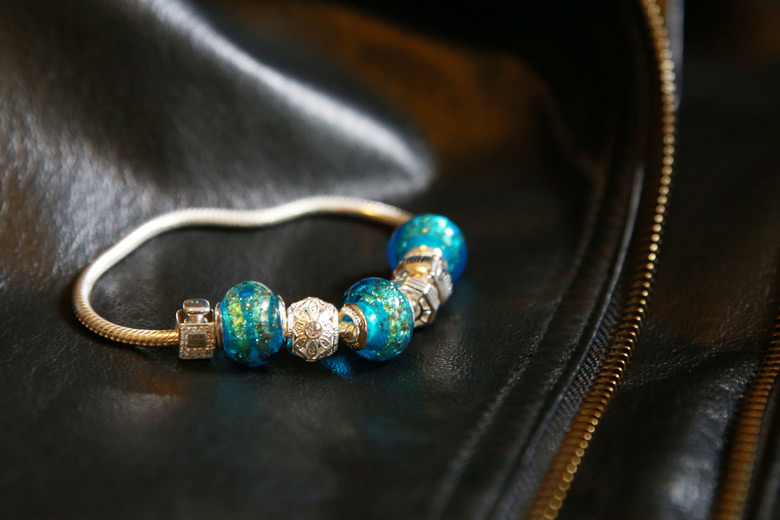 In the meantime, I've been collecting bracelets of my own. Charm bracelets are very popular these days and brands like Emma and Roe by Michael Hill allows you to set up your own charm bracelet with the wide variety of charms they have. I don't really like wearing conventional charm bracelets where you hang charms off it because they look messy on my wrist. I much prefer to be able to "string" my charms instead.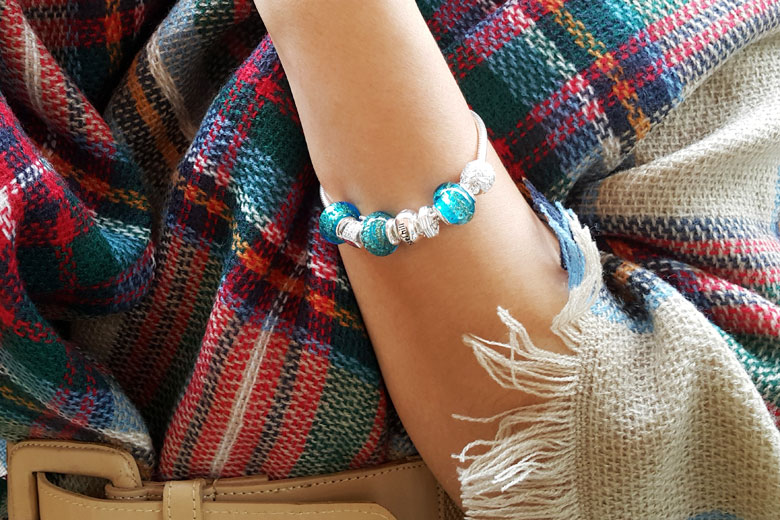 Emma and Roe is a younger and trendier range from Michael Hill and their charms are really pretty. They're very similar to Pandora's charm bracelets but at slightly more affordable prices and equally great quality. I've been creating my own charm bracelet from Emma and Roe and I love it! I can't wait to add more charms to it. Who knows, one day said daughter may inherit this as well. 🙂
A SPECIAL GIVEAWAY
Beautyholics Anonymous has partnered with Emma and Roe give away one Emma and Roe bracelet to one of you lucky readers!
Now this isn't from their regular charm bracelet range but it's a special one from the Pink Hope collection. I was allowed to choose a bracelet for the giveaway and I've chosen a beautiful charm leather bracelet from the Pink Hope collection. The bespoke range is designed exclusively in support of the Pink Hope Foundation.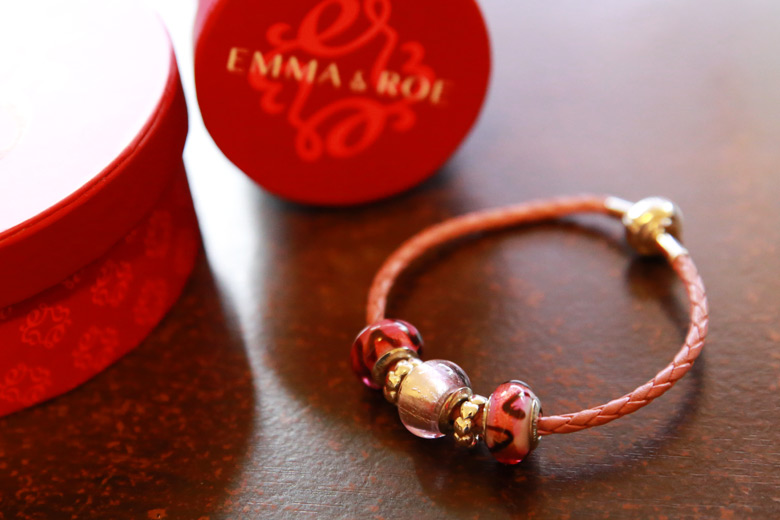 The Pink Hope charity, along with its sister charities around the world, empowers women and their families to take control of their hereditary breast and ovarian health through education, prevention and support. Founded by Krystal Barter in 2009 after discovering she carried the 'breast cancer gene' BRCA1, Pink Hope wears the motto 'Know Your Risk, Know Your Future' to reflect the mission of providing resources to women to navigate hereditary health.
The donations from the sales from the Pink Hope collection will be used to support families facing hereditary breast and ovarian cancer. This bracelet from the collection retails at AU$199.00 and one of you will be able to win this. 🙂
This giveaway will be slightly different from the giveaways I usually run on BA. In light of Mother's Day, instead of keeping this bracelet for yourself, I'd like you to give it to your mother. If that's not possible, I'd love for you to give it to someone special in your life. It could be your best friend who has helped you through bad times, it could be your sister, aunt, grandma, etc. Of course, I can't make you give it to someone and if you do keep it for yourself, that's up to you. But I'd really love for you to gift this bracelet to your mum or someone special in your life as a token of your love and appreciation to her.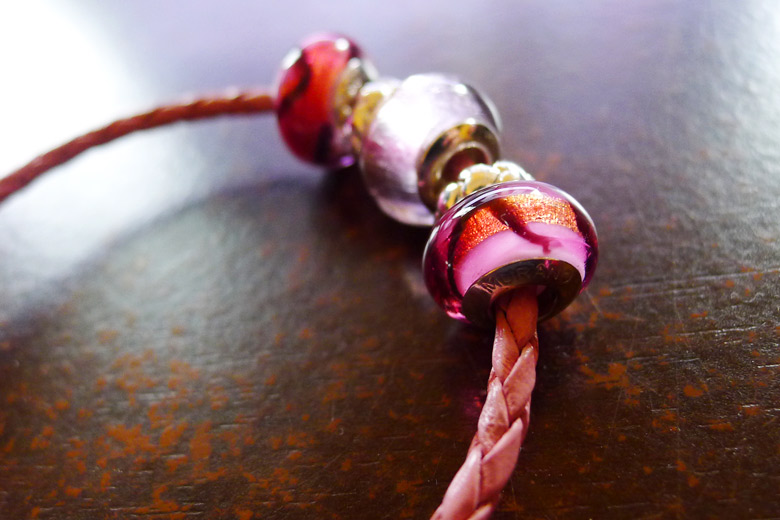 HOW TO ENTER:
Simply leave a comment below answering the following questions:
1. What country are you from? (this giveaway is open internationally)
2. What's the most important pearl of wisdom your mother (or a motherly figure, sister, grandma, aunt, best friend, etc) gave you?
TERMS & CONDITIONS:
1. This contest is open to Australian and international readers.
2. The value of the prize in the contest is AU$199.00.
3. Anyone can enter the competition regardless of whether you've won anything here before.
4. Only one comment per contestant will be accepted.
5. Please keep it clean and spam-free.
6. The closing date for this giveaway is 11.59pm, 12 May 2015 (Australian EST). Comments submitted after this time will not be considered for the giveaway.
7. One (1) winner will be selected at random. The winner of the giveaway will be announced in the Competition/Giveaways page on 15 May 2015. The winner will also be notified via email. Please ensure that you've entered the correct email address because I'll be using that email address to contact you if you've won (not via social media).
8. The winner will be required to submit his/her name and contact address to Beautyholics Anonymous, who will be sending the prize out (please read Beautyholics Anonymous' privacy statement for more information).
9. The winner must respond to the notification email to claim the prize within 3 working days.
10. Prizes are not redeemable for cash and are non-transferable.
11. If for any reason beyond the Promoter's control that the agreed prize is not available, a product of equal or greater value will be provided.
12. Beautyholics Anonymous and Michael Hill are not responsible for prizes once they have been dispatched to the winner. Beautyholics Anonymous and Michael Hill reserve the right to change the terms of this giveaway at any time.
Good luck! 😀
This is a sponsored post for
Emma and Roe
. The bracelet was provided for editorial consideration. For more information on sponsored content, please read my
disclosure policy here
.