Note: You'll notice that I didn't do many product reviews this week. I'm having one of those I-cannot-be-arsed-reviewing-a-product week so please do excuse me. Regular posts on product reviews will resume next week. Although I do have to ask, do you prefer my blog posts to be more about product reviews or question-y posts like this?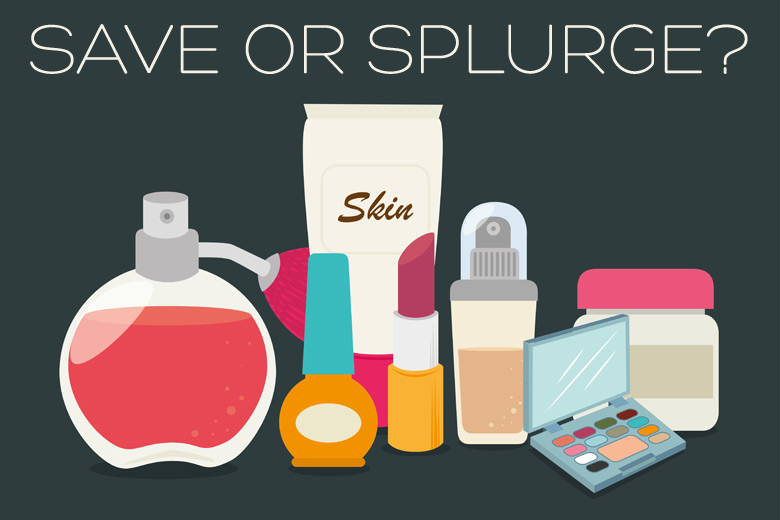 Okay, I'll say it. When it comes to skincare and makeup, I can be a bit of a snob AND a stinge. There are certain things that I will splurge on. There are also certain types of beauty products that I simply cannot justify spending a lot of money on. When I see certain skincare products in the pharmacy, I must admit that it takes me a while to consider buying it because I don't know how well it'll work on my skin. Most of my skincare are in the departmental store price range and while I have discovered many drugstore gems, my mind automatically goes towards more expensive brands when it comes to certain beauty items.
However, there are also certain items when I'll go "ARE YOU CRAZY $40 FOR A MASCARA?" and "$100 for an eyecream? Okay take my money." I'm weird that way.
This makes me wonder: what do you save and splurge on when it comes to beauty?
Skincare
Cleanser: Save. As long as it doesn't strip my skin dry, I'm not about to fork lots of dollars out for something that's washed off my skin 10 seconds later.
Makeup remover: Save. Face of Australia's Gentle Makeup Remover, Garnier and Bioderma's micellar lotions are more than good enough for me.
Toner/lotion: Save and splurge, depending on the product. I love SKII's Facial Treatment Essence (that's a splurge) and I also like the toners by Simple and Bioderma.
Serum: Splurge. I can splurge hard on this without batting an eyelid.
Eye cream: Save and splurge although these days, I tend to splurge more. It could just be me but I find that the more expensive ones do a better job than drugstore versions. However, if you know of a really good drugstore one, please share it with us in the comments!
Moisturiser: Save and splurge. I find I tend to save more in this department. As long as the moisturiser does a decent job in keeping my skin well hydrated, is light and oil-free, I'm happy to stick to ones from the pharmacy.
Sunscreen: Save. While this is one of the most important steps in one's skincare routine, I find that my favourite Biore sunscreens rarely go over $20, they're good enough for me to save on. I've tried expensive sunscreens and they still don't work as well as my cheapie Biore ones.
Makeup
Foundation: Save and splurge. My favourite foundations are both in the drugstore and high-end department. There are really good and cheap alternatives so I go for whatever that works best on my skin.
Concealer: Save. I prefer the cheaper alternatives from Maybelline and Revlon as they work just as well as their expensive counterparts.
Powder: Save. There are good, finely milled powders in the drugstore that doesn't cost a lot of money.
Primer: Splurge. Sadly I haven't discovered drugstore versions that are really good just yet.
Eyeshadow: Save and splurge. My favourites are from Maybelline (the Colour Tattoos), Urban Decay (NAKED palette) and LORAC. It's hard for me to find good eyeshadows that stay on my oily eyelids (even with primer on) that come from the drugstore, which is why I adore the Maybelline Colour Tattoos.
Eye liner: Save. I can get my favourite ones (Rimmel, L'Oreal) from Priceline.
Mascara: Save. If I have to pay more than $15 for a mascara, I'd scream bloody murder.
Brow pencil/gel: Save and splurge but I find myself splurging more for this these days.
Blush: Save and splurge. I don't discriminate when it comes to blushes. 😉
Lipstick/lipgloss: Save and splurge. Mostly I save in this department but when I feel like treating myself, then I'll get something slightly more expensive.
Makeup brushes: Save and splurge, but mostly splurge. Take care of your brushes well and they can last you a long time. I used to buy a lot of cheap ones but in the end, I realised that I only needed a few for my makeup routine, even if it gets quite complicated. If only I didn't spend the money on those el-cheapo brushes and saved it for better ones. Sigh.
Haircare
Shampoo & conditioner: Save. Nothing wrong with Pantene (my hair loves it!)
Serum: Splurge. I love the ones by bHave, Kerastase, Paul Mitchell, Joico and L'Oreal Professional.
Tools (e.g. hairdryer, flat iron, etc): Splurge. I've spent a lot of money on cheaper alternatives but none of them work as well as my ghd Air hairdryer and Cloud Nine flat iron. If you take care of these well, they'll last you for years.
Body
Body wash: Save and splurge. Save for the husband, splurge for me (I hide the luxurious ones from Tim. Ahem.).
Body lotion: Save and splurge. I typically use the cheaper ones during the day and the more expensive ones at night.
Phew, that's a lot of saving and splurging, isn't it? I like to know that I can splurge on certain items if I save on most of the rest. Not everything needs to come from the drugstore and certainly not everything needs to be high-end. A good mixture of the two is always lovely.
What about you? What do you typically save on? What would you splurge on?