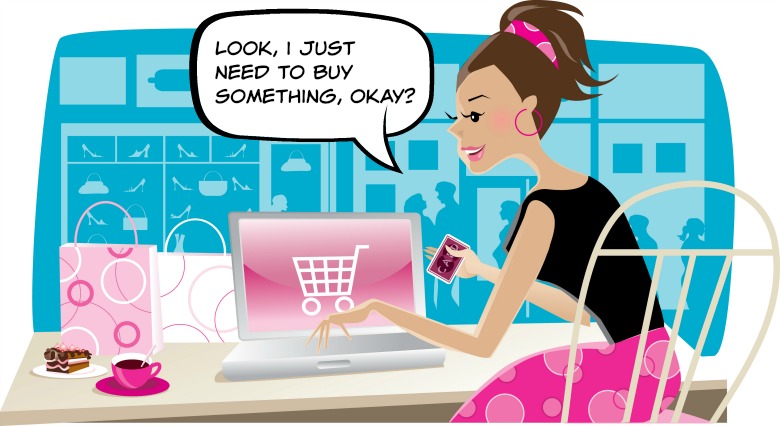 I'm having one of those days. Y'know, the ones when I look at my beloved makeup collection, the one that I've been carefully growing for the past many years, and all I can think of is … meh. Sure, I have my Holy Grail items that I know I can reach for at a moment's notice but for some reason, they're not making me feeling any better.
See, what I have is the itch to shop. I want something new. I don't exactly have a wishlist at the moment but I'm just itching to buy something. Now that, ladies and gentlemen (I know that there are gents reading my blog), is when I step into dangerous territory because more often than not, I tend to overspend when I'm feeling particularly, erm, spendy.
Tim calls it retail therapy. Well, duh. 😛
I get this feeling every so often and when it hits me, there are a few things I do to curb that I-just-need-to-give-money-away-in-return-for-something feeling.
1. Close all tabs on the browser that lead to online stores
As much as I can, I stay the hell away from Beauty Bay, Feel Unique, Beautylish, Strawberrynet, SASA and so on. The less amount of temptation, the better it will be for my wallet.
2. Have a friend who's destashing her beauty products? Check out what goodies she's giving away
I've picked up a number of goodies this way without having to spend a single cent. Mind you, I'm not asking them to give me the makeup item; they're just looking for a better home and my collection is happy to accommodate a new addition. The friend gets to declutter and I get something new(ish) to try out. It's a win-win situation for all.
3. Destash your own beauty products
More often than not, this feeling of I-need-to-buy stems from the need for fulfillment of something and I find that instead of getting new makeup, giving away/donating what I have feels even better. At first, decluttering seemed like an excuse for me to buy new things when I started decluttering and not buying anything new to replace the items, it gave me that sense of fulfillment that I was looking for. I know. Deep stuff. 😛
4. Borrow your friend's makeup
I do this with LeGeeque from time to time. I know she has no cooties, she knows I have no cooties. No mascaras, of course.
5. Distract yourself with a hobby, preferably something you can do with your hands
When my hands are getting itchy to want to shop for something new, I knit. I read. I write longhand. I even clean the dishes. And I make sure to stay away from a computer, tablet or phone where I can access the Internet.
6. When all things fail, buy just ONE thing
Sometimes you gotta do what you gotta do. When the urge to shop is so strong, I permit myself to buy just one item and I set a budget for it. Sometimes it's a lipstick or a blush. Or even a piece of stationery.
If you're feeling restless, not liking what you're seeing in your own beauty stash, have the urge to shop for something new, try giving these a go. It works quite well for me. After I wrote the above, I took out the Urban Decay Naked on the Run palette that was given to me by a dear friend who wasn't liking the palette much. You know what? I thought it was pretty cool. One woman's meh is another woman's yay.
I keep telling myself that until I get the urge to shop again. Hmm … I do want to get that gorgeous Tom Ford lipstick I saw the other day though.
Oh dear.
What about you? What do you do when you're inspired by your own beauty stash? More importantly, how do you curb that omg-I-need-to-buy-something feeling?