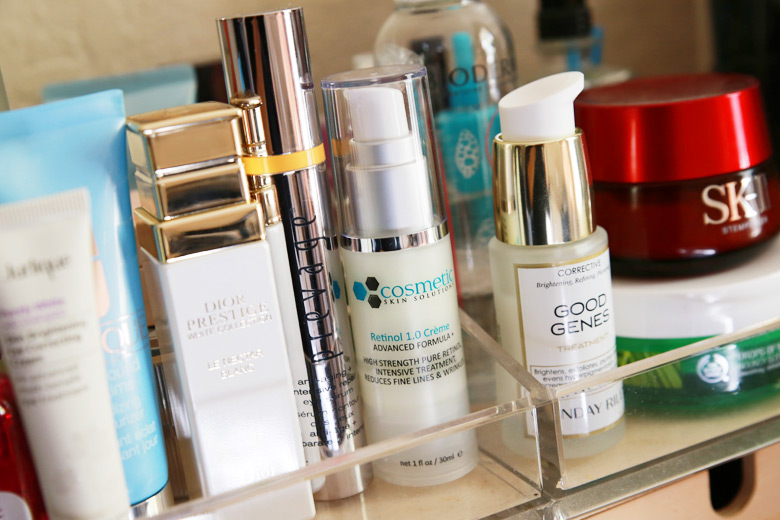 I've been going through my archives and realised that it's been a long time since I've shown you an update to my skincare routine (my last one was in 2013!). It has definitely changed a lot since then and I'm happy to say that I'm quite at peace with what I'm using now.
As a beauty blogger, I get the opportunity to try out a lot of different types and brands of skincare but funny enough, most of the ones I really like were ones that I'd discovered on my own and love using. You'll notice that I use a lot of serums and I love them because they're the ones doing the bulk of the job on taking care of my skin. Well, next to sunscreen, of course.
Here's what I've been using lately: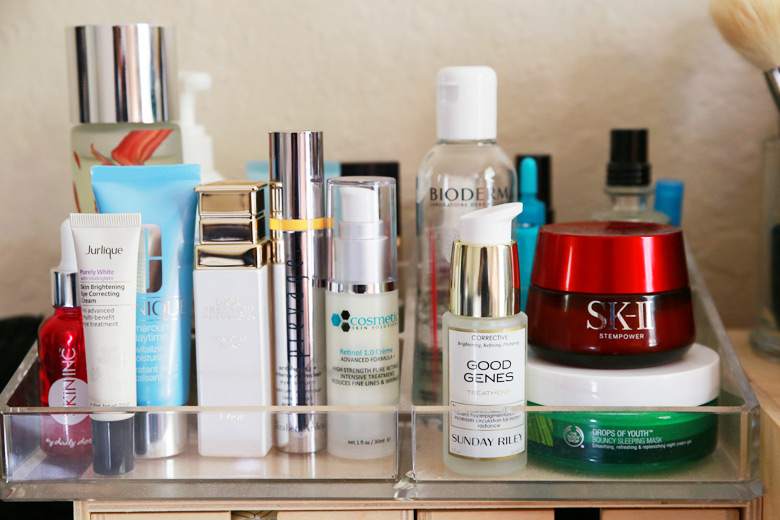 DAY:
Bioderma Sensibio Lotion (got this from Japan, using it as a toner. To be honest, it doesn't do anything for my skin. Don't know why I'm still using it but hey, waste not, want not, eh?)
Dior Prestige White Collection Le Nectar Blanc* (will be reviewing this very soon)
Elizabeth Arden Prevage Anti-Aging + Intensive Repair Eye Serum*
Clinique Turnaround Daytime Revitalising Moisturiser*
Biore UV Aqua Rich Watery Essence Water Base SPF50+ PA+++ (my favourite sunscreen)
EVENING:
SK-II Facial Treatment Essence (I got the limited edition packaging)
The Skincare Company HB5 Hyaluronic Acid + Vitamin B serum* (this is pretty much the same as Cosmetic Skin Solutions' Hydra B5 Gel)
Sunday Riley Good Genes (Holy Grail stuff!)
Cosmetic Skin Solutions Retinol 1.0 Creme (I alternate the use of the Good Genes and the retinol serum. I don't use them together and I definitely don't use them daily. Review coming soon!).
Jurlique Purely White Skin Brightening Eye Correcting Cream*
SK-II Stempower (my favourite moisturiser)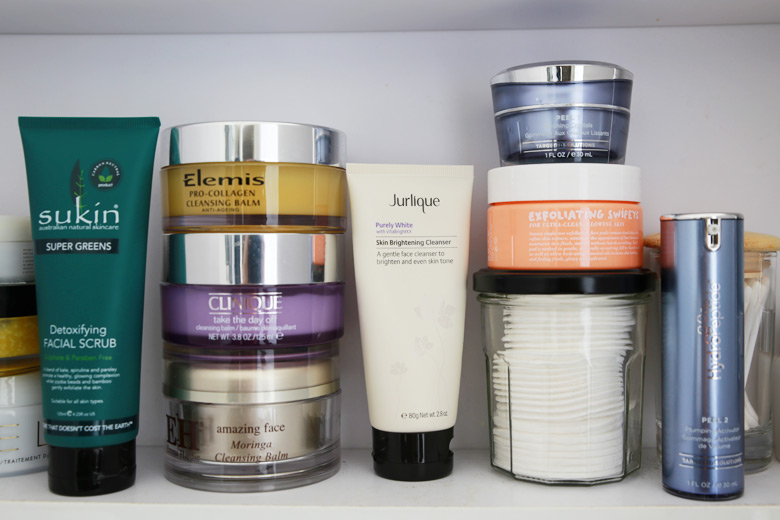 WASH OFFS:
Elemis Pro-Collagen Cleansing Balm (I love this cleansing balm)
Clinique Take The Day Off Cleansing Balm (this one's a very close second)
Emma Hardie Amazing Face Moringa Cleansing Balm
Jurlique Purely White Skin Brightening Cleanser*
Sukin Super Greens Detoxifying Facial Scrub*
Go-To Exfoliating Swipeys
HydroPeptide Anti-Wrinkle Polish and Plump Peel* (best at-home microdermabrasion-like scrub EVER!)
I put the "wash-offs" in a separate category as these are the items that I use that will be washed off my skin. The only item I use twice a day is the cleanser. I'm not particularly a fan of the Jurlique cleanser; I don't love it all that much but I don't hate it either. It's just what I'm currently using.
For me, cleansers come and go. I can use good cheapie drugstore stuff to the super high-end; as long as they cleanse my skin without leaving it tight and dry, I'm good. I switch up my cleansing balms whenever I feel like it. The rest are used on a weekly basis.I didn't take any pictures of my facial sheet masks so imagine that I popped a few in there from SK-II, L'Herboflore and My Beauty Diary. 😛
I've been on this skincare regime for a few months now and I'm loving it. The serums in particular are doing wonders for my skin. Pop in 1-2 facial sheet masks per week and my skin will be singing the Hallelujah chorus.
Has your skincare routine changed within the last 6 months? How about the last year or so? Discovered any Holy Grails?
Items marked with * were provided for editorial consideration. For more information, please read our
disclosure policy
.