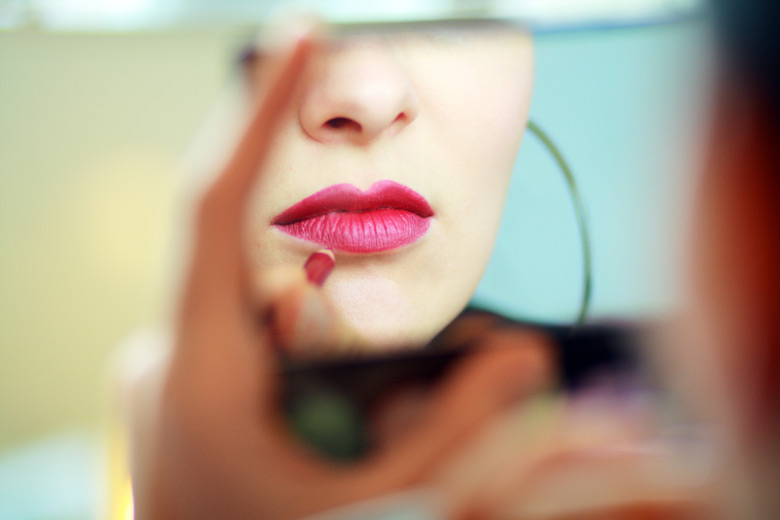 As you know, I'm a bit of a magazine junkie. Okay, the word "a bit" is really downplaying it; I love reading mags. When I'm reading a women's magazine like Elle, Marie Claire, Vogue, etc, the first pages I usually go to are the Beauty pages. Most articles aren't really anything new that I haven't heard or read of before but y'know, there's just something about flipping those glossy pages that make everything seem better.
Yes, I'm a sucker for glossies that way.
However, there are topics that I'm not a big fan of and unfortunately, I stumble upon them quite often. Just the other day, I read an article about "how to choose the right lipstick colour for you" and something about it rubbed me the wrong way. After mulling over it for days, I finally realised why I didn't like it. I didn't like how it dictated what colours women should wear.
Watch out, folks, I'm climbing on my soap box now. 😛
You see, I believe in choosing what you like and choosing what looks good on you. In this case, we're talking about lip colour. Experts can tell you that warm colours suit warm skintones, cool colours suit cool skintones but really, you can cross over. I have very yellow undertones and I love wearing bright cool fuchsia. If I followed the rules, I'd think that I cannot simply wear such a colour because it's going to clash tremendously with my skin tone.
I started out following the rules. I stuck to warm-toned shades and I thought I was fine with it until I started seeing more and more women sporting fuchsia on their lips. I knew I had to give it a shot. Turns out, it's now one of my favourite colours to wear.
I believe that women should not be afraid to try out new colours. These are colours that take you out of your comfort zone. It could range from the very light to the very bright and all the way to the very dark.
When you're at a makeup counter, if a beautiful pop of colour from the lipstick bullet catches your eye, don't immediately assume you can't wear it because you're too young/too old (no such thing)/too yellow/too blue/[insert excuse]. Don't just swatch it at the back of your hand and think "woah I can't wear that! No way!". If you're at a makeup counter, have the makeup artist or sales assistant apply it on your lips for you. If you're at Mecca or Sephora, use a disposable wand or cotton bud and apply it on yourself.
You'll be surprised to find that more often that not, that colour that you thought you could never wear is the colour that looks really good on you. If the colour that is applied on you isn't your thing, fair enough, remove it and move on. But at least TRY. Don't pigeonhole yourself to just a small variety of colours because you think they won't look good on you based on just the swatches on the back of your hand.
On the other hand, if you're highly uncomfortable with a particular colour, don't allow the makeup artist or sales assistant to bully you into buying the makeup. Give it a red hot go in store but if you know in an instant that nope, it's not for you at all, just say no thank you. I once bought a very dark berry shade because the makeup artist wouldn't stop badgering me. I knew I didn't look good in it and I really didn't feel comfortable wearing that colour out. In hindsight, I should have just walked away but you know what they say, hindsight, 20/20, all that jazz.
There's no one "right lipstick shade" for any one. If you like very dark lip colours, you rock them. If you like colours that may clash with your skin tone but you still look damn good in them, wear them. If the colour scares you, at least try it out. Like they always say (who's this "they?") never try, never know! 🙂
If it scares you, it might be a good thing to try. – Seth Godin
Do you wear lip colours or any other sort of makeup that are out of your comfort zone?