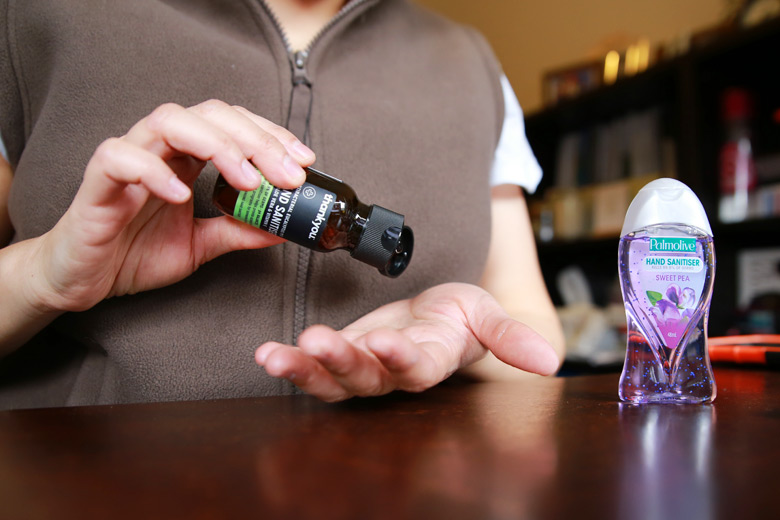 I used to have a bit of a love-hate relationship with hand sanitisers. They're a brilliant idea and are staples in my bag. I rarely leave the house without carrying a bottle of hand sanitiser with me. I'm not a germaphobe by any means but if you've seen that many women who don't wash their hands after using the public toilet like I have, you'd be using bottles of these like there's no tomorrow.
See, the thing is, I love how handy it is (ahem see what I did there?). But I hate how dry most of them make my hands feel. Unfortunately, I haven't gotten into the habit of immediately using hand cream right after hand sanitiser just yet so I have to rely on good hand sanitisers that don't dry my skin out. After much searching and trialling of budget and more expensive hand sanitisers, I've come down to these few that work very well without making my hands look like prunes.
Straight up, you'll see that there's only one budget hand sanitiser in the shortlist. My problem with what I call supermarket/drugstore hand sanitisers is that they're often drying on the skin. A large bottle of Purell is certainly budget-friendly but if you tend to use hand sanitisers regularly yet don't apply hand creams often, they're going to dry your hands out really quickly.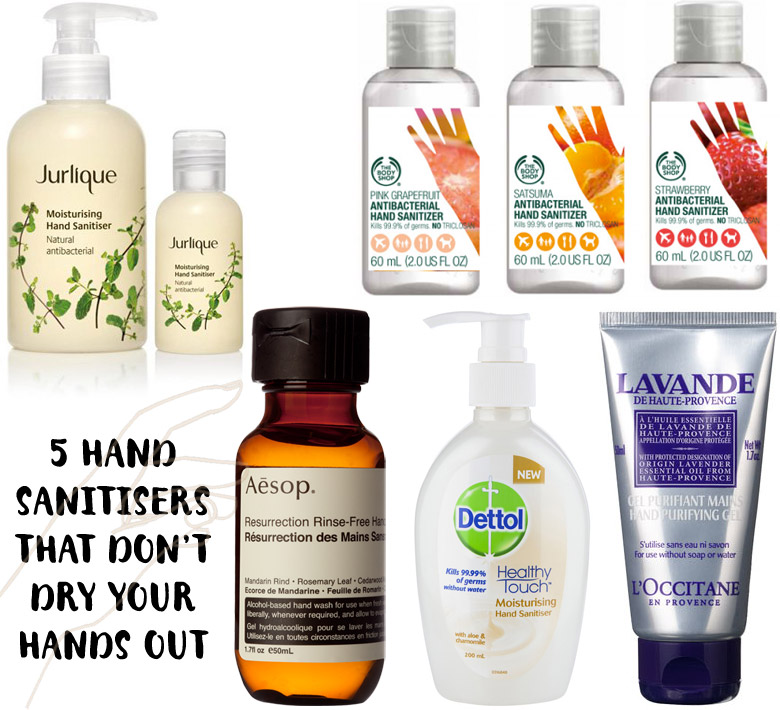 Dettol Healthy Touch Moisturising Hand Sanitiser (RRP AUS$3.65 for 50ml)
So far, this is the only drugstore hand sanitiser I've tried that doesn't leave that squeaky clean feeling on my skin. I've tried the ones by Palmolive, Thank You, Aquim, etc and while they're effective in sanitising my hands, they're not good in the "moisturising" department. If I'm not mistaken, there are 3 versions of hand sanitisers by Dettol. This is the best of the lot.
Jurlique Moisturising Hand Sanitiser (RRP AU$10.00 for 50ml)
This hand sanitiser smells like I've dipped my hands into a pool of lavender. It's so good! It leaves hands feeling moisturised and clean.
L'Occitane Lavande Hand Purifying Gel (RRP AU$14.00 for 50ml)
This is the only hand sanitiser I've come across that doesn't come in a bottle but a tube. In terms of scent, the lavender doesn't smell as good as the one from Jurlique but it's still pleasant. The gel keeps hands clean without drying the skin out. It's also the most expensive of the lot.
The Body Shop Hand Sanitiser (RRP AU$4.95 for 60ml)
Out of these hand sanitisers, I'd say that the one from The Body Shop smells the strongest. It's not a bad fragrance, mind you, but it does smell quite strong. Having said that, it's non-drying, and if you love citrus-y scents and have smelled the one in the Satsuma range … oh. My. Gawd. So good! It's also surprisingly cheap for something that doesn't come from the drugstore or supermarket.
Aesop Hand Resurrection Rinse-Free Hand Wash (AU$10.00 for 50ml)
This is my favourite hand sanitiser of the lot. I love Aesop's hand wash and this one smells just like their popular hand wash. I can even use this in lieu of my hand cream if I have to as it doesn't dry my hands out at all (I try not to, of course; it does contain alcohol after all)
Crabtree & Evelyn used to stock their Antibacterial Moisturising Hand Gels but they've discontinued the range. I wonder why; their hand sanitisers were really good!
You'll notice that I didn't include the PocketBac hand sanitisers by Bath and Body Works even though they're so popular. I have many bottles of this that I use for when I walk Janey (the PocketBac holders are brilliant for hanging onto her leash). While they come in a very cute size and a myriad of scents, I actually find them to be some of the most drying hand sanitisers I've used (which is strange because they do contain glycerin). It's a real pity because no other brand can beat Bath and Body Works when it comes to the massive variety of hand sanitisers that they have.
When looking for hand sanitisers, check out the list of ingredients. Look out for "glycerin" in the ingredients. This is the moisturising element in the product. Typically, I like my hand sanitisers to have glycerin as high up in the list of ingredients as possible. Hand sanitisers may have the words "aloe" or "camomile" to moisturise and smoothe but from experience, I find that if they don't also contain glycerin, they're not as moisturising on the hands.
As with all hand sanitisers, whether they're drugstore or mid-range versions, they still contain alcohol so please use them sparingly and when needed. Whenever possible, use a hand cream after using a hand sanitiser.
What about you? Do you use hand sanitisers too? Do you keep one in your bag? Which one's your favourite?
This post contains several affiliate links. By purchasing something via these affiliate links (at no extra cost to you), you're supporting Beautyholics Anonymous, which I highly appreciate. For more information, please read our
disclosure policy
.