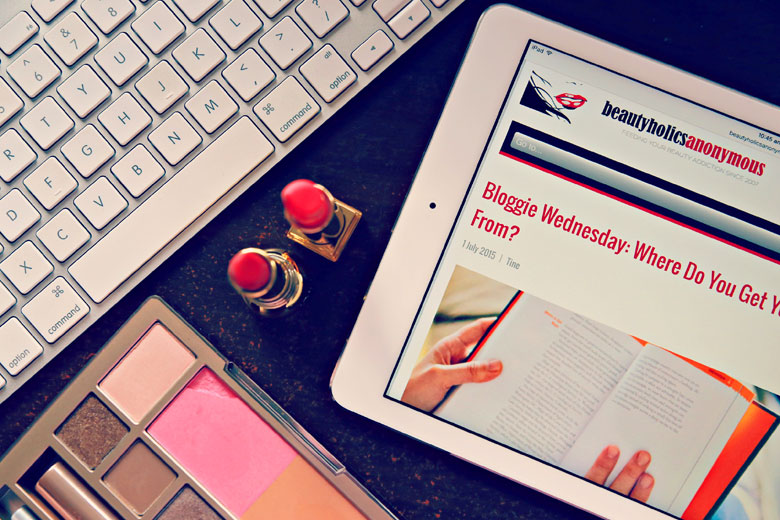 How many beauty bloggers are there in the world, you reckon? Thousands? Tens of thousands? Hundreds of thousands? Over a million? I'm afraid I don't know the figures, but I'll venture a guess that there are far more than we can count. When we blog about beauty, we write about the beauty products we've tried, loved or disliked. We write about the tips and tricks we've learned about a makeup trend, a hairstyle and so on, and we pass that information on to our readers. We build a sense of community with our audience.
You may be surprised to know that most beauty bloggers out there do not work in the beauty industry. Most haven't done makeup courses or have a formal education in beauty. For me, I learn on the job. I learn from other people, from reading blogs, books and magazines to speaking to experts, picking their brains and so on. I learn from fellow bloggers who work so hard in creating tutorials so that people like me can understand and follow along step by step.
Before I started beauty blogging, I thought I knew a lot about beauty. Turns out, I barely knew a thing. Eight years down the road, I picked up a few beauty tricks here and there. I also learned a lot about my skin and hair; what it likes, what it dislikes and how it reacts to certain things.
Here's a mish-mash of the 35 things beauty blogging has taught me about beauty.
I know how to do a quick, less-than-5-minute smokey eye.
I know how to do that 3-D, gradient-like makeup look (to the best of my ability, of course. I'm no Pixiwoo). Before I started beauty blogging, all I could do was one wash of colour on the lid. And I thought that was already so awesome.
I learned how to use a liquid eyeliner to apply a thin line on my lashline.
I also learned to "wing" liquid eyeliners. Best. Achievement. Ever. Is that sad? 😛
I learned that while there are people who dislike silicone in their makeup, my skin loves it. The more silicone a foundation has, the better it looks on my skin. Who knew?!
I learned that to combat dark eye circles, you need a concealer with salmon-y tones.
Oh yes, it also meant that I learned how to use a concealer, how to apply it, where to apply it and so on.
I learned that contouring isn't for everyone.
I learned how to use a bronzer and not hate it.
I learned to try out lip colours that were way out of my comfort zone. I never thought I could pull off a bright omg-look-at-me red/fuschia/coral/insert-crazy-bright-colour-here.
I learned that in order to store my makeup, IKEA is the best place to go for makeup storage. Surprisingly, I may be the only beauty blogger who does not own a set of Alex drawers.
Speaking of makeup storage, I learned that cheapie plastic drawers from the $2 store and makeup do not mix. Apparently, you got to have clear, acrylic drawers because the $2 ones don't "photograph well". Ahem.
I also learned that clear acrylic drawers are ridiculously expensive for what they are.
I learned that not all "universal" blushes work for everyone. For example, I don't like the very-popular NARS Orgasm. It doesn't show well on my face.
I learned to truly appreciate bright, strongly pigmented blushes and enjoy using them far more than sheer blushes.
I used to love glitter. Lots of it. Beauty blogging sort of killed it for me because I realised that glitter in makeup really doesn't work for everyone. Plus, glitter on nail polish really is a pain in the arse to remove.
Speaking of nail polish, I found out that I enjoyed wearing all sorts of colours, not just the ubiquitous pink/nude.
I learned that very dark nail polish (e.g. black, navy, grey, dark red, etc) looks very good on short nails.
I learned that you don't need long nails to look feminine. I've never liked having long nails but I had it for years because I thought they made me look, er, womanly. Then I realised how good dark nail polish looked on short nails, so one day, I decided to clip the long bits off. That was about 6 years ago and I never looked back.
I learned that my really thick, coarse and frizzy hair can be tamed with something called a "flat iron". For years, I thought only hair salons could have flat irons, not regular consumers. Prior to having a flat iron, I used to use a lot of water and John Frieda's Frizz-Ease to flatten my hair. They didn't really work.
My flat iron is now an absolutely staple in my beauty routine and I never travel without one.
With a flat iron, I learned that you have to apply something called a "heat protector" to prevent your hair from frying from the heat. I didn't know that at first and for the first few years of having a flat iron, I didn't use any sort of heat protectant on my hair at all.
A good quality and high-powered hairdryer is a busy woman's ally.
Forget low-powered cheapie hairdryers or hairdryers that come with lots of brush attachments. I have the InStyler and a couple more hairdrying tools like the InStyler and I ended up wasting more time trying to get it to work well on my hair when I could have just blasted my hair dry with a good hairdryer.
I learned that a dry shampoo is a lifesaver for when I'm recovering post-surgery and can't take shower nor wash my hair. God bless the inventor of dry shampoo in a can.
I learned that Pantene actually has a lot of silicones in their haircare products and apparently a lot of hair experts hate it. And that sulphate-free shampoos, conditioners and hair masks are better for the hair.
It turns out that my hair adores Pantene, isn't weighed down by its products at all and it hates sulphate-free haircare. Go figure.
I learned that as lovely as natural skincare ingredients are, they barely do anything to my skin other than hydrate it.
I learned that my skin needs and wants active chemical ingredients like AHAs, retinol, peptides and so on to improve (or as my mum would put it, not deteriorate).
I learned so much from beauty bloggers who blog about the science behind beauty products, about the marketing and fluff of ingredients that don't necessarily improve the skin.
I learned that well-known and very expensive brands of beauty products may come up with "star products", but once you strip off the fluff ingredients that don't actively work to improve your skin, all you're left with is a cream that you can get cheaply from the pharmacy.
I learned the importance of sunscreen. Enough said.
I learned that every beauty blogger is not the same and each one brings something different to the table. I also learned that while beauty bloggers put their faces out there to show how good/bad a product is, there will still be nasty people who claim that the beauty bloggers are ugly.
I learned that it's a strong misconception that all beauty bloggers are shallow and that all we are obsessed with is beauty. Behind that facade could be someone who is highly insecure about his/her looks yet still shows his/her bare, makeup-free face on the blog for the sake of a product review.
I learned that while there are negative aspects of the beauty blogging community, there are also a lot of good in it. Blogging can be a lonely hobby/job but it can also be a very social one if you allow it to be. The camraderie and the sense of community you get from fellow beauty bloggers who understand what you do is amazing. If it wasn't, I would have stopped doing it a long time ago.
This is simply a random list of things that popped into my head. There are so much more that I've learned but I could be writing for days if I don't stop now.
Beauty blogging for me is a never-ending learning process. With every new technology, product and trend in the market, there's something new to learn. I could never, ever say that I know it all because the truth of the matter is, I'm probably on scratching the surface. That's what I love about blogging about beauty.
I never stop learning.
What about you? If you're a beauty blogger, what has beauty blogging taught you about beauty? If you're not a beauty blogger but have been reading beauty blogs for a long time now, what are a few of the sigificant things those blogs have taught you about beauty?
Bloggie Wednesdays
is a series of articles just on blogging. They contain tips, how-tos, discussions about anything and everything you need to know about blogging and how we can be better bloggers. If you have any suggestions, tips and tricks about blogging you would like to share with us, or if you have any questions you would like me to address, please let us know in the comments.