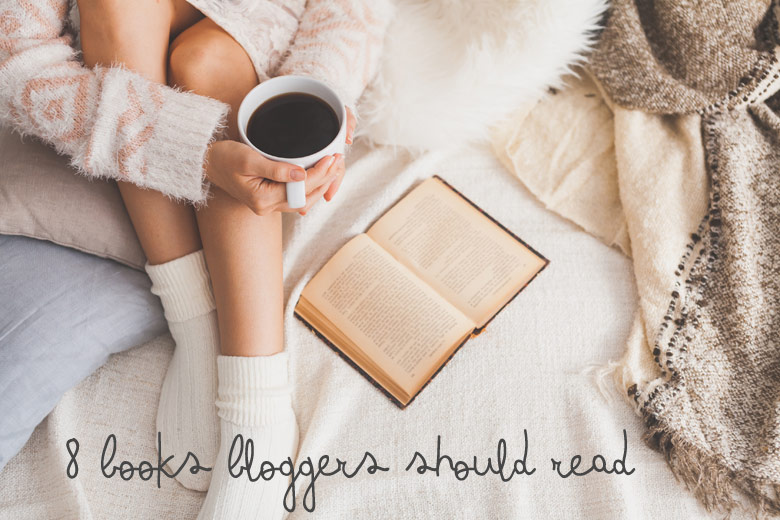 Since I wrote about a book yesterday, I thought I'd continue with more books that you might like to check out. This time, it's not so much about beauty but books that bloggers should check out if they'd like to learn more about blogging, growing their web presence and ultimately marketing their content and/or products online. If you asked me 10 years ago if I'd be reading books like these, I'd say you were mad because they'd bore me to tears. Things are very different now and I love them!
I made it a point to read more last year and I'm glad I hit my reading goals. From then on, I've been reading more and these are the ones that I've enjoyed. You don't even have to be a blogger to read these because most of them will apply to you as well. If you're a blogger, I highly recommend you add these to your reading list.
Here they are in no particular order.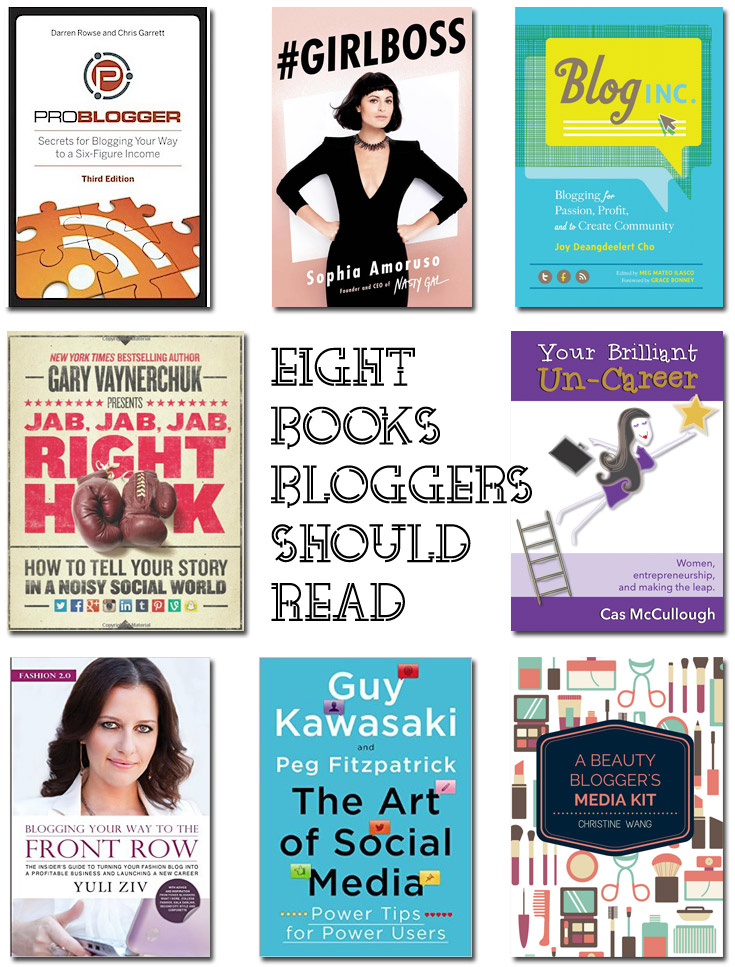 1. Blog, Inc by Joy Deangdeelert Cho
Written by the blogger behind the very popular lifestyle blog, Oh Joy!, this is a handbook for new bloggers who'd like to grow their blog, from design to overcoming blogger's block, attracting readers and more. Even though this book is particularly aimed at newer bloggers who haven't been blogging for long, I've learned a lot from it as well. It's easy to understand and the steps are quick to implement.
2. #GIRLBOSS by Sophia Amoruso
A memoir by the founder of Nasty Gal, this is what I call my I-need-inspiration-to-kick-ass book. It's a memoir of her youth, how she started selling vintage clothes on eBay and how she created Nasty Gal and turned it into a $100-million dollar business. I'm not typically a fan of business-y memoirs but this was different. It's not just an entertaining read; it's inspirational as well. As Sophia wrote, "I have three pieces of advice I want you to remember: Don't ever grow up. Don't become a bore. Don't let The Man get to you. OK? Cool. Then let's do this."
3. Problogger: Secrets For Blogging Your Way To A Six-Figure Income by Darren Rowse and Chris Garrett
This was the very first blogging book I read years ago and it's still one that I recommend to all bloggers, even if you're not blogging for a living. It's chockful of information, from learning how to setup a blog, finding your niche, writing good content to learning how to monetise your blog, blog strategies, measuring your blog's success and much more. If there's such a thing as a blogging bible, this is it. It's all of the blogging blogs you read in one book. I've read this twice and there's still so much for me to learn.
4. Your Brilliant Un-Career: Women, Entrepreneurship, and Making the Leap by Cas McCullough
I stumbled upon this book when someone shared that it was free on Amazon (it no longer is) and what a good book it was. The cover of the book may look like a children's book but don't let it fool you; it has a wealth of information in there for women who wants to escape the confinements of the corporate world and entrepreneurs. It shares real women's stories, inspiration and practical insights on making the leap from employee to entrepreneur.
5. The Art of Social Media by Guy Kawasaki and Peg Fitzpatrick
If you've listened or watched interviews with Guy Kawasaki, you'll find that this book has his tone and style all over it. If ever you need to learn about easy-to-implement-with-maximum-results tricks about social media, this book has it. It had me filling my notebook with to-dos on growing my social media following right from the start. It's a quick and easy read and it will change the way you use your social media platforms.
6. Fashion 2.0: Blogging Your Way to The Front Row – The Insider's Guide to Turning Your Fashion Blog into a Profitable Business and Launching a New Career by Yuli Ziv
Yuli Ziv is the founder of Style Coalition and while this book is aimed at fashion bloggers, I find the information applicable to the beauty niche too. It shows you how to brand yourself as a top blogger and sought-after influencer, how to build valuable relationships with PRs and brands, how to work with advertising networks, how to secure invitations to important industry events, how to land sponsorships and much more. Even though there are parts of the book that seem a tad flippant, most of it is highly relevant to what we do.
7. Jab, Jab, Jab, Right Hook: How to Tell Your Story in a Noisy Social World by Gary Vaynerchuk
It's hard to talk about blogging and social media without mentioning Gary Vaynerchuk, who's such a big presence in the content marketing world. The book talks about social media marketing strategies that work. Jab, jab and jab by committing to give great, valuable content to your audience and patiently engaging with them before you land a right hook to convert that traffic to sales. It's a great book to read.
8. A Beauty Blogger's Media Kit
Oh come on, I'm sure you saw this coming. 😛 This book was written by yours truly. If you're thinking about working with brands or monetising your blog, you'll need a stand-up media kit. I'll show you how to create one, how to introduce yourself to brands, PRs and potential advertisers, how to create a rate card and more. Okay, shameless plug over. Tee hee!
There are plenty more books to recommend, but I'll leave it here for now. I'm currently reading Tim Ferris' The 4 Hour Workweek, but since I haven't finished the book, I'm not adding it to the list just yet. There are plenty of great books out there that you can learn about blogging, becoming an entrepreneur, social media strategies and so that don't just come in the form of blogs. Give these a go if you haven't already and let me know what you think!
Have you read any of these books? If you have any to recommend, please share with us in the comments.
Bloggie Wednesdays
is a series of articles just on blogging. They contain tips, how-tos, discussions about anything and everything you need to know about blogging and how we can be better bloggers. If you have any suggestions, tips and tricks about blogging you would like to share with us, or if you have any questions you would like me to address, please let us know in the comments. This post also contains several affiliate links. By purchasing something via these affiliate links (at no extra cost to you), you're supporting Beautyholics Anonymous, which I highly appreciate. For more information, please read our
disclosure policy
.