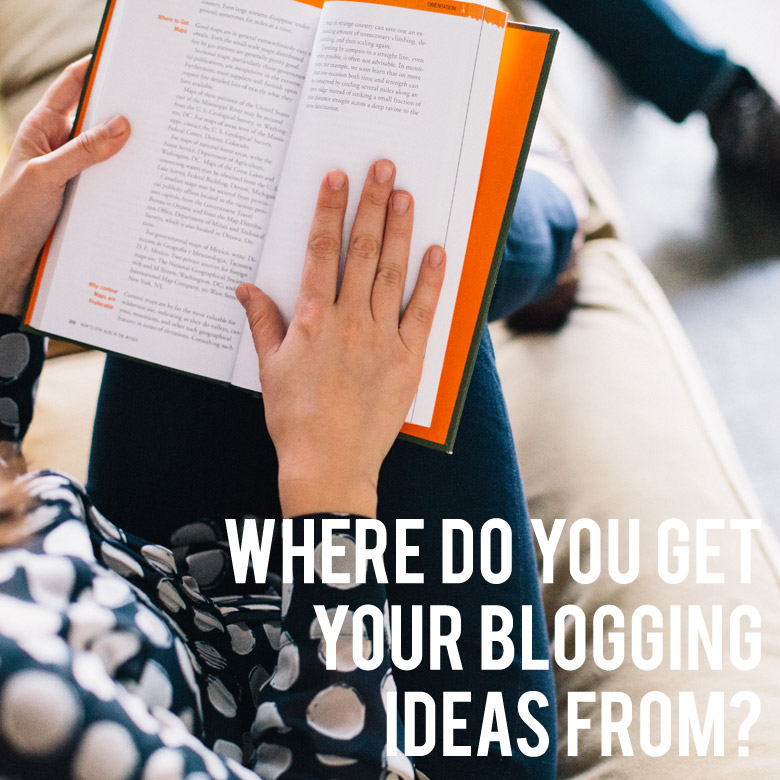 A question that I often get from readers is this: where do you get your blogging ideas from? How is it that you blog almost daily and still have so much to write about? My mind is blank; I've got nothing!
Oh believe you me, I get blogger's block often, more often than I care to think. It feels great when I'm on the roll with ideas for blog posts and I write them out or type them out in a frenzy until my fingers hurt. On the other hand, when I'm dry and fresh out of ideas, it can get really frustrating. I could even go out for a walk or head to the shops and I'd come back without a single hit of inspiration.
I get stuck with zero inspiration every now and then, and that's why I need to plan ahead with my blog content. I'll have at least 2 weeks of content ready to roll but on average, I'll have at least a month's worth. I don't have them all written out, of course. When it comes to content planning, I use a blank month-on-two-pages calendar and fill out the titles or topic for each day. These are written in pencil because I like to be able to move my content around when I see fit.
I also have a notebook which I use to write down any ideas for content whenever they strike. It could happen anywhere; in the shower, on the toilet, when I'm out and about, etc and I make sure to write them down as soon as possible.
So, where do these ideas come from? Yours may come to you differently. Here's how I get mine most of the time.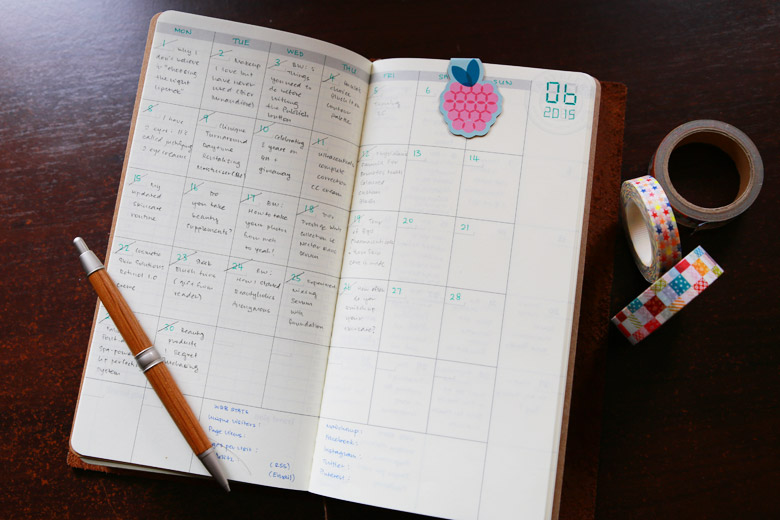 Blogs and YouTube
I love checking out blogs and YouTube for content ideas. Product reviews aside, you can get really interesting ideas from other bloggers and YouTubers. You can do fun tags, interviews with your favourite bloggers and much more. I'm not asking you to copy their work but if there's an interesting post that you see you can use for your blog, there's nothing wrong with using what you see on other blogs and working your personality and ideas into them. Do credit those bloggers as your inspiration and let them know that you've blogged something similar. They'll get to check out your blog too!
Do some people-watching
You have no idea how many blog posts on BA were born out of people-watching. Every week, I like to leave the house and head to my favourite cafe for lunch. I'll have my notebook ready to fill in with ideas. I'm not talking about eavesdropping on other people's conversations but you'll be surprised at how much you can learn about other people by quietly watching them go by in a non-creepy, not-stalkerish way. I watch what they wear, how they interact with other people, how they go about their thing … and bam! I'll get an idea for a blog post.
Have conversations with people
This is my favourite way to get inspiration for content. There's so much to learn when I'm having a chat with someone. When I'm chatting with a makeup artist at a beauty counter, I'm picking her brains on a certain makeup application which I can then either share on the blog or social media. When I'm chatting with a skincare expert, I learning more about skincare. When I'm chatting with friends, my brain soaks up the information and tries to work what I've learned into a blog post or two.
Seek help from fellow bloggers
Sometimes when I'm working on an angle for a blog post, I'd check with a few friends who are also bloggers on what they think of my topic. They would often give me so much extra information that I didn't even think of. I'd do the same for them too. This is a great way to throw ideas around and help each other out with our blog content.
Listen to a podcast or two
I listen to a lot of business and blogging podcasts. They're usually where my ideas for Bloggie Wednesday posts come from. I don't listen to much radio in the car anymore; why consume rubbish that is nonsensical talk radio when you can consume content and useful information instead? I listen to podcasts when I'm on the car, bus, train, walking Janey, cooking, etc. Whenever I get an idea from listening to a podcast, I immediately write it down in my notebook.
Look for inspiration on Pinterest
Last but certainly not least, check out Pinterest for blogging ideas. It's a massive resource of information that you can tap for your content. In fact, there are plenty of bloggers who wrote and pinned posts like "X number of blogging ideas for bloggers". I've pinned and saved a lot of similar blog posts and I go to them often for ideas. If you're stuck for ideas, just use the search terms "blogging ideas" on Pinterest. You'll have enough ideas and content to last you for months!
I hope you've found this post useful, especially if you're having a blogger's block and don't know where to get your next blogging inpsiration and ideas from. The key to managing blogger's block is to plan, plan and plan some more. When you plan ahead, you'll find yourself hitting that wall less and less.
Good luck!
Where do you get your blogging ideas from? What/where/who do you go to for blogging inspiration? Do you plan your blog posts ahead or blog on-the-fly whenever inspiration hits?
Bloggie Wednesdays
is a series of articles just on blogging. They contain tips, how-tos, discussions about anything and everything you need to know about blogging and how we can be better bloggers. If you have any suggestions, tips and tricks about blogging you would like to share with us, or if you have any questions you would like me to address, please let us know in the comments.