Note: This is a sponsored post.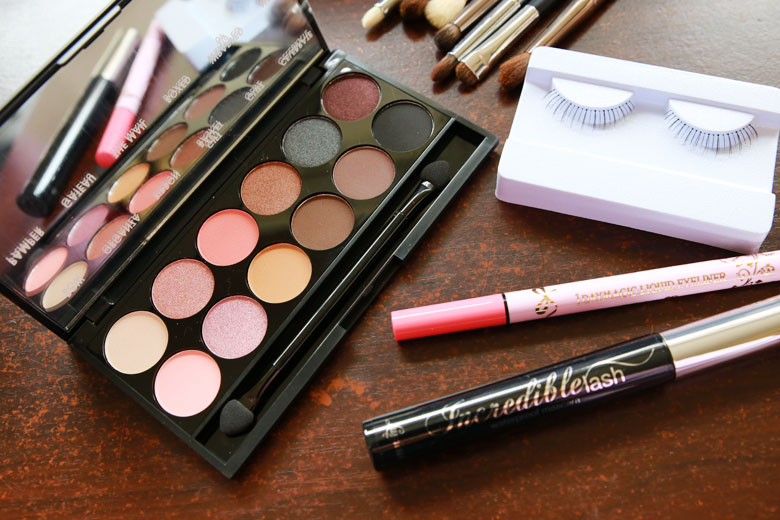 Last weekend, I headed to the city to celebrate my friend Norlin's 40th birthday. You know you're celebrating something special when you'd brave the cold temperature and wind (apparently it was the coldest night in goodness-knows-how-many years!) to spend the evening eating and dancing with the girls. 🙂
It wasn't that sort of swanky affair but a gathering of a group of ladies having dinner, drinks and a whole lot of dancing. And what an awesome evening it was. Since it was so cold, I wasn't able to wear a dress or skirt that evening. I didn't only jazz up my jumper with a very bling-bling necklace, I also jazzed up my makeup for the evening.
I was fortunate to be sent a few new eye makeup products by Luxola a couple of weeks prior to the event, and so I thought I'd use them for the evening. The eye makeup held up surprisingly well, so I thought I'd recreate what I did that evening for you.
Here's the makeup I used for the evening.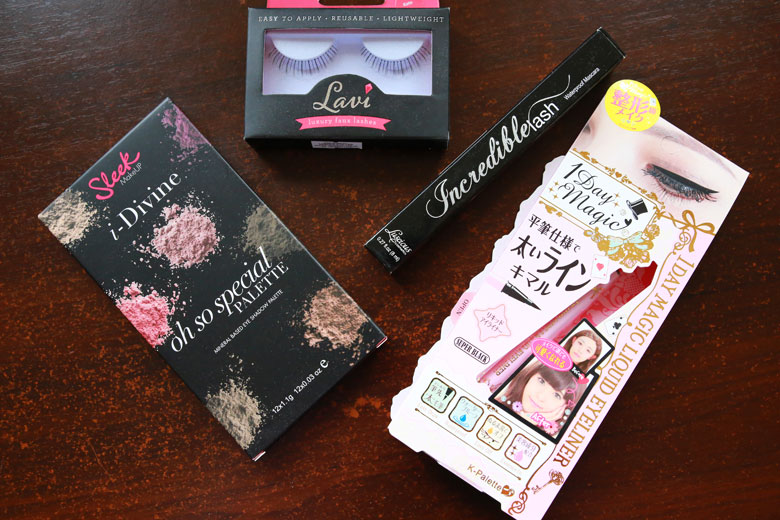 I didn't manage to get the false eyelashes on that evening as I was slightly rushing for time. Goodness knows I need a LOT of time to get false eyelashes right!
I had no idea that Luxola stocked Sleek makeup and I'm so glad that I'm finally able to try one of their eyeshadow palettes! The one I received was the i-Divine palette in 658 Oh So Special. Those colours are absolutely gorgeous. It has a mixture of shimmery and matte shades which work well for me. There's a very beautiful matte coral shade that I actually ended up using as a blush!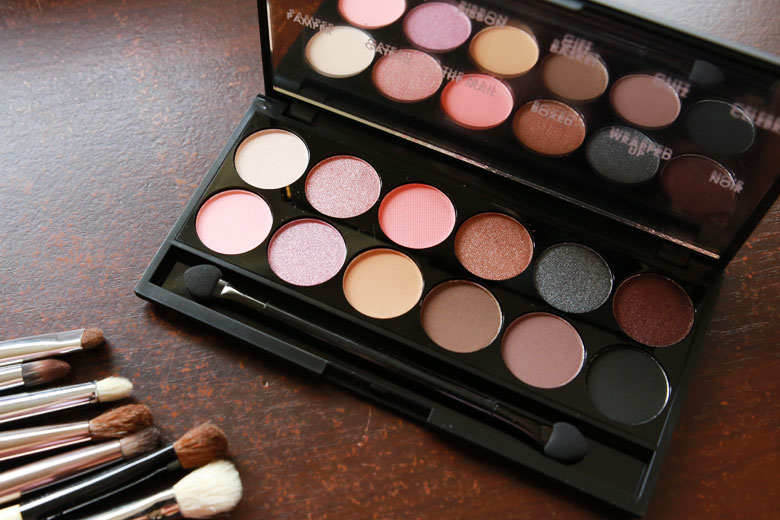 As for the rest, I used the K-Palette 1 Day Magic liquid eyeliner to wing out my eyeliner (really like the very thin tip; it's easy to use) and the Luscious Cosmetics Incredible Lash waterproof mascara. I was going to use the Lavie Lash false eyelashes for the look today but I found it a tad fiddly to use and you know me and my lack of falsies application skills. It's pathetic. In the end, I decided to ditch the eyelashes and piled on the mascara instead. It worked just as well because when I did get one side of the falsies on, it was so wispy that it doesn't look like I had any on! The mascara alone did a great job.
Here's what I use for the rest of my makeup: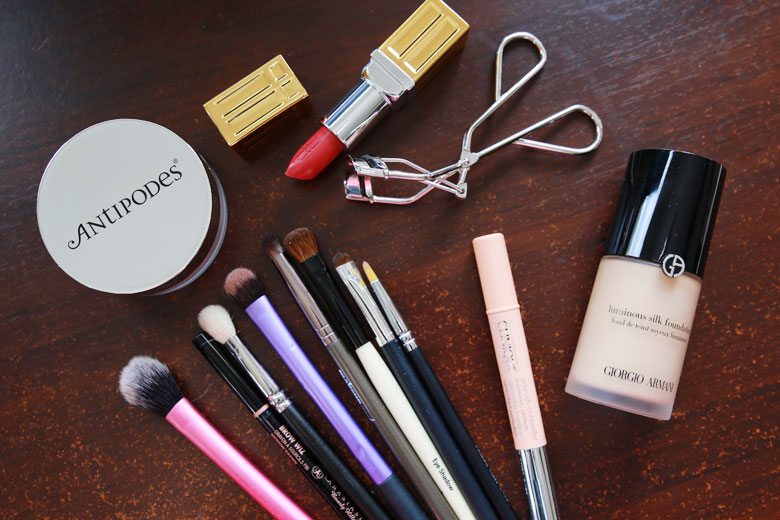 Like I mentioned earlier, I liked the matte coral shade from the eyeshadow so much that I used it as a blush for the evening. It works!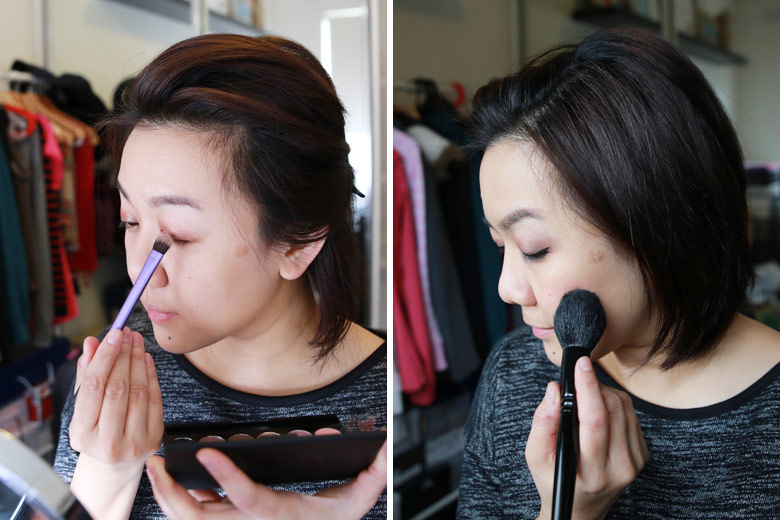 Where the "magic" happens
With my trusty eyeshadow primer on, the Sleek eyeshadows managed to stay on my lids well with only a small hint of creasing by the time I got home. It's tough for me to find eyeshadows that last long because I have very oily eyelids, so I'm pretty impressed at these.
I'm not a pro at eye makeup so I didn't do anything fancy with it. But this worked a treat for me and I really liked it. I hope you did too. 🙂
Many thanks to Luxola for providing the eye makeup for the night. If you're unsure about what Luxola is, it's an online cosmetics company based in Singapore and stocks a variety of Western and Asian beauty brands like Zoeva, Rodial, Sigma Beauty, Sleek Makeup, Vichy, Edward Bess, Dr Jart, Astalift, Koh Gen Do, Yves Rocher, Sachajuan and much more. They have a wide eye makeup range too.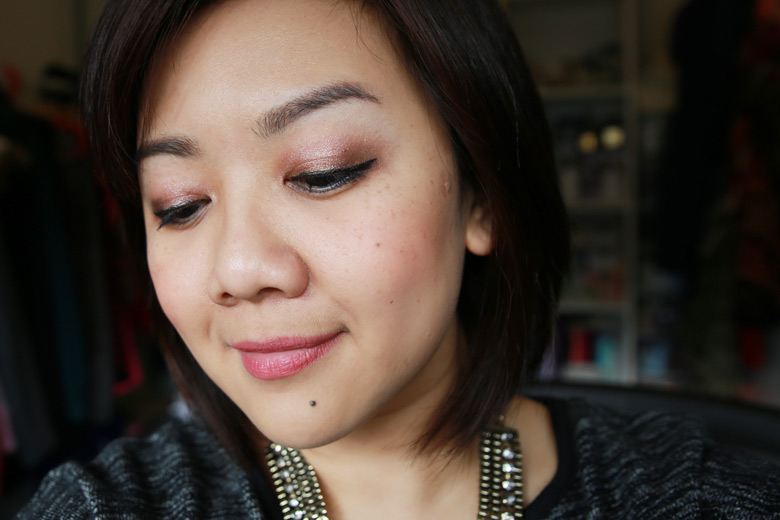 I've teamed up with Luxola to offer you lovely readers a nifty discount code. Simply enter the promo code BLX-TINE upon checkout and you'll get 15% off your first order. This offer is valid until 31 August 2015. Please note that this discount is not applicable for non-discountable brands as stated in their FAQ page.
Luxola also has free international delivery for every order over AU$55.00, which actually isn't bad at all. Mind you, not every single thing is the same price as, say, Sephora, but there are some that are comparable or even cheaper. Time to whip out the calculator and do the math to see which ones work out better for you. 🙂
One thing I must mention though, the delivery time for Luxola, at least for me, was crazy fast. International parcels usually arrive at least 2 weeks via regular mail. My parcel came in just a week. Heck, I have Australian packages that won't arrive in a week. Australia Post, I'm giving you the stinkeye.
Anyway, have fun shopping! 😀
Have you shopped at Luxola before? Have you tried any of the eye makeup I mentioned? Man, I am digging that Sleek eyeshadow palette big time!
This is a sponsored post for
Luxola
. The eye makeup products mentioned in the article were provided for editorial consideration. For more information on sponsored content, please read my
disclosure policy here
.