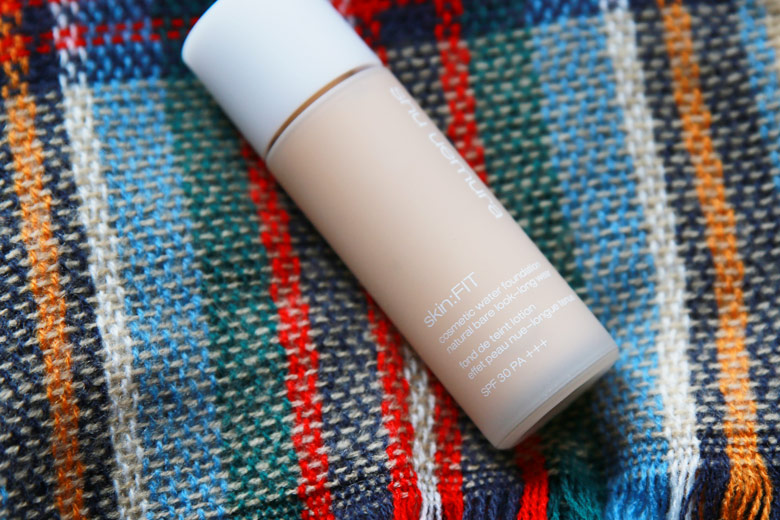 If you're on the lookout for silicone-free foundations, I've found another one for you! (the first one was Bare Minerals' BareSkin Pure Brightening Serum Foundation) Now straight up, I must admit that I'm typically not a fan of silicone-free foundations. I've used far, far more conventional foundations with silicone than I have the silicone-free ones and the latter are harder to blend than the regular ones.
However, I know that there are people who may be allergic to silicone or would prefer silicone-free foundations, which is why I've decided to also give this a go. While I did have several issues with this foundation, there was something about it that almost blew my mind.
The Skin:FIT is a very lightweight and watery foundation. It's meant to look very natural on the skin while giving it a fresh, long-lasting complexion. This is quite an interesting formula; it's an oil-free bi-phase formula which, when the bottle is left alone, will have the pigments separate from the water. The bottle must be shaken well prior to application.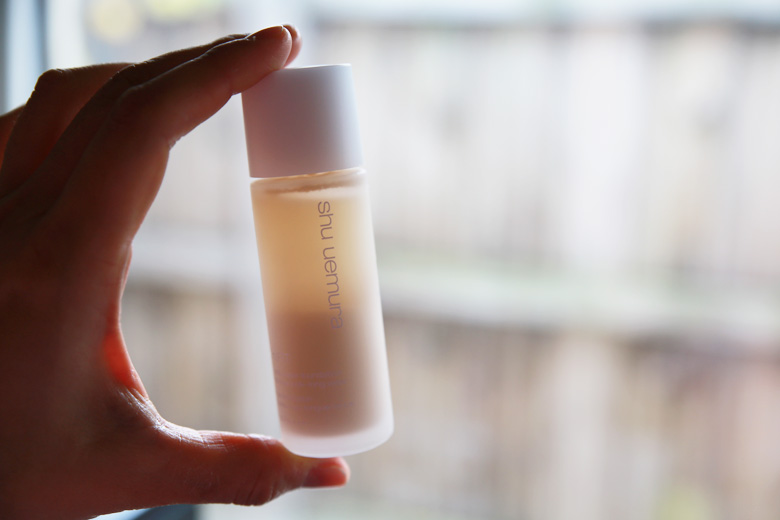 The foundation also comes with a dual-sided sponge designed to be used with the foundation. One side of the sponge is like any typical makeup sponge. However, the other side of the sponge looks and feels like a thin layer of velvet. The "velvet" side is used to apply the foundation and the sponge side to tap and blend the foundation onto the skin.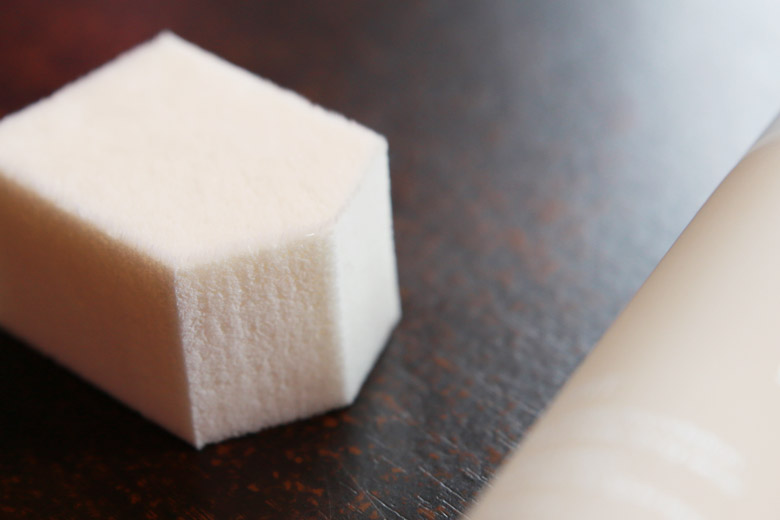 The point of this foundation is to give the skin a fresh yet natural complexion. As such, the coverage is light. It covers the redness and evens out the skin tone but as you can see, the blemishes are still visible. However, I find that it's buildable to a medium coverage without the foundation feeling heavy on my skin. As the formula is so light, it feels very comfortable and leaves a matte finish on the skin. I find that I don't need to use a setting powder with this.
As for lasting power, I must say I'm very impressed. This lasted me for well over 10 hours without fading. What's even more impressive is that even though I didn't use a lick of powder over the foundation, it actually stayed matte on my skin even after 8 hours. I KID YOU NOT. I've never had foundations not give me even a hint of the oilies, not even mineral powder foundations. Regular foundations would usually already give me an oily T-zone after 2 hours, even in winter. My T-zone remained oil and shine-free for that many hours. I didn't even need to blot of face with facial blotting papers!
Unfortunately, I do have a couple of problems with the foundation. It's not about strange, non-slippy texture of the foundation because that's exactly what I expected out of a silicone-free foundation. Blending isn't going to be easy but again, that was something I already expected. The issue I had was with the sponge. I ended up using quite a lot of foundation because the sponge absorbed so much product. The brush/velvet side of the sponge picked up a lot of product but when it's applied on the skin, very little came out. I had to squeeze the sponge hard for some of the product to go on the skin. Thankfully, blending of the foundation with the other side of the sponge was easy.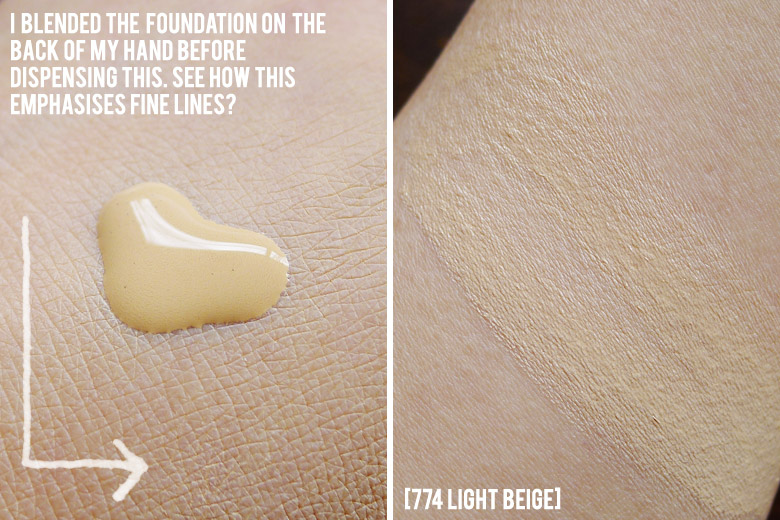 Another issue I have with the foundation is that it sinks into the fine lines of my skin. I can see very clear fine lines on my forehead which aren't that visible before I applied the foundation. It's not something that is super noticeable unless you're standing 1 foot in front of my face but I'm still not keen on it.
As I'm not used to using silicone-free foundations, this took me a lot longer to apply than I would regular foundations. As such, I won't be using this if I'm rushing for time. I prefer using my fingers to apply foundation but it wouldn't be a good idea to use my fingers to blend this foundation because it wouldn't work. I don't recommend using a makeup brush either because of the fine streaks it leaves behind. A makeup sponge definitely works better for this. I've tried using the Real Techniques Miracle Complexion Sponge with this foundation and it applies just fine. That's good to know in case I need to chuck the Shu Uemura sponge when it's well-used and manky.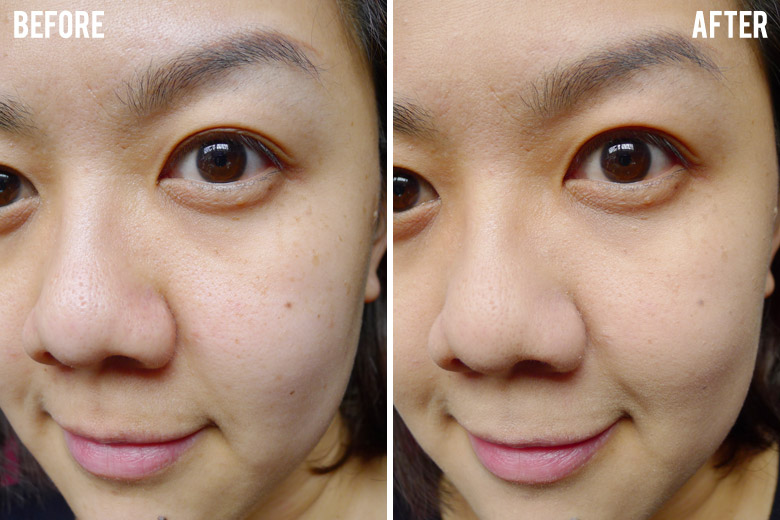 I wouldn't recommend this for those with dry skin because 1) it's going to highlight any fine lines you have and 2) it's going to be a pain in the arse to blend. However, this will look good on oily and relatively clear skin. I find that this blends easier on the smooth parts of my skin than it is the bumpier bits e.g. my forehead and chin. If you're looking for a long-lasting foundation, this is it. Seriously, not a hint of shine on my oily T-zone. Fascinating!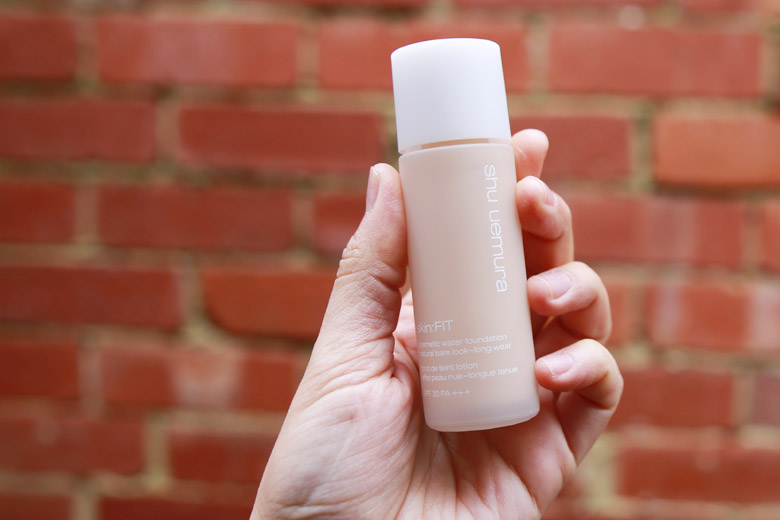 Shu Uemura's Skin:FIT Cosmetic Water Foundation retails at AU$65.00 for 30ml and is available at David Jones.
What I like about it: Lightweight, evens out my skin tone, has a good amount of SPF (SPF30 PA+++), fan-bloody-tastic lasting power, especially when it came to keeping my oily T-zone matte and oil-free.
What I do not like about it: Sinks into my fine lines, the makeup sponge absorbs a lot of product (only a portion of it ends up on my skin even after I've squeezed the sponge hard), very hard to blend if I use my fingers alone to apply the foundation.
Have you tried this foundation by Shu Uemura? Do you use silicone-free foundation? If you do, what's the best way for you to blend the foundation well?
This product was provided for editorial consideration. This post contains an affiliate link. By purchasing something via these affiliate links (at no extra cost to you), you're supporting Beautyholics Anonymous, which I highly appreciate. For more information, please read our
disclosure policy
.