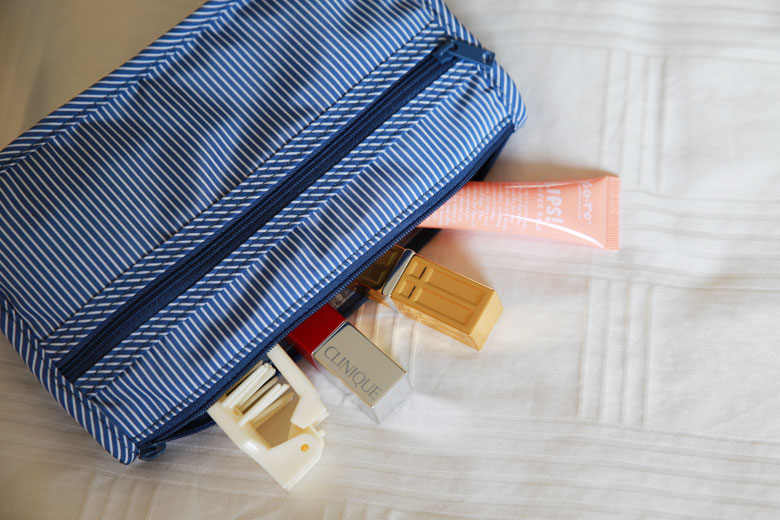 Oh my, I haven't done a "what's in my makeup bag" post in ages! The last one was done in January 2013 and I've changed a few makeup bags since then.
Okay, when I say makeup bag, I mean the one I carry with me in my bag on a daily basis. It's not the sort of makeup bags I'd bring when I'm travelling. Now that would be an entirely different bag altogether. Also, by makeup bag, I also mean the random almost-beauty-related items I carry with me. You'd be surprised to find that I barely have any makeup in that so-called makeup bag. I'm not the kind who would touch up my makeup when I'm out and about other than blot my nose with a facial blotting papers and reapply my lipstick.
A number of items in my bag are still the same as the ones I carried in 2013. If it ain't broken, don't fix it, right? 😉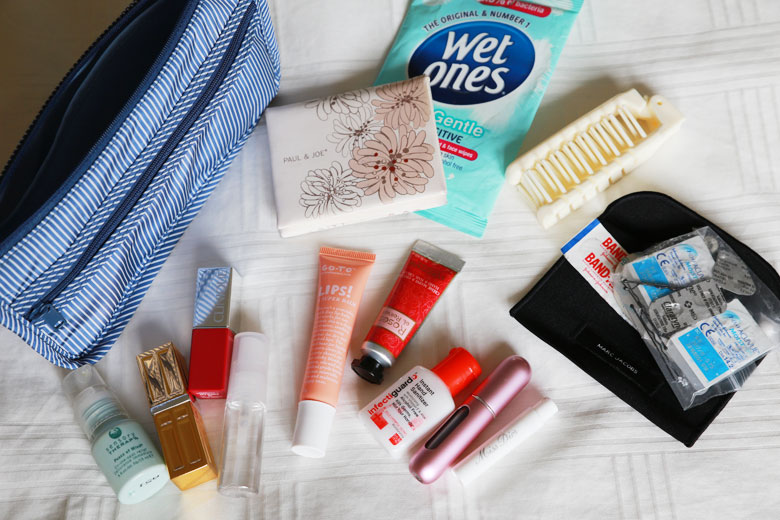 Paul and Joe facial blotting papers: I've had this for years. I was secretly hoping it would fall apart so that I can get another one but man, this held up really well! It even comes with a mirror, which is handy.
Current lippies of choice: Elizabeth Arden's Beautiful Colour Moisturising Lipstick in Rose Petal Matte and Clinique's Pop Lip Colour in Punch Pop. These are beautiful lipsticks and they apply very well on the lips.
Go-To Lips lip balm: This is one of my favourite lip balms. It moisturises the lips well and tastes quite nice too. On days when I can't be arsed to apply lipstick (yes, it happens), I'll apply a layer of this lip balm. It makes the lips look glossy. My lips are naturally quite pink so a lipstick isn't even necessary at times.
Hand sanitiser: This was in a wash bag that was given to me when I was on a recent flight in business class. It's the dinkiest little thing and surprisingly doesn't dry my hands out. I usually prefer Aesop's hand sanitiser but I couldn't resist keeping this in my bag.
Hand cream: My hand cream of choice these days is a small tube of hand cream from L'Occitane. I have a couple more of different fragrances. This is the rose-scented one, which smells lovely.
Travelo Atomiser: This contains one of my favourite scents, which is Marc Jacobs' body splash in Curacao. It's been discontinued for a while now. Tim and I love it so I keep it in my bag in case either one of us needs it.
Sample vial of perfume: I collect these and keep one in my bag. I use this to deodorise a smelly public toilet cubicle. Especially if someone (or even me!) has done a number 2. Hey when a girl's gotta go, she's gotta go! 😛
Wet Ones: For removing makeup swatches. Very important, this one!
Foldable hair brush: This was one of the amenities in a hotel I once stayed in Japan. I've always carried a hairbrush/comb with me even when I was young. Something my Mum taught me: "straighten your clothes and brush your hair, and you're ready to conquer whatever it is you need to conquer".
Bits and bobs: I keep bits and bobs in a small pouch that came with a Marc Jacobs Beauty blush. I have a few plasters (a couple of bigger ones for feet blisters from shoes), a spare set of daily disposable contact lenses, ibuprofen, paracetemol, stomachache tablets, hairpins, etc.
I have another pouch that holds my tissues, tampons and pantyliners but since I don't keep that pouch in this pouch, I've decided not to include it in the photos.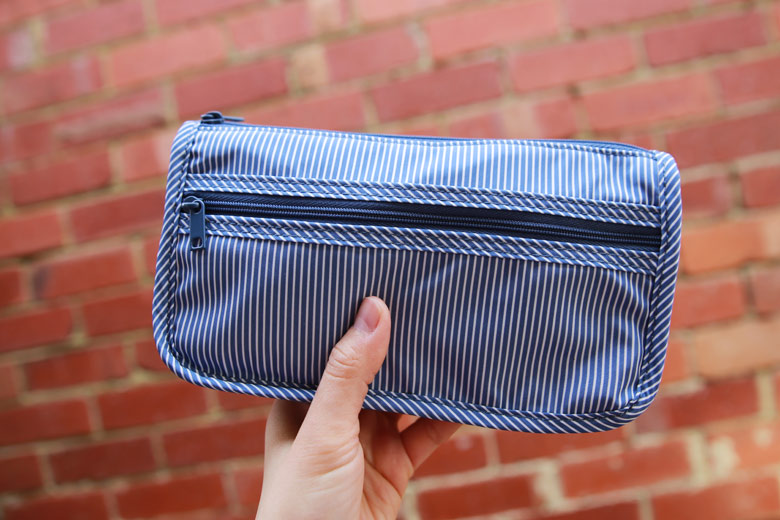 As for the makeup bag, the one I'm currently using is by MUJI (AU$14.95). For the past few years, I've been using makeup bags that are quite big. Big makeup bags also mean the ability for me to carry more unnecessary junk in my bag, which is why I've decided to cut down to a smaller one. This isn't exactly tiny, I know, but it's definitely smaller than the ones I've used. It contains pockets in the bag and a zippy section in front. I love compartmentalising my things, so the more pockets a bag has, the better it is for me. MUJI has 4 different patterns. I had trouble deciding on which ones to choose because the designs are similar to each other so Tim picked this out for me.
I hope you've enjoyed taking a peek in my makeup bag. See what I mean by not carrying much makeup in this "makeup" bag? Still, who knows what I'd be carrying 6-12 months down the road eh? I might downsize even more or carry a bigger one! 😛
What do you typically carry in your makeup bag? Do you bring makeup with you? Or just a lippie or two?