Note: This is a picture-heavy post.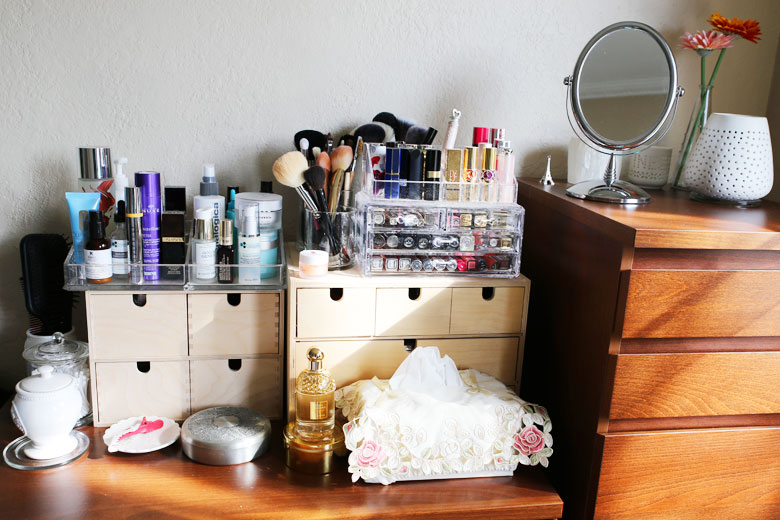 If you typed out the search term "makeup collection" on YouTube, you'll get about 628,000 results. That's how popular it is and how much people wanted to see other people's makeup collection.
It turns out that I'm also one of them. 😛
It's been 4 years since I did my last makeup collection post and I thought it's probably time to do an update to that post. While it doesn't look like it in the pictures, my collection has grown by leaps and bounds over the years. I didn't keep every makeup item since 2011 when I did my last makeup collection post, which is why it doesn't seem like there's a lot.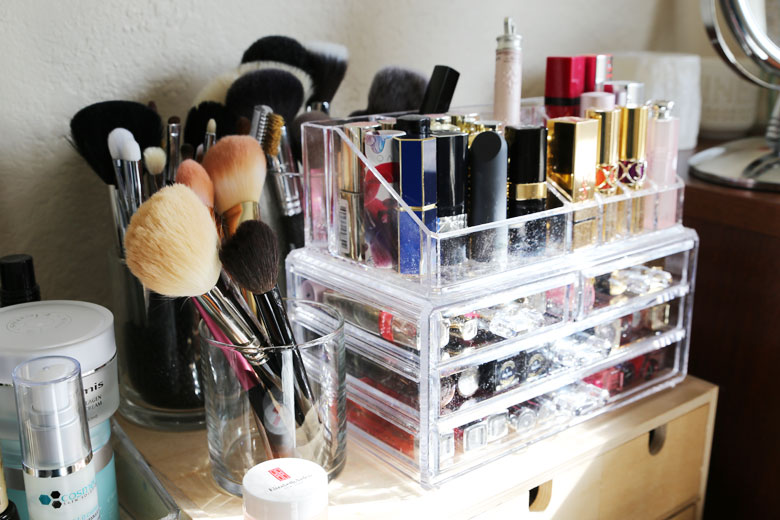 The day I had to go to IKEA to buy a new chest of drawers just for my beauty products was the day I knew I had to take control of the items that I have, and that I needed to cull it bad. I remembered counting over 20 foundations, 30+ blushes (which I've culled and *ahem* added to the collection), heaps of lipsticks and lip balms and much more. In fact, I had so many lip products that I had to store some of it in my home office instead of the bedroom. Oh yeah.
Anyway, instead of pulling everything out of the drawers and laying them flat to photograph (we'd be here all day, folks!), I thought I'd show you a peek into my beauty corner instead. This is one section of our bedroom that houses most of my beauty things and also where I store my makeup collection.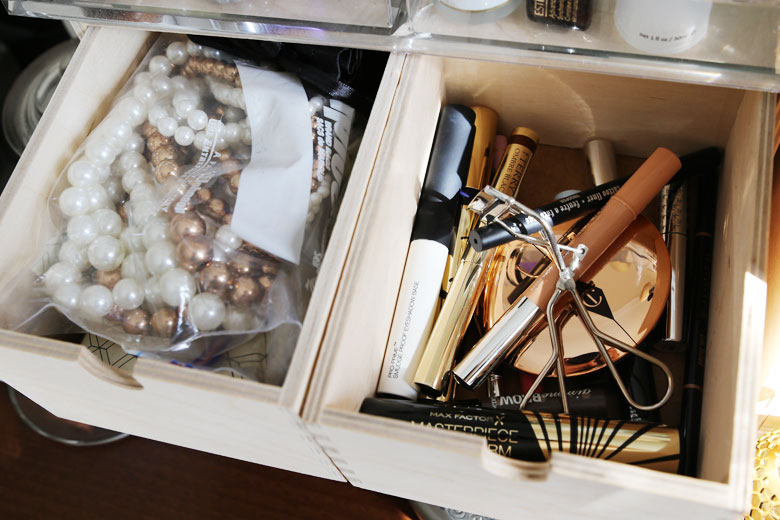 The right drawer is where I keep my regularly used makeup. I rotate products that I seldom use into this drawer to make sure I still use them. I bring the entire drawer with me to the bathroom as there's better light in there.
As you can see, I don't have the very popular white ALEX drawers from IKEA. The wooden drawers in our bedroom are dark wood so the white ALEX drawers would like very out-of-place amongst the rest of the furniture. Instead, I got the MALM chest of 6 drawers. The top opens up to reveal a mirror and space to store jewellery.
If you remember my last makeup collection post (you can check it out in the link above), you'll notice that I had a corkboard and placemats on the top of my chest of drawers. I've long gotten rid of them as they weren't only in the way, they were collecting a lot of dust.
As for the rest, well, I'll let the pictures speak for themselves. 🙂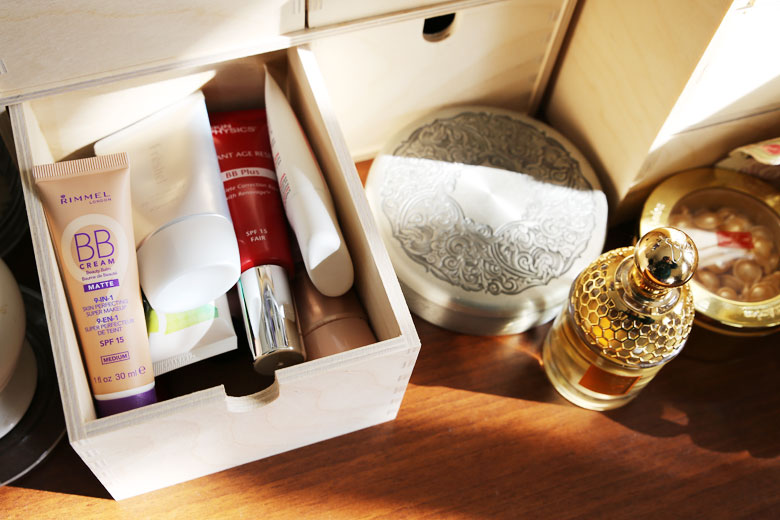 The BB Creams collection. I've gotten rid of a lot of my old BB creams. These are some leftovers that I'm still keeping.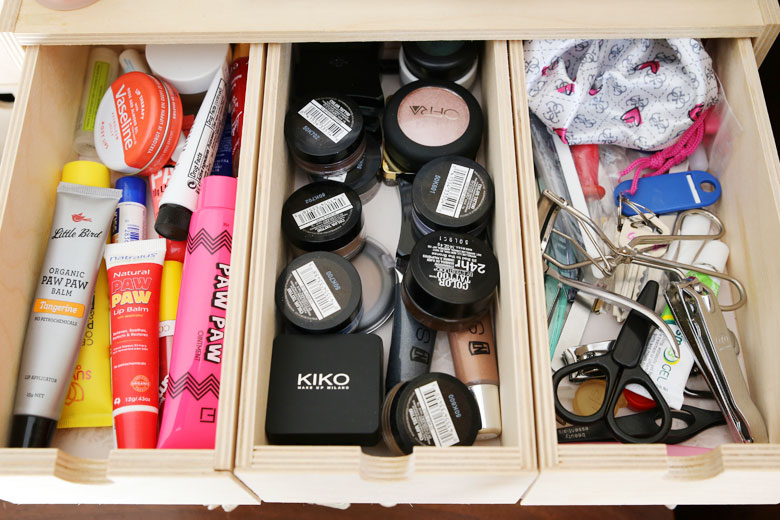 Left: collection of lip balms. They used to fill the drawer to the brim. I culled a lot of old, manky ones. Middle: Most of my single eyeshadows. Right: Junk drawer (we all have one, don't deny it 😛 )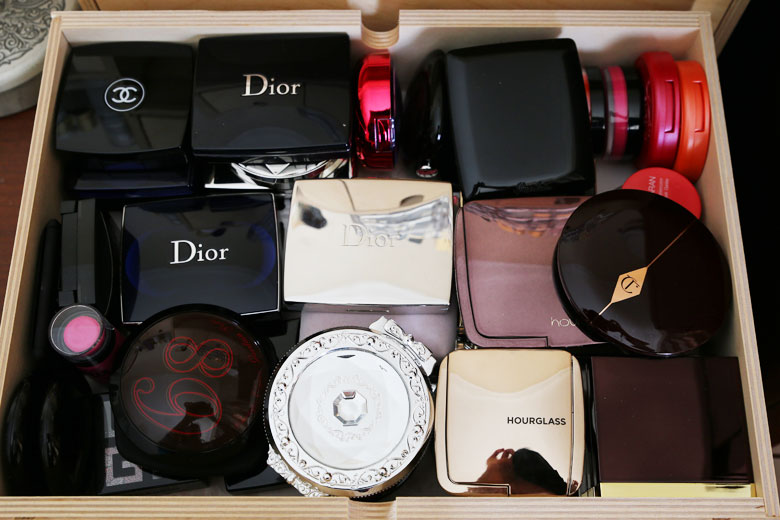 My drawer of high-end makeup. This is where my Dior, Chanel, YSL, Hourglass, Guerlain, Jill Stuart, Charlotte Tilbury, Tom Ford, etc makeup goes.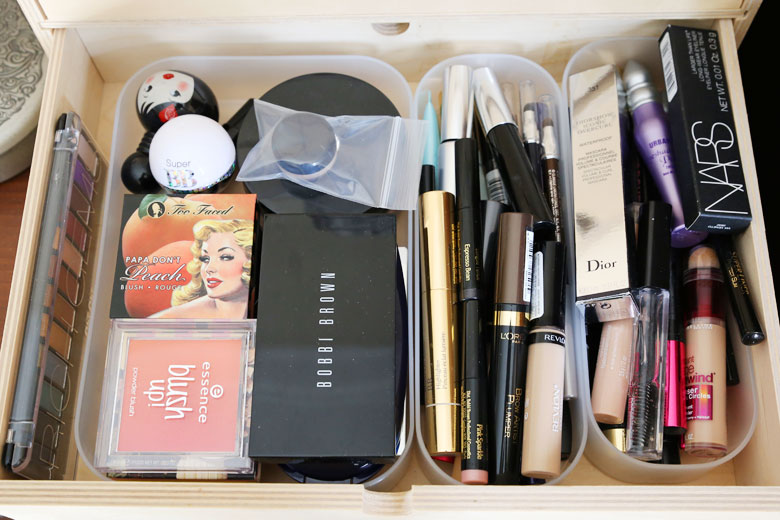 Spillover of makeup from the drawer above and my collection of pen-things e.g. mascaras, eyeliners, eyebrow pencils, highlighters, concealers, etc.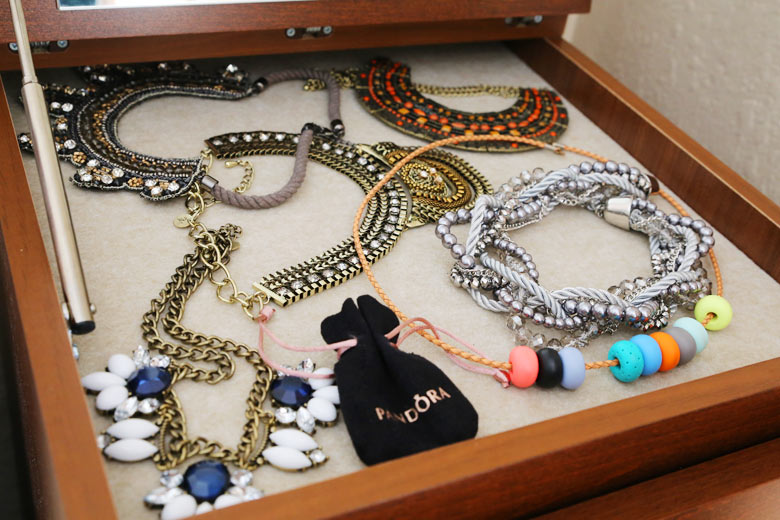 The top of the MALM drawers is where I store my statement necklaces. These aren't all of the ones that I have but these are the ones I'm using more often.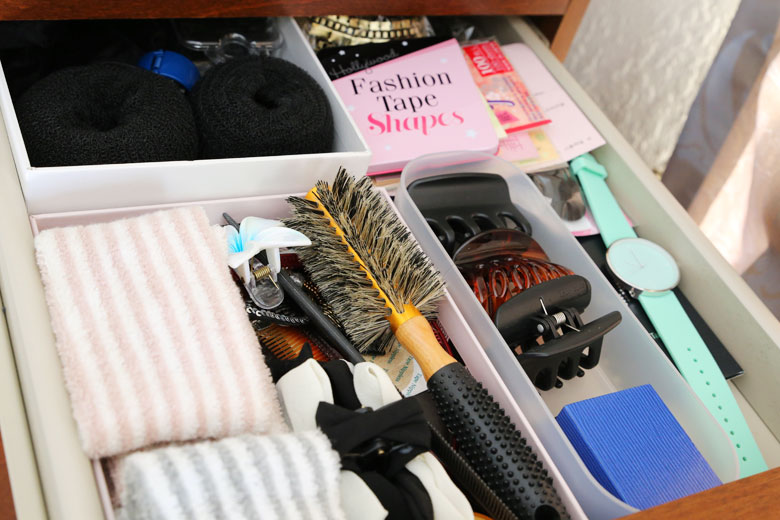 My hair stuff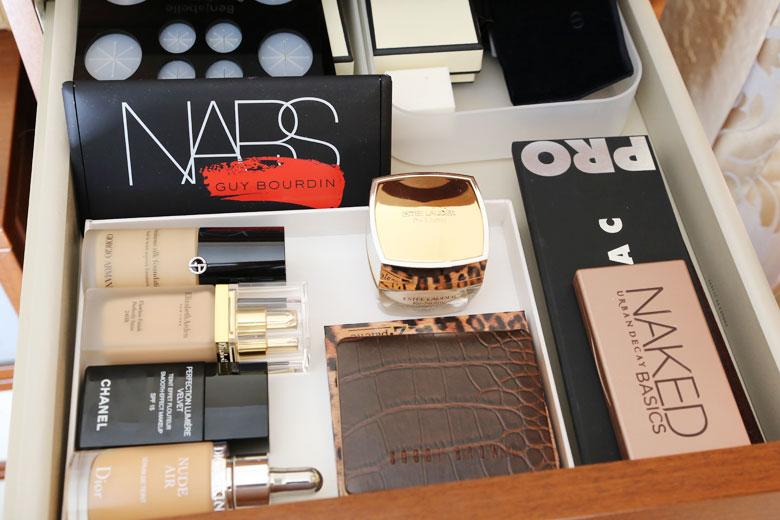 More spillover of high-end makeup.
These is where the bulk of the makeup "collection" starts. This is where I store my foundations, palettes, compacts, makeup brushes, makeup pens, etc.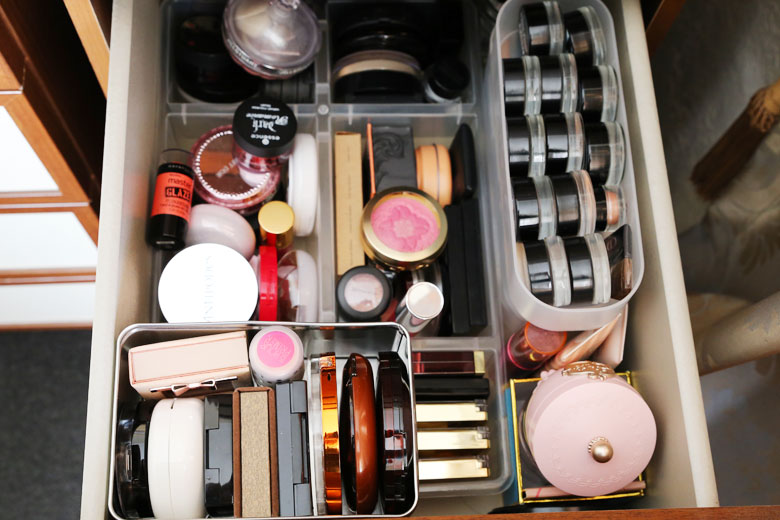 More compacts. The tin on the lower left corner is where I store my bronzers. As you can see, I also have a lot of cream eyeshadows (mostly from Maybelline, as I love their Colour Tattoos).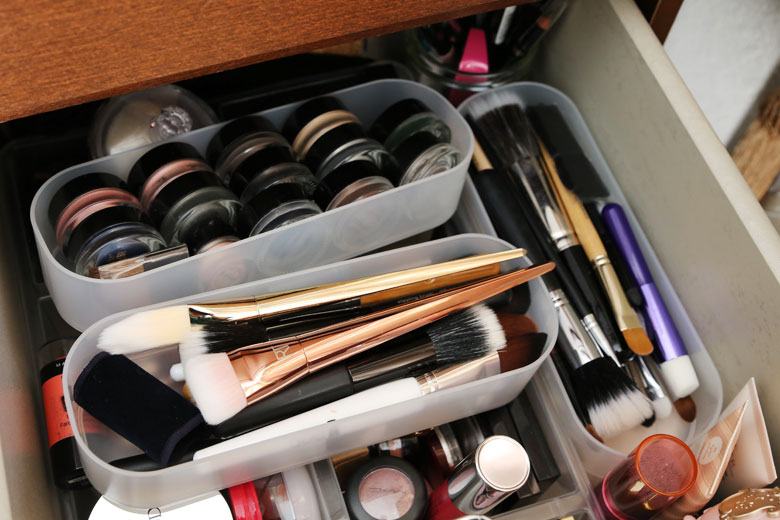 Below the cream eyeshadows is where I keep some of my makeup brushes. I have 3 tiers of makeup brushes. These are the brushes I rarely use. The ones I use often are kept outside.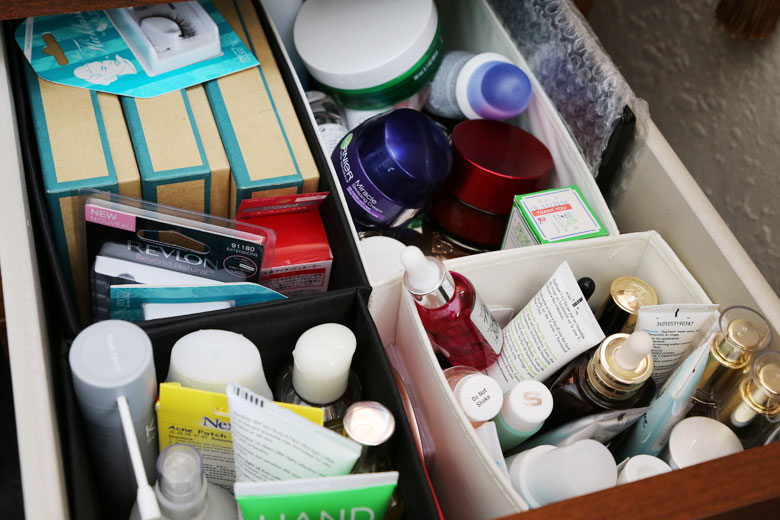 This is where I store excess skincare. The boxes on the upper left store my collection false eyelashes, hair pins, mirrors, etc.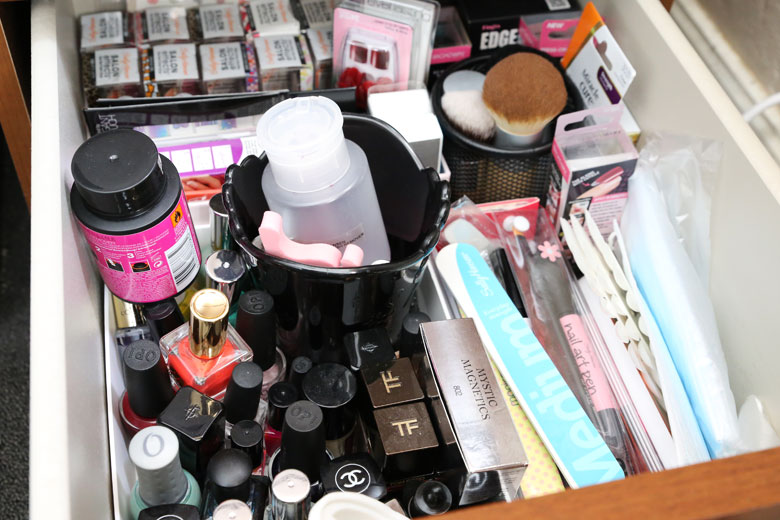 Last but not least, my nail stuff.
I hope you've enjoyed peeking into my makeup collection. It's definitely more than what an average person would have but, y'know, it's part of the job and all that. At least that's what I keep telling myself when I buy yet another blush. 😛
If you've done a post on your makeup collection, please share it with us in the comments below. Come indulge my sticky beak!