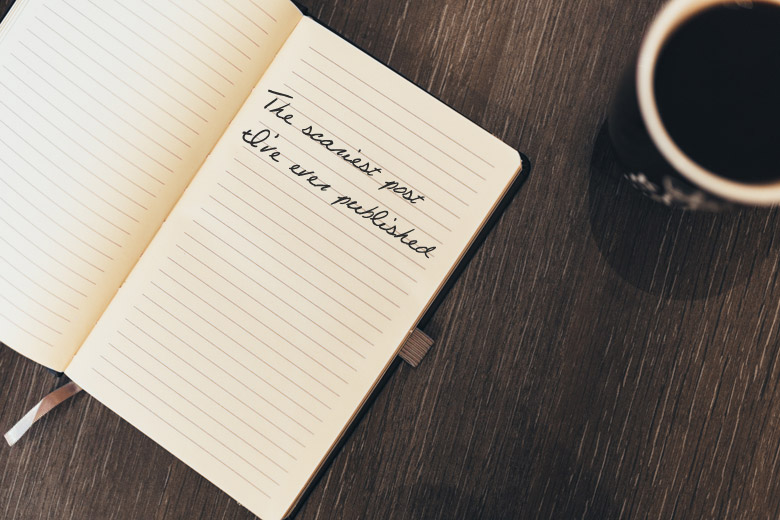 A week ago, I received an email from reader Cocoa and here's what she said:
Dear Tine,

Will you consider blogging about things that scare you before you click "Publish" (The past and present) in your next Bloggie Wednesday, please?

I am curious to know how an experienced beauty blogger like yourself might have had overcome some psychological struggles in your blogging journey thus far. For example, have you ever felt like the world might collapse if you publish your makeup collection? Were you afraid of people judging you too harshly? Were you afraid of offending any sponsors or any group of people in society? I got inspired by this post: https://dailypost.wordpress.com/2015/07/30/scariest-post-ever-published/
I thought it was a brilliant idea and I thought I'd answer her question on today's Bloggie Wednesday.
It's a very interesting question, on what I find scary to blog about before hitting the Publish button because goodness knows how many times I've hesitated hitting that button on a blog post. There are many topics that I've wanted to blog about but wasn't 100% sure if I should do it or not. Once it's published, once it's out there on the Internet, there's no taking it back.
I've posted my makeup collection before many years ago and thankfully, the response had been positive. I intend to post an updated look to my makeup collection soon and even though I love reading "my makeup collection" posts, I can't help but think if people are going to say they're a bloody waste of money, especially given how many blushes and lippies I have (and these aren't even the items that were sent to me for review). Am I afraid of people judging me harshly? Of course I am. I'm only human after all. Who likes to be criticised? It's no fun, no fun at all.
I'm sure I've offended brands and sponsors because of the way I write since I've been dropped from many PR's call-out lists. I don't write about every single item that has been sent to me and when I do, I don't mince words. I'm not overly critical (unless the product is really, really bad), but if the product doesn't work for me, I will say so. After all, what is the point of blogging about beauty when I can't tell you how I feel about products that I've come across truthfully? And you know me; if I think that the product is really good, I'd sing praises to it, whether I get it as a PR sample or not.
But does it bother me? I'd be lying if I said it doesn't bother me one bit but I've slowly learned to accept the fact and move on. I'd much prefer to work with someone who understands the way I work than someone who doesn't. I give 100% to my blog and readers in each post that I write and to produce anything less than that would be doing a disservice to me and you.
Opinion pieces are often the most interesting yet hardest to write because of how my readers will perceive my opinion. Years ago, I published a post on being a "made-in-China" skincare snob and it wasn't received too well. I didn't regret writing it though. That, I reckon, would be the scariest post I've published on BA and in hindsight, it wasn't that scary anyway.
I have a number of blog posts that I've written that were never published. They're still sitting in draft mode because I'm still not sure if I should publish it or not. For example:
Beauty blogging and animal testing. It's along the lines of "can you be against animal testing but still use products tested on animals because you blog about beauty and you try a myriad of products?" and so on. This would open a massive can of worms, which is why I've hesitated publishing it even though I wrote the draft 2 years ago.
My infertility journey. This was the toughest to write. It was cathartic to let the words flow out on screen and I remembered crying as I typed but I couldn't bring myself to hit the Publish button. Not yet.
My experience on what was possibly the worst haircut and colour session I've ever had. I couldn't publish the post in the end because my hair was done by someone I know and she reads my blog. I think.
Any form of "collections". I adore bags and I have a lot of them. But it's not something I can freely share because of the fear of judgment I'll get on them. I don't have many designer bags, but they're still more than an average person would have. The only time I proudly showed a bag off was when I completed last year's 52 Week Money Challenge.
I've got more, but I'm sure you know what I mean by now. I don't post anything and everything that comes to mind on BA. Anything that displays any form of "collection" could be deemed as showing off. Too personal a story and people back off. Too strong an opinion about something and it turns people off.
Why do I care what people think of me and BA? Of course I care; it took me 8 years to get here, to build a loyal following (thank you) and most of all, I care about my readers. If I know a particular topic is going to offend just about everyone who reads my blog, it wouldn't take a genius to understand why I wouldn't even touch it with a ten-foot pole.
This is a very interesting topic and if you're a blogger, I'd really love to know as well. What is the scariest post you've ever published? Perhaps you could answer Cocoa's questions as well in a blog post of your own. Do you hesitate publishing posts on certain topics that you know may strike a nerve in your readers? Do you hesitate sharing any sort of collection that you may have (makeup, shoes, bags, dolls, etc) because of how your readers will perceive you? There's no right or wrong answer here. Each blogger is different.
I may post those topics that I mentioned one day. Never say never, right? 🙂
Bloggie Wednesdays
is a series of articles just on blogging. They contain tips, how-tos, discussions about anything and everything you need to know about blogging and how we can be better bloggers. If you have any suggestions, tips and tricks about blogging you would like to share with us, or if you have any questions you would like me to address, please let us know in the comments.