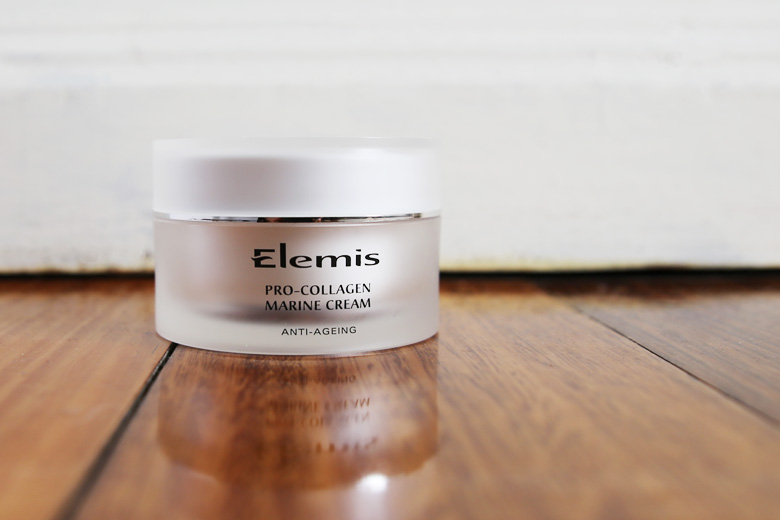 Out of all of the moisturisers I've heard of, I don't think there's one I wanted to try out more than Elemis' Pro-Collagen Marine Cream. This is Elemis' best-selling and multi-award winning day cream. I heard about it from beauty YouTubers and when I heard the word "marine", I was sold. I wanted one. Unfortunately, at that time, Elemis had already pulled out of David Jones. I didn't know that I could have easily picked one up from Adore Beauty. *facepalm*
Several months ago, I was in Sydney for work and during one of my appointments with a PR I used to work with, she gifted me a jar of the Elemis Pro-Collagen Marine Cream. It was completely out of the blue and at first my eyes went wide and then, I, erm, kinda embarrassed ourselves by letting out a loud squeal. But all was good; I finally had one in my hands and I was finally going to try it out!
As I wanted to finish what I was using first, I technically only started using this a month ago. After wanting to use this for so long, was it worth the anticipation?
Description:
Elemis Pro-Collagen Marine Cream is clinically proven to reduce the appearance of wrinkle depth by up to 78%, and increase hydration and moisture levels by up to 45%. This powerful anti-ageing cream provides a progressive lifting effect through increased collagen support. The dynamic combination of the marine algae Padina Pavonica, Rose and Mimosa Absolutes,and Gingko Biloba Liposomes delivers visible results within 15 days.

Ingredients:
Water (Aqua), Glyceryl Stearate SE, Glycerin, Glyceryl Polyacrylate, Glyceryl Polymethacrylate, Propylene Glycol, Dimethicone, Isononyl Isononanoate, Triticum Vulgare (Wheat) Germ Oil, Butyrospermum Parkii (Shea butter), Simmondsia Chinensis (Jojoba) Seed Oil, Chlorella Vulgaris Extract, Padina Pavonica Extract, Daucus Carota Sativa (Carrot) Seed Extract, Porphyridium Cruentum Extract, Acacia Decurrens Absolute, Rosa Damascena Flower Absolute, Lecithin, Ginkgo Biloba Extract, Phenoxyethanol, Cetyl Alcohol, Stearic Acid, Polyacrylamide, Xanthan Gum, Chlorphenesin, Methylparaben, Fragrance (Parfum), Laureth-7, Disodium EDTA, Butylparaben, Ethylparaben, Tocopheryl Acetate, Propylparaben, Isobutylparaben, Hydroxyisohexyl 3-Cyclohexene Carboxaldehyde, Butylphenyl Methylpropional, Linalool, Citronellol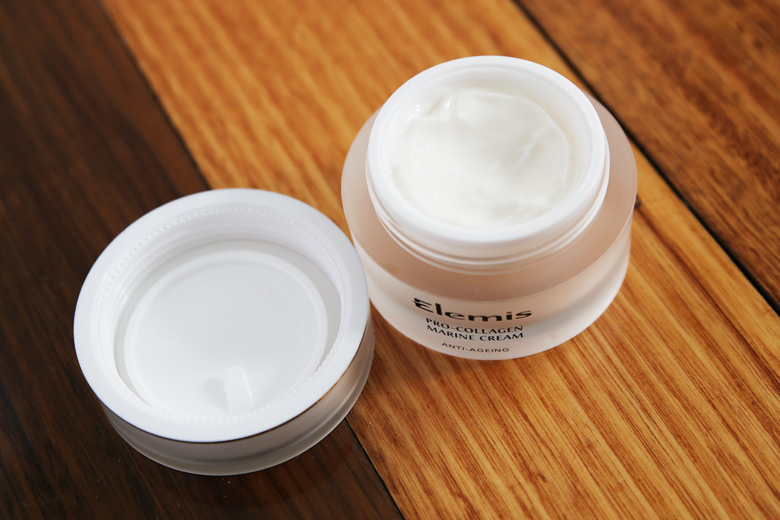 This moisturiser has a light, almost whipped and creamy texture. It feels very good on the skin and absorbs quickly. It doesn't leave my skin greasy or shiny and works as a good base for my makeup.
When the jar says "marine", I was expecting a very fresh and clean scent from the product. I reckon I sort of expected it to smell like Biotherm's AquaSource moisturisers. To be honest, I don't really know how to describe the scent. It doesn't have that typical "marine"-like fragrance but it definitely doesn't smell floral or fruity. Sometimes, it smells earthy to me yet sometimes, it smells like seaweed. Oh I know, I'm rubbish with describing scents. If you've used this or have smelled this, let me know what the fragrance is!
This works well for me as a day and night cream. I didn't find it making my T-zone any oilier than it would usually become after a few hours.
Here comes the million dollar question: was it worth the anticipation, since I've been wanting to try this out for so long? Sigh, I'm going to sound like a terrible ingrate here since this was gifted to me, but no, it wasn't. I wanted more out of it. Don't get me wrong, it's a perfectly decent moisturiser. But for its price, I think I was almost expecting it to give me more than just hydration and keeping my skin well-moisturised. I didn't experience any of that "lifting" effect that it claimed to do.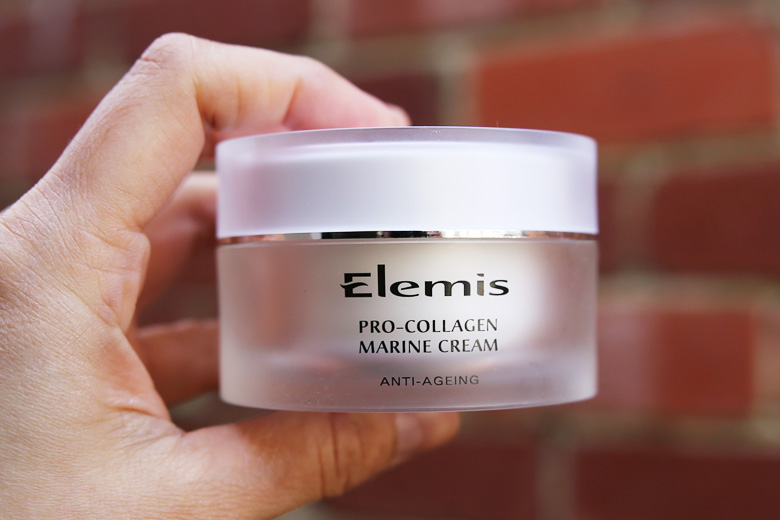 Mind you, it's still a very good moisturiser. I've been using this on cold wintry days and evenings and it kept my skin well-hydrated and supple throughout the day, and when I use this at night, it kept my skin boing boing to the next morning too. If you have dry skin, this isn't going to be rich enough for you to use in the evenings but day time use should be all right. Folks with oily to combination and even dehydrated skin will like this one.
Here comes the whopper I was telling you about. The Elemis Pro-Collagen Marine Cream is AU$200.00. Gulp. Now you know what I'd hoped that it would give me more than just moisturise my skin. 😛 I'm very thankful to be given the chance to try it out, of course, but if you asked me if I would purchase another jar once I'm done, I'm afraid I'm going to have to say no. For the price, I prefer SKII's Stempower.
What I like about it: Lightweight moisturiser yet hydrating enough to be used as a night cream during the wintry months (for someone with combination skin), absorbs quickly, doesn't leave the skin greasy.
What I do not like about it: I can't wrap my head around the scent; it's pricey for a moisturiser.
Have you tried this moisturiser by Elemis? What did you think? Did you like it? What do you think the word "marine" should smell like?
This product was provided for editorial consideration. This post contains an affiliate link. By purchasing something via these affiliate links (at no extra cost to you), you're supporting Beautyholics Anonymous, which I highly appreciate. For more information, please read our
disclosure policy
.