What: Eyebrow threading
Where: Ottoman Brow Bar @ Melbourne Central
Duration: 15 minutes
Experience:
I've had just about everything done to my eyebrows – tinting, waxing, tweezing and even that dreaded mistake of eyebrow embroidery/tattoo – but I've never done eyebrow threading before. It's such a popular brow grooming service for the past few years but for some reason, my head decided to think that since I've discovered eyebrow waxing, I didn't think anything else could suffice. I didn't realise the repercussions of long-term eyebrow waxing (premature aging in the drooping of the eyelids and also the harsh pulling of the delicate skin); I just wanted a quick fix and waxing was as quick as they come.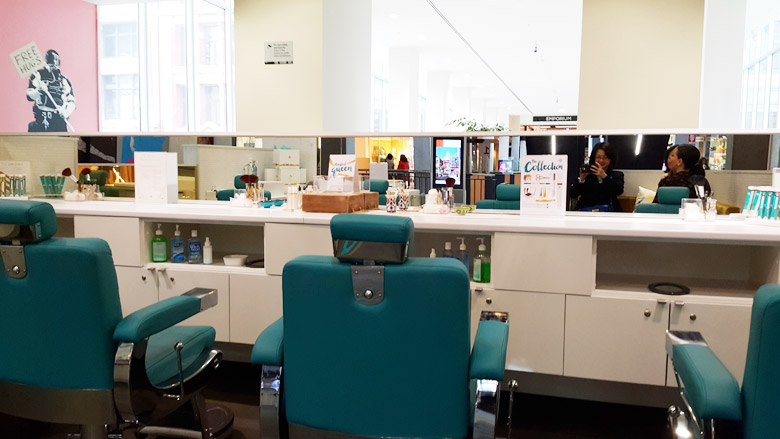 Ottoman3 recently invited me to their booth at Melbourne Central and I thought, hmm why not try eyebrow threading and see if it's any good? So many people do it these days; surely it's not that bad? You want to know the reason why I haven't done eyebrow threading? I actually thought it was going to hurt. Oh yes. After so long of waxing and a couple of stints of eyebrow embroidery where they poke freaking needles on your brows, I was afraid that eyebrow threading would hurt.
Oh the irony.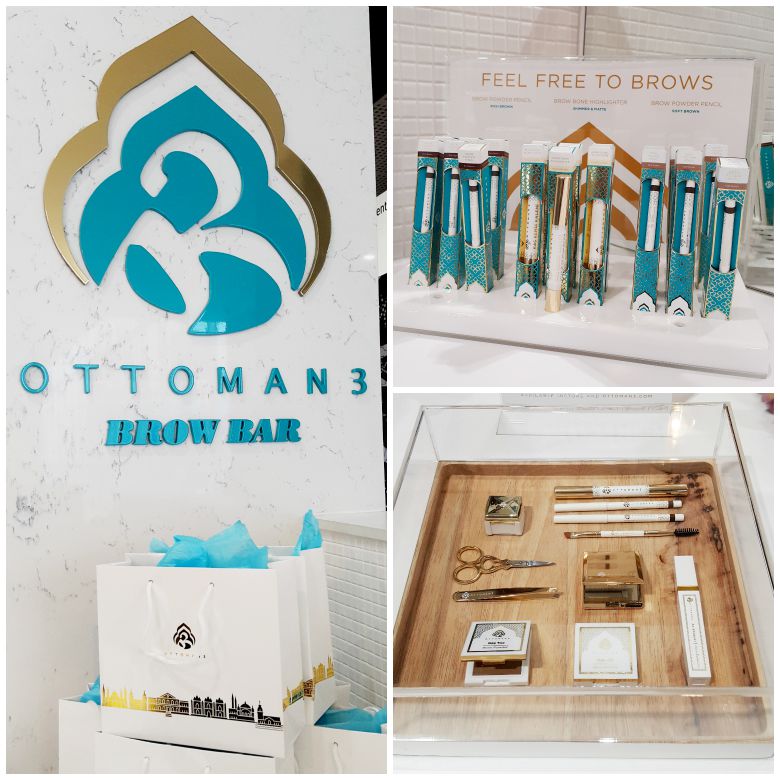 I've walked past many eyebrow threading booths at shopping centres, but not a single one of them looked as good as Ottoman3's. To be honest, I was expecting a store, not a booth but I wasn't disappointed in the least because of how beautiful, bright, spacious and clean it looked. Most if not all of the eyebrow threading booths I've seen are cramped, overly bright with big exposed lightbulbs and staff playing with their phones. This is not the case with Ottoman3.
Mini Latif, who's the founder of Ottoman3, greeted me at the booth and before I had my brows done, we chatted about the origins of Ottoman3 and how she went from her flagship store (not booth) at MYER Highpoint to 3 new locations and the release of their custom-made line of brow products. It's very interesting listening to her chat candidly about the business, how it was developed, how her staff are selected, how the design of the products came about and so on. Needless to say, she was shocked that I've never had eyebrow threading before and was very excited to get me on the chair.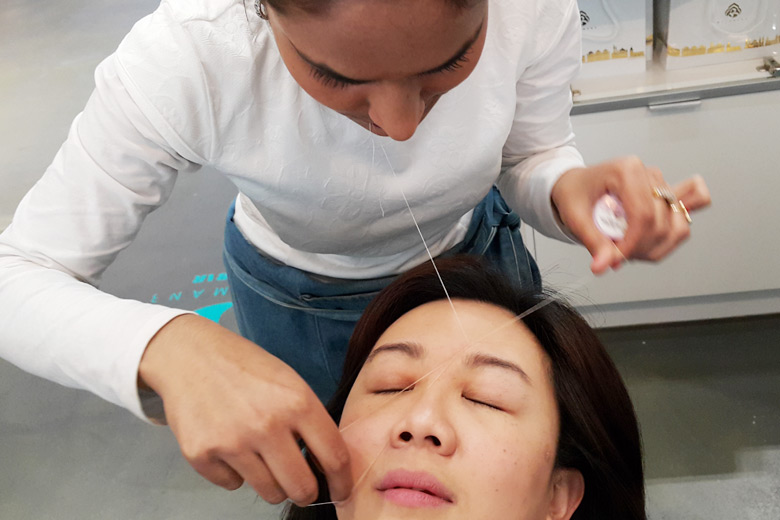 Her staff took care of me very well. Initially, I thought it could just be because I may be doing a write-up on the brow bar but I saw how the staff interacted with clients even when I wasn't there. Their service is top-notch.
My brows were measured and I was told of the areas that hair would be removed and kept. I was adamant to keep the shape and thickness of my brows and so one of the ladies got working on my brows with thread.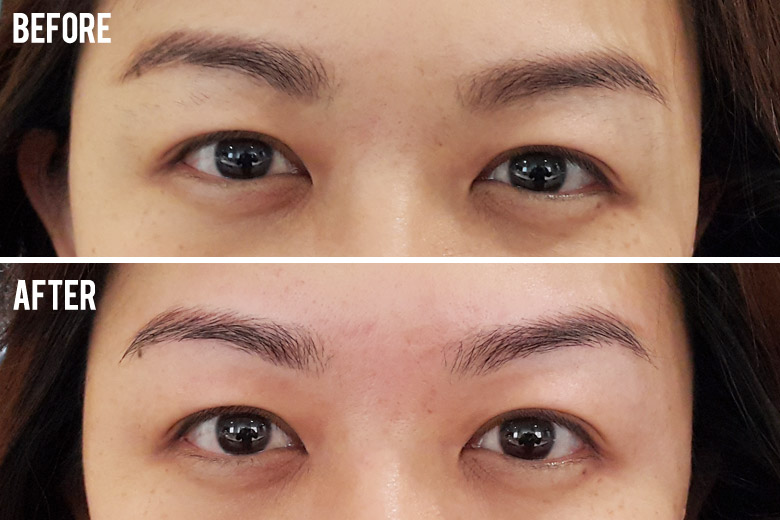 Did it hurt? Not one bit. Heck, if you've done eyebrow waxing, this is a piece of cake. There are some parts which were a tad uncomfortable, but that's about it. What I liked about it was that the whole process was so fast for both brows. There was no skin irritation that I normally would get with waxing. After my brows were threaded, she applied aloe vera gel on them and massaged my temples. Last but not least, to complete the process, she drew in my brows and I left with oh-so-fierce-but-on-point brows.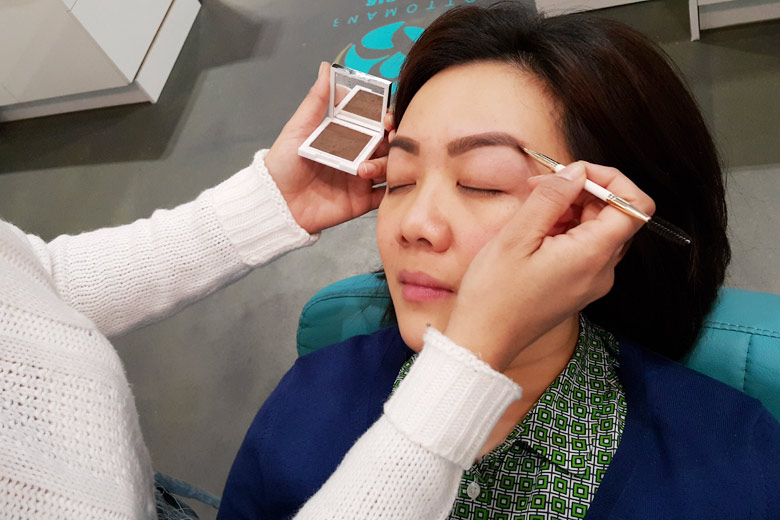 Verdict:
Will I go back to eyebrow waxing after this? Oh hell no. Not after I've experienced eyebrow threading and particularly from Ottoman3. I can't say the same for the rest of the brow threading bars since I've not tried those out but after I've tried Ottoman3, it's hard to want to try others. Sure, it's not as cheap as those $10 brow threading services but with that, you also get $10 worth of service which is next to nothing. Brow threading at Ottoman3 starts at AU$28 and that's exactly what I pay for brow waxing at Benefit anyway.
If you go to Ottoman3, I also highly recommend you check out their line of brow products. The packaging is oh so sophisticated in their gold and white glory. The tweezers alone took Mini many years to develop because she wanted to get the weight and feel of it just right. Their clear brow gel is their current best-selling product and it's no wonder why. It doesn't leave your brows crispy and you only need so little of it to keep stray hairs at bay.
Ottoman3 is a walk-in bar so appointments are not necessary. I suggest going on weekdays if possible because they're usually busy on weekends. Men are more than welcomed too. In fact, they get a good number of male clients as well for facial hair removal. Ottoman3 doesn't scream girliness but elegance and sophistication. If you're worried that passersby will look and stare at what's going on given that it's a booth, rest assured that the staff will not make you feel like you're a goldfish in a bowl. Ottoman3 is located at Level 1 of Melbourne Central very near the entry to Emporium and it's not a typically very high traffic area so it's not noisy nor busy.
I was very impressed and cannot wait to get back again a month later to get my brows done. There'll be no more brow waxing for me, no sirree!
Oh and I love their tagline. "Feel free to brows". How very clever. 😛
Areas that can be improved on:
To be honest, I was expecting a salon rather than a booth but like I said, the whole place was very clean and spacious that I didn't feel like it was cramped at all. I can't think of any areas that need to be improved on. I was that impressed.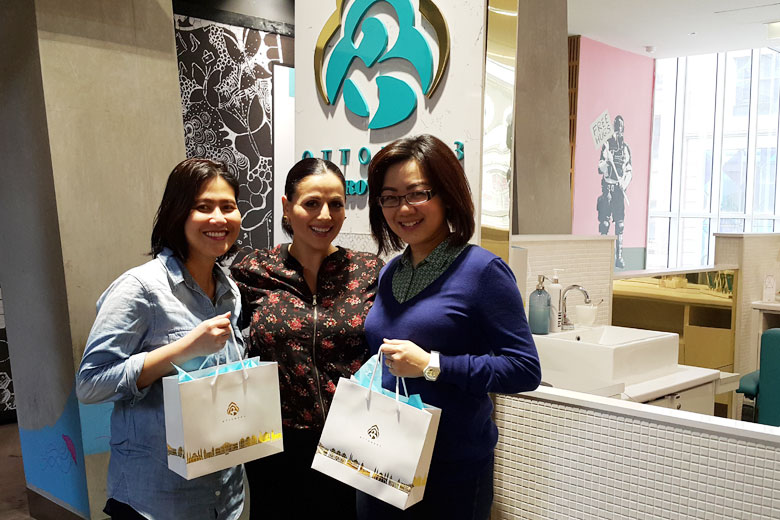 With founder of Ottoman3, Mini Latif
Hook me up!
Ottoman3 Brow Bar
Enter via Lonsdale street
Level 1 at the entry point of the walkway from Melbourne Central to Emporium
Melbourne, VIC 3000
(They're also available at Highpoint and Watergardens Town Centre at Taylors Lakes.)
Was this a complimentary service? Yes, I was a guest of Ottoman3 (I was also very kindly given a goodie bag of Ottoman3 brow products to try out). A typical eyebrow threading sessions lasts about 15 minutes and starts from AU$28.00, which was what I had.
Have you tried eyebrow threading before? If not, how do you groom your brows? Melbourne ladies, you have to give Ottoman3 a go. They're really good!