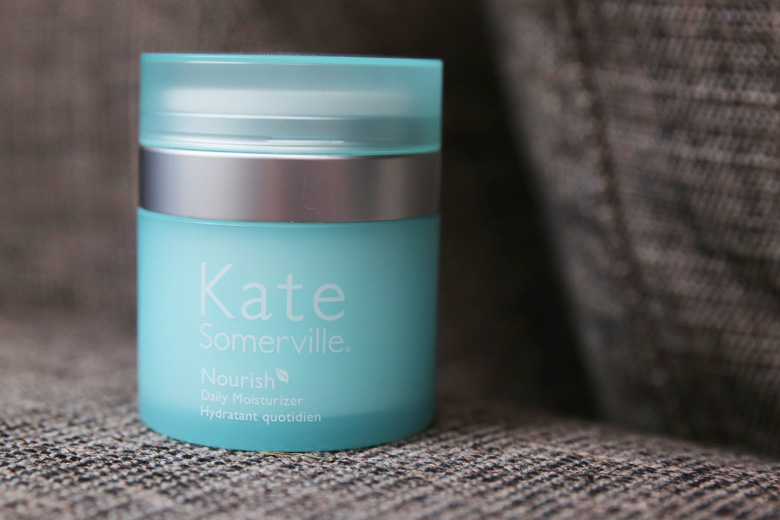 There's been a lot of hype about Kate Somerville's moisturisers for the past year or so and I thought it was time I gave one a go. I wasn't sure of what to get: the Oil-Free moisturiser, Goat's Milk Cream or Nourish Daily Moisturiser. In the end, I went for the – and don't judge me for this – prettiest colour of the jar, and that's the mint green Nourish Daily Moisturiser.
Ahem. 😛
I've been using it as my night cream for almost 2 months now and I figured I'd share my thoughts with you on this. It's a good moisturiser but really, that's all it does.
Description:
Need a lift? Get a quick tune-up to refine and rejuvenate the appearance of your skin. Nourish Daily Moisturiser saturates skin with sophisticated, anti-aging extracts. In addition, rich botanicals are formulated to improve texture and increase elasticity. This advanced blend absorbs quickly, leaving nothing behind except a fresh, balanced complexion.

Ingredients:
Water/Aqua/Eau, Ethylhexyl Palmitate, Glycerin, Glyceryl Stearate, PEG-100 Stearate, Myristyl Myristate, Butylene Glycol, Palmitoyl Tripeptide-1, Palmitoyl Tetrapeptide-7, Adenosine, Tocopherol, Retinyl Palmitate, Tetrahexyldecyl Ascorbate, Lavandula Angustifolia (Lavender) Oil, Helianthus Annuus (Sunflower) Seed Oil, Camellia Oleifera Leaf Extract, Citrus Aurantium Dulcis (Orange) Oil, Lavandula Angustifolia (Lavender) Flower/Leaf/Stem Extract, Zingiber Officinale (Ginger) Root Extract, Phenoxyethanol, Cetearyl Ethylhexanoate, Decyl Oleate, Acrylates/C10-30 Alkyl Acrylate Crosspolymer, Xanthan Gum, Aminomethyl Propanol, Ethylhexylglycerin, Disodium EDTA, Citric Acid, Carbomer, Polysorbate 20
This type of moisturiser packaging fascinates me. I know it bothers some people but for me, pressing the white plastic case down for cream to come out of the tiny hole is just too cute for words. I'm funny about packaging that way.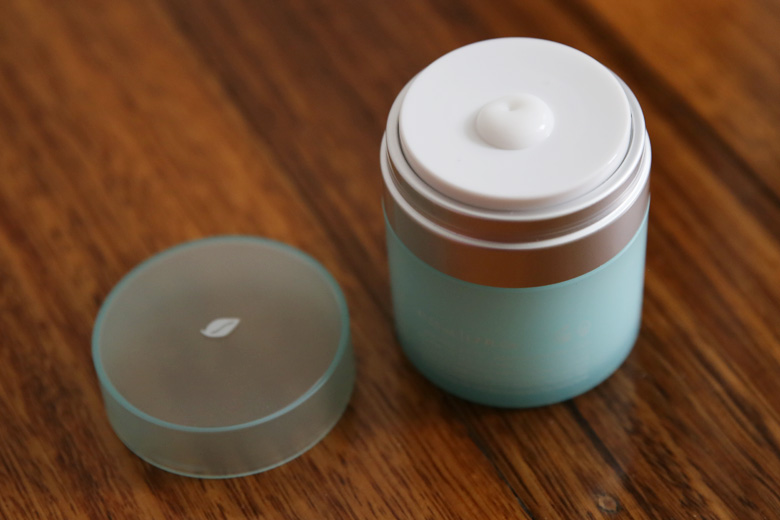 The Nourish Daily Moisturiser is a lightweight and oil-free gel-cream that moisturises and hydrates the skin well. It feels quite tacky to the touch once I've applied this on my skin. After a while, it absorbs onto the skin and the skin doesn't feel that sticky any more (it'll still be slightly sticky to the touch). For those with dry skin, you may find this a tad light but for me, it's a tad rich to use during the day but perfect to use at night.
In terms of scent, I don't know how to describe it. It's fresh and quite fruity. It's a typical scent of Kate Somerville products (this smells exactly like the DermalQuench), that's the best way to call it. If you've used Kate Somerville products before, you'll know what I mean.
Like I said earlier, this is a good moisturiser but that's all it does. I didn't see any "extra" improvement on the skin like brighter and smoother skin. Having said that, I rely on serums to give me that extra help so I'm happy for this to just keep my skin well moisturised and hydrated throughout the night, especially when the air is cold and dry.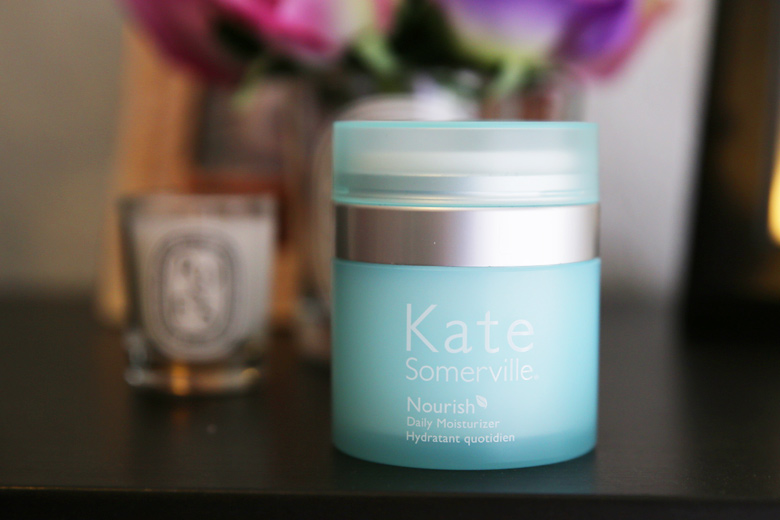 Still, the price is pretty hefty for a basic moisturiser (AU$86.00 for 50ml) so once I'm done with this, I'll not be repurchasing. A product with similar packaging and has extra anti-aging ingredients would be Dr Lewinns' Reversaderm Antioxidant Regenerative Cream. This works much better and it's slightly cheaper too (AU$69.99 for 50ml).
Kate Somerville products are available at Mecca stores and Mecca.com.au.
What I like about it: Pretty packaging, lightweight moisturiser, keeps the skin hydrated and well-moisturised all night (I use this as my night cream).
What I do not like about it: Pretty pricey for a basic moisturiser. Feels tacky upon application. Doesn't absorb onto the skin as quickly as I expected.
Have you tried this or any other moisturisers by Kate Somerville? Did you like it?