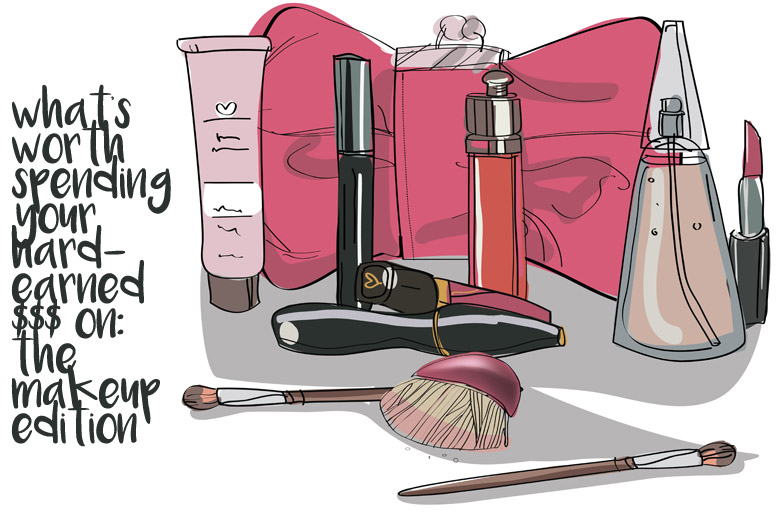 © cofeee
I've tried a good amount of makeup over the years. A lot of them were from the pharmacy and some of them from high-end brands. Today, I'd like to share with you the more expensive makeup that I believe is worth spending your hard-earned money on. I'm very particular of the expensive makeup I splash on so I have to make sure they're worth the money. After trying and using these for a good amount of time, I can safely declare that these are definitely worth the money.
You'll notice that when it comes to makeup, I much prefer to splurge on face makeup than anything else. I don't find myself drawn to eye makeup much unless they're so damn beautiful on the palette that I cannot resist. Most of the time, I do. It's face makeup that draws me like a moth to a flame every time. I love trying out new foundation and any sort of powders.
At the risk of sounding like a broken record, you'll have heard me mention some of these several times. I can't help it; I love them that much!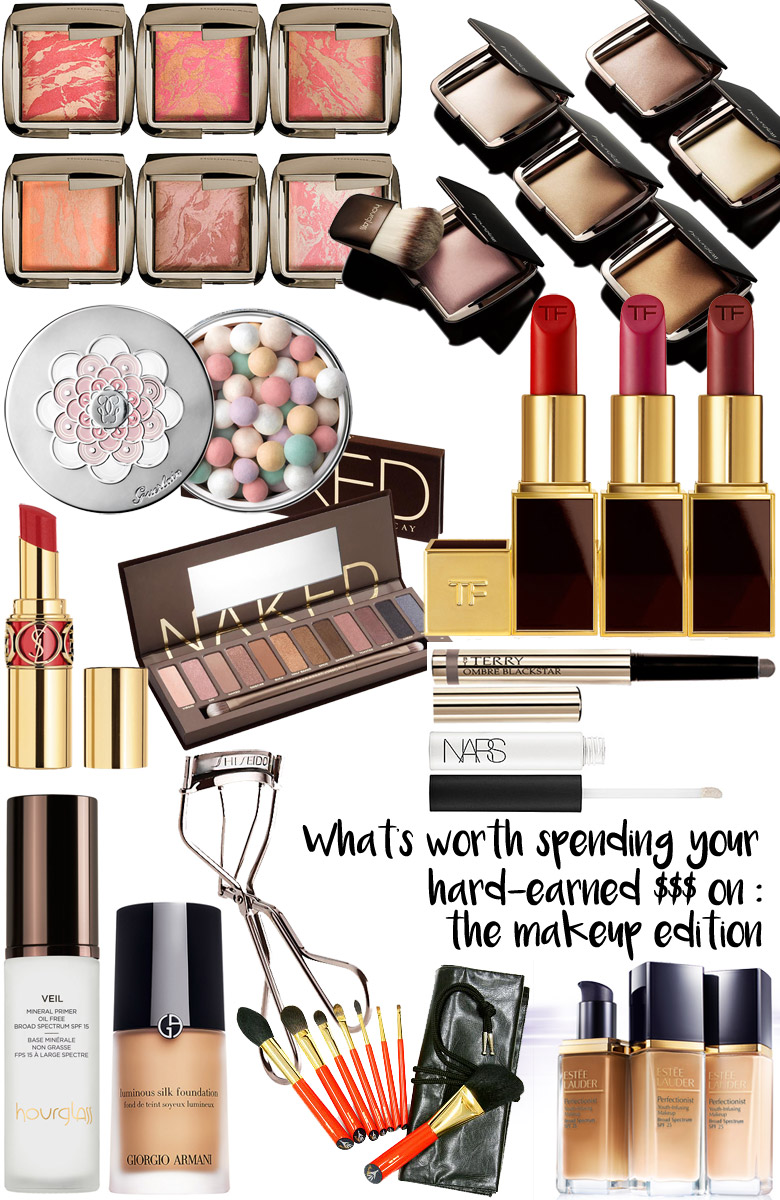 Guerlain's Meteorites. The original ones, not the limited edition ones. The compact versions are lovely too. I've used several limited edition ones over the years and so far, the best and most reliable I've used is still the one from the permanent collection, the Teint Rose. They're certainly beautiful enough to collect but if you're only going to buy one, I recommend checking out the permanent collection instead of the limited edition ones.
Hourglass Veil Mineral Primer. Hands down, the best face makeup primer I've used. I've used this to last me 2 weddings and goodness knows how many full-days and this keeps my makeup looking fresh and fade-free.
Hourglass Ambient Lighting Powders. By powders, I mean the setting powders, blushes and even bronzers. These are beautiful. Personally, I find them just as good as Guerlain's Meteorites (the latter looks better on my vanity area though, but that's just me). I love travelling with these because even though they look deceptively heavy because of their shiny compacts, they're very light. And they make the skin look positively luminous.
Hourglass anything really. I love their eyebrow pencils, liquid eyeliner, lipsticks. Seriously, Hourglass, can you do no wrong? Okay, maybe you can with the recent eyeshadow palettes but still. Everything else? Gorgeous.
Estee Lauder's Perfectionist Youth Infusing Foundation. I didn't think that one of my favourite foundations would actually be one from Estee Lauder that isn't the very famous full-coverage Double Wear. I love how beautiful and radiant this makes my skin look. All the positive reviews (and they are heaps of them) I've read about this foundation were spot-on.
Giorgio Armani Luminous Silk Foundation. Surprisingly, I didn't think this was all that fantastic when I started using this a year or so ago. I thought it was good but not an omg-holy-grail-stuff-can't-live-without-it sort of foundation. However, the more I used this, the more I liked it. I save this for use in the evenings due to its lack of SPF but really, it can be used any time of the day. It doesn't make my skin look as luminous as Estee Lauder's, but it's still a very good foundation.
YSL and Tom Ford lipsticks. To tell you the truth, I'm not a fan of Chanel lipsticks. Years ago, I used to be, and I'd buy a number of Chanel lipsticks to not only wear, but to prettify my vanity area. That was until I tried YSL's Lip Volupte Shine lipsticks. I was hooked. The packaging looked much better than Chanel's lipsticks and they wear better on me too. They're not everyone's favourite; some found it drying on the lips but they work very well for me. Tom Ford's lipsticks would also be amongst the top of the range when it comes to creamy lippies and punchy colours.
Urban Decay NAKED series eyeshadows. I love the quality of Urban Decay's NAKED eyeshadows. With the exception of the NAKED Basics, which I'm not a fan of, their NAKED eyeshadow palettes are very good. It's more sensible to splurge on just one NAKED eyeshadow palette in which all shades are high quality, richly pigmented and buttery smooth than several cheap alternatives with only a handful of workable colours.
By Terry Ombre Blackstar cream stick eyeshadows. I've tried different high-end cream eyeshadows by Bobbi Brown and Laura Mercier but nothing beats the By Terry Ombre Blackstars. The colours are stunning and they stay on my oily eyelids very well (with primer on. I never use any sort of eyeshadows without primer). Worth the hype? Most definitely. I have a feeling I'm going to get every single shade in the range. My wallet isn't going to be happy to hear that!
NARS Pro Prime Smudgeproof Eyeshadow Base. I've used Too Faced Shadow Insurance and Urban Decay's Primer Potions for many years and while I think they're great, I find the NARS Pro Prime just a notch better. It's creamy, blends very well and makes eyeshadows stick on my oily skin like glue.
Shiseido eyelash curler. I don't like the one by Shu Uemura (horror of horrors!) but I adore the Shiseido eyelash curler. It fits my eyes much better than Shu Uemura's and I get less accidents of clipping my lids with this one.
Hakuhodo makeup brushes. Terribly expensive but worth every cent I splurged on. I don't actually have any eye makeup brushes from Hakuhodo. Personally, there are equally great eyeshadow brushes that are cheaper and does the trick (e.g. Real Techniques, Makeup Geek, Royal & Langnickel) but when it comes to the face, that's when I splurge. The face brushes, whether it's a large, fluffy face brush or a smaller blush brush, they feel like brushing feathers on your skin. I would much rather save the money on buying a whole set of Sigma brushes and splurge that on just a single Hakuhodo face brush.
I've got more but I'll stop here for now. I'll be sharing the second part of this "worth spending your dosh on" mini series on skincare very soon. I learned a very valuable lesson the hard way over the years of trialling makeup (either sent for editorial consideration or purchased with my own coin) and it's this: it's far better to buy 1-2 high-quality foundations/powders/blushes/eyeshadows/whatever and stick to them until they're finished than to buy many bottles, palettes, lotions and potions that may or may not even work, especially if you're on a tight budget.
Erm, remind me of that lesson I told you about when I keep buying new ones to try out, okay? 😛
What about you? What makeup/makeup tools do you believe are worth spending your hard-earned money on?