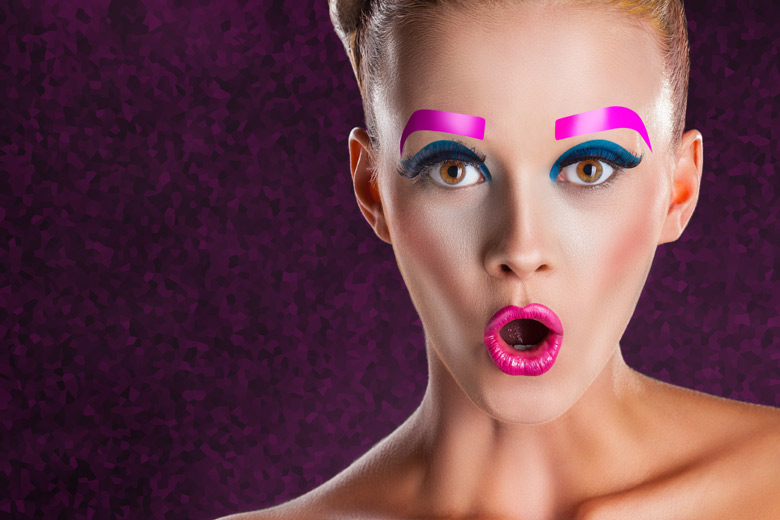 There has been a lot of emphasis on good, strong brows for the past couple of years. I've been seeing more and more very precisely shaped and groomed brows on Instagram and Pinterest and while I'm not a fan of how those very precisely-shaped brows look on me, I can certainly appreciate how good they look on certain people.
Although, I really have to say though, this very precisely-shaped, arched brow look doesn't work on everyone. In fact, I have to wonder, were these super-arched and pointy brows originally formed by brow stencils? Or were brow stencils formed by the popularity of these sort of brows?
Brow stencils were created by beauty brands for women (and men) to create that arch and pointy end easily without worrying that they'll go gung-ho with a pair of tweezers. Even though they don't specifically mention it, brow stencils are typically targeted towards brow newbies who aren't sure on how to shape their brows. These pre-defined shapes are meant to help them create a shape so that they'll follow the shape and tweeze the rest of the unwanted hair.
I'm really not a fan of brow stencils. In fact, I would warn women and men to stay away from brow stencils as much as possible. Even though these stencils come in a variety of shapes and sizes, they're still similar to each other in terms of the arch and pointy end. When it comes to brows, there's no one size fits all sort of thing. There are no 5 sizes fit all either.
Brow stencils these days are created to fit the latest trends in brows, typically towards the West. And these days, what's hot are quite slim but still full brows with high arches and pointy ends.
The beauty of nature is that we are all made differently to each other. No two faces are exactly the same, which means that no brows are exactly the same either. Brows are the frame to the eyes and it's important to get them right for the shape of your face and eyes. Not brow shapes that are already pre-determined for you.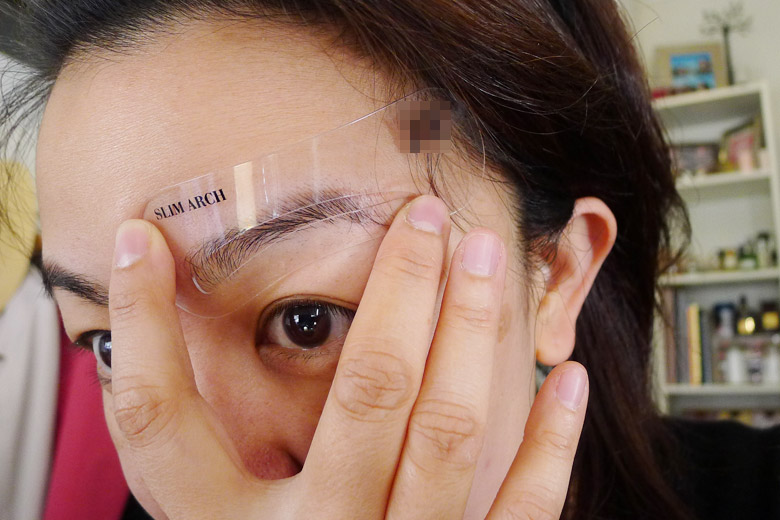 Just as an experiment, I tried out a few brow stencils that I currently have on hand. As you can see, these stencils are very different from my current shape and if I were to tweeze the rest of the hair outside of the stencil away, I'd have gotten rid of a lot of my naturally full brows. Over the years I've come to learn and love my thick and full brows. I sported pencil thin brows in my 20s and believe you me, it's not a good look at all. But if I'm new to makeup and used a stencil like this to shape my brows, it would have looked really odd on me. If I had really thin brows and I used brow powder to fill in my brows to any of the stencil shapes, my face would also look very odd with those wide-open brows, making me look like I'm surprised most of the time.
Of course, one would say that these templates are simply meant to be a guide and that we should use them according to the shape of my face and eyes. But really, if I'm new to makeup, how the heck would I know what would suit me? The easiest would be to go for what's popular and you'd be surprised to find that trending brow shapes may not suit you at all. Those overly arched and pointy brows definitely don't suit my face.
If you're looking to shape your brows and aren't sure how to do so without worrying about over-tweezing, please stay away from stencils and tweezers, and go to a brow expert. There are plenty of brow bars these days and the staff are trained to look at faces and deal with brows and brows alone on a daily basis. You just need that initial consultation and shaping. Once you've gotten your brows professionally shaped, all you have to do is maintain that shape at home with a pair of tweezers, brow pencil, powder, pomade, gel, what have you. You don't even have to go back monthly if you don't have to. Monthly brow maintenance could be expensive for some, which I completely understand, which is why I don't do it monthly either. I tweeze stray hairs and keep my brows in place with brow gel. Once it gets more unruly and out of shape, that's when I'll visit the brow bar again.
Just so you know, I'm not having a go at this particular brand of brow stencils. My opinions are the same for all brow stencils despite the brand. This is just what I have on hand at the moment. To be fair to other brands, I've pixelated out the logo but if you recognised it, again, I'm not slamming this brand of brow products on the whole.
Again, there's no one size fits all for brows. You need to go for what suits the shape of your face and eyes and not rely on ubiquitous, premade brow templates. You might find that straight, archless brows suit your face much better than arched brows (this trend is popular in Korea). I've made a lot of mistakes with my brows over the years. I've over-tweezed them to pencil-thin nothingness, I've literally broken my brows in two (see this very old blog post and you'll know what I mean) and I've done eyebrow embroidery which to this day, 5 years later, is still there and something I can't get rid of. I've learned a very valuable lesson when it comes to my brows, and that's to leave them to the experts.
And know when to put that pair of damn tweezers down.
Have you tried brow stencils? Do they work for you?