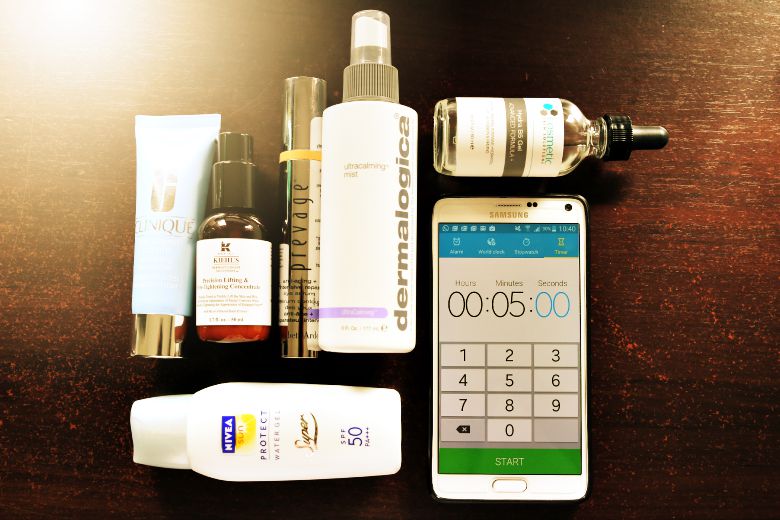 Some time ago, I had a good chat with an old chum from my uni days and we reminisced about how I introduced her to skincare and how she used to complain she had no time to even pop moisturiser on when she became a new mum. I used to tell her that a good yet simple skincare routine doesn't actually take that long and that it would only take about 5-10 minutes. Of course, things have changed for her and she has more time to devote to her skincare now, but it got me thinking … how long do you spend working on your skincare routine each day?
I wasn't exaggerating when I told her (and now you) that a simple yet effective skincare routine only takes 5 minutes to do. This doesn't include cleansing since I cleanse my face in the shower anyway, but from toner to sunscreen, it really just only takes me 5 minutes. Of course, if I had more time, I would purposefully take at least 10-15 minutes to pop everything on and let each product sink in before applying the next. I like to spend a bit more time towards my evening skincare routine than my day but if push comes to shove and I'm really rushing for time, 5 minutes are all it takes.
With that short amount of time, this means that I'll have to reduce the amount of products I use on my skin, which is not a problem as long as I don't shortcut any important steps. Here's what my day routine looks like:
Bear in mind though, I don't take only 5 minutes per day skincare routine if I don't have to. If I have another 5 minutes to spare, I like to take my time on each step. But at the very most, this would pretty much take up to 10 minutes and that's reaaaally pushing it. My evening routine takes longer but if I have to, it would look something like my day routine minus the sunscreen.
This is not to show off on how quick I do my skincare routine (again, I like to take my time whenever possible) but to show that it's possible to take just 5 minutes out of your busy time to take care of your skin. With the water restrictions in Victoria, I've learned to take quick under-4-minutes showers and along with my skincare routine, I can be done in under 15 minutes minus makeup application. Of course, if possible, I'd highly recommend you to slow down and take your time with your skincare routine because it's not only better for your skin, it's also a time of relaxing and de-stressing as you pat your products on your skin.
How long do you reckon you take to work on your skincare routine for the days and evenings? Do you like to dash-in-and-dash-out or take your time to apply your skincare products?