First of all, thank you so much for the positive responses I received on the blog post on my journey to better health and fitness. To be honest, I was pretty nervous publishing it because it has only been close to 2 months and I wasn't sure if I should have written it 6 months down the road. But I figured there's no shame in what I'm doing at all and if I can help motivate someone to pursue better health and fitness, then I'd have done my part.
A reason why I decided to write about it now and not 6 months down the road is that I'd love your help on something close to my heart. As you know, I'll be running the City 2 Sea 5km run in November and I've decided to run for my favourite non-profit organisation, Beyond Blue.
If you're not based in Australia and don't know what Beyond Blue is, it's a national initiative to raise awareness and understanding of anxiety and depression in the community, to empower people to seek help and to support recovery, management and resilience. There are 3 million Australians living with depression and anxiety and for someone who's had depression (that's me), it's so good to know that there are resources that can help when there was none for me before. Tim and I are strong supporters of Beyond Blue and we do what we can to raise awareness of mental health on BA as much as possible.
When I registered for the City 2 Sea run, I was given a few choices of charity organisations to run and help raise funds for, and when I saw Beyond Blue, I knew that I had to help with its fundraising. Last year, you and I helped raise some money for Beyond Blue through my preloved makeup sale, where 100% of the proceeds and more was donated to them. This year, I've decided to run for them and I'd really love for you to help sponsor my run.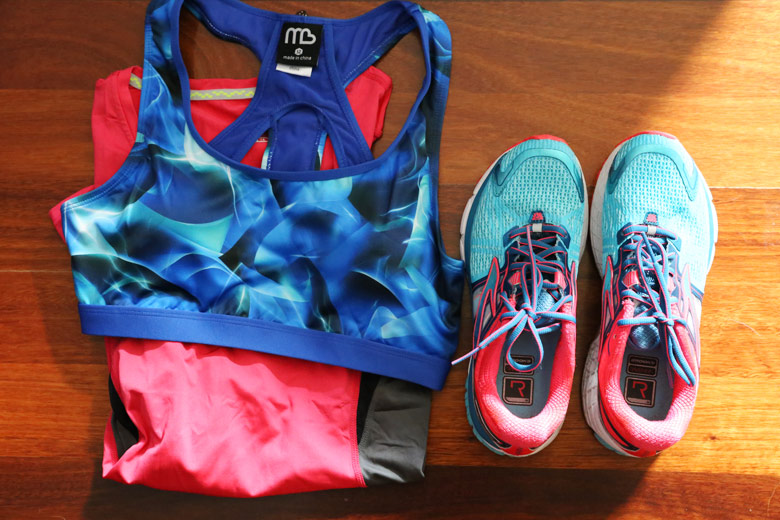 After editing this photo, I realised that I didn't include my running tights in the running gear ensemble. I DO WEAR PANTS TO RUN! 😛
As excited as I am for this run, I must admit that I'm pretty damn nervous for it as well. I've never ever signed up for anything like this before and it's going to be a milestone for me to achieve, knowing that I can do this. I'm just a beginner runner and to me, 5km is my Everest. But I knew I had to do this and if I can help raise money for Beyond Blue to raise mental health awareness, then I'll climb that Everest.
I would really, REALLY appreciate it if you could help sponsor my run. Your money will go towards Beyond Blue and it would really help to provide the resources needed for those battling with anxiety or depression. Even if you're only able to spare $1, I'd really appreciate that dollar because a dollar is far better than no dollar at all.
Please click any of the images in this blog post or the link below to help donate and sponsor my run.
Thank you so much for your help and generosity. BA readers and subscribers are truly the best. 😀