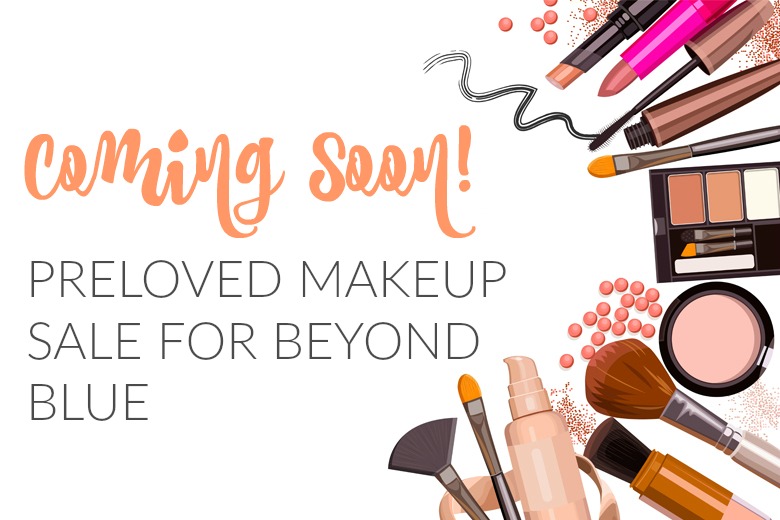 Last year's preloved makeup sale for Beyond Blue was such a success that I thought I just have to do another one this year. For those of you who are new to BA (hello and welcome! Remember to say hi below in the comments if you're new!), I did a preloved makeup sale last year and 100% of the proceeds from the sale were donated to Beyond Blue, which is a national initiative to raise awareness for depression and anxiety. It's a charity organisation near and dear to Tim's and my heart and it's one we actively support.
As most of you will know, I'll be running my first 5km run at City2Sea on 15 November and I've been raising funds for Beyond Blue as well. The proceeds I get from this year's preloved makeup sale will go directly to Beyond Blue, instead of going through a 3rd party website. This way, I'll make sure all the $$ go to them instead of the usual administration costs, service fees, blah blah blah. 😛
If you're unsure what preloved makeup is, it's simply a nicer way of saying "gently/rarely used secondhand makeup". I don't want to beat around the bush; let's be real here … I do have A LOT of makeup that I've used just a handful of times and to keep them just leaves them unused and unloved. These are beautiful products that I'm afraid aren't getting used as much as they should be, and it pains me to see them wasting away in my makeup storage. Hence, I'm doing a preloved makeup sale and if you'd like to score some lovely makeup that's probably just been swatched once and some never even used (*gulp*) at very affordable prices, here's your chance!
Here are some of the brands of products that will be available in the preloved makeup sale: Dior, Jill Stuart, MAC, Benefit, Tarte Cosmetics, IT Cosmetics, Bare Minerals, Etude House, Guerlain and more. There are plenty of blushes for sale and some of them are limited edition ones too! There'll be a total of 37 items for sale.
There will also be a number of fragrances for sale, particularly miniature ones, which I adore collecting but have no space for. I'm very pleased to have Dior on board for the preloved makeup sale this year. I've been very lucky to receive a good number of press samples from Dior over the years and I've received written permission from Dior to sell these press samples for charity. Just to be clear, I don't condone selling of press samples without permission. I brought the subject of the preloved makeup sale for Beyond Blue to Dior's PR, and she had very kindly given her written consent to sell these items for charity. As always, I'll be posting a copy of the donation receipt on the blog after the blog sale is over.
So if you're looking to score some pretty awesome makeup at affordable prices, please set your alarm for 10am Melbourne time (GMT +11) tomorrow (31 October). Your purchase will go towards a great cause and I thank you all very kindly in advance. If you could help me spread the word to your makeup-loving friends and family as well, I'd really appreciate it.
Can't wait for the sale to begin! 😀