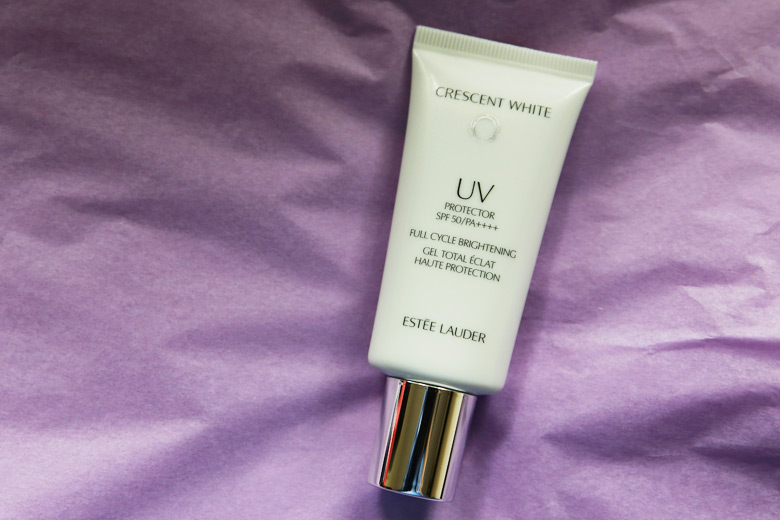 If you're wondering if Crescent White is another whitening/brightening range from Estée Lauder, it's actually a replacement of the previously-known range, Cyber White. This range is formulated in Asia and targets Asian skin, but really, anyone can use this range, just like the previous Cyber White range. The idea behind the Crescent White range is that new research shows that spots and hyperpigmentation are controlled by a natural day and night cycle. Every day, skin accumulates damage from multiple factors, including UV and pollution. At night, spots and pigmentation emerge and proliferate in response to the damage caused during the day.
According to Estée Lauder, the Crescent White range was developed to harness the biology of the night and to provide 24/7 benefits around the clock using its formulated Light Cycle QD Complex of naturally derived botanicals, which work in rhythm with skin's own daily cycle.
Have I lost you there? Just think of it as products that work with our daily sleep and awake cycle. At night, they strengthen skin's natural ability to repair the skin and prevent the appearance of dark spots. By day, they help neutralise and protect against new visible daytime damage. The range is said to work with our circadian rhythm. Woo woo, you say? I'm rather inclined to think so, but hey, I'm happy to keep an open mind if it works. 😉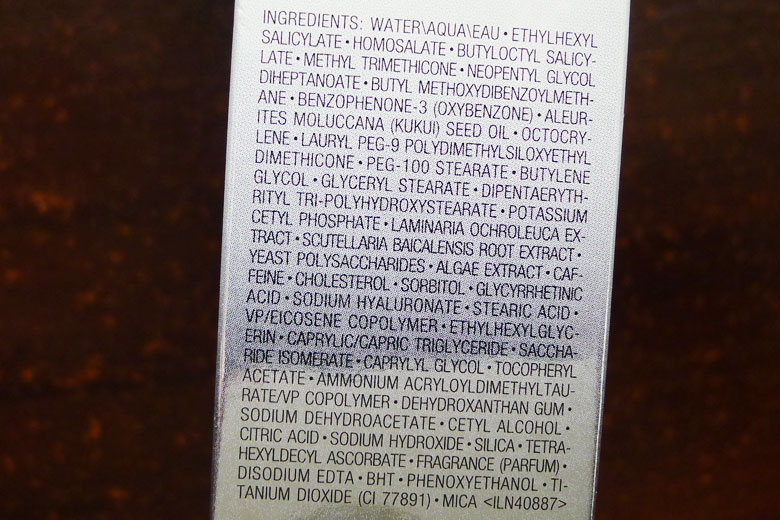 I've been meaning to get the Crescent White Full Cycle Brightening UV Protector SPF 50 sunscreen when I was doing a quick bout of shopping in Malaysia but I never got round to buying it. In the end, I bought this on board my flight back to Melbourne. I remembered the male flight attendant who sold this to me telling me to use this sparingly as it will make my skin oily if I used too much. I told him "but it's sunscreen! You're supposed to use a lot of it!". He gave me a knowing grin and left. 😛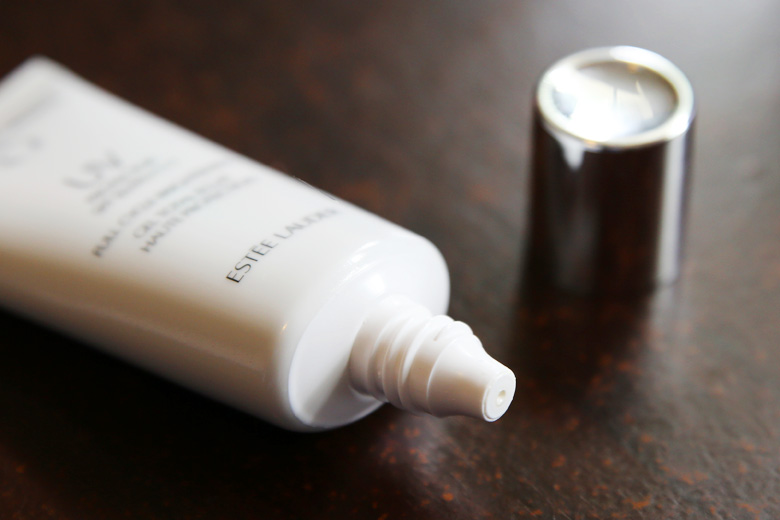 Even though this sunscreen is formulated for Asian skin, it's not the sort of typical light and runny Japanese sunscreens I'm used to. In fact, it's a very Western sort of sunscreen, where it's thick and slightly greasy to the touch. When I first tried it out, to be honest, I was a tad disappointed at how thick it was. I've been using ultra-light Japanese sunscreens for so long that I've almost forgotten how sunscreens normally feel like. It blends on the skin well and leaves a dewy finish on the skin.
Even though it feels thick when it's first applied on my skin, once it's blended out, it no longer feels heavy. I'm still not too keen on the dewy finish but it's not a deal breaker. It makes a good base for makeup, which makes up for the slightly moist feeling on the skin.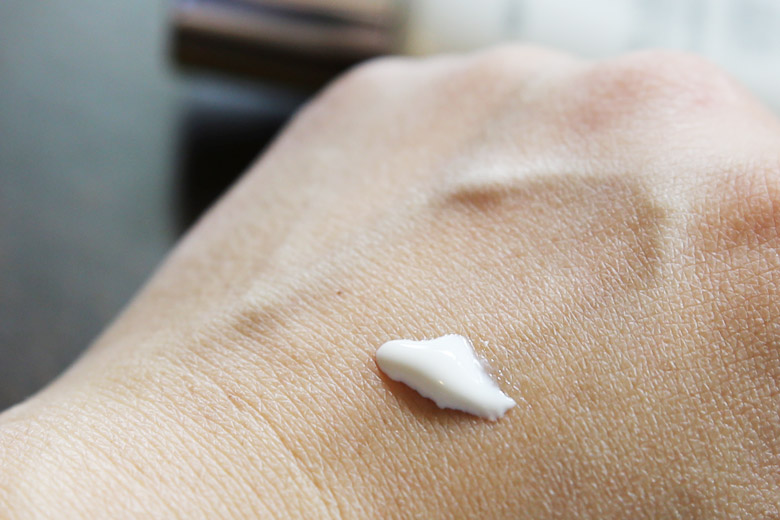 But this, this is a deal breaker: it's pretty damn expensive for such a small tube of sunscreen. As I use a lot of sunscreen on the face and neck each time, I've already used up 1/3 of the tube in just 3 weeks. At US$50.00 per 30ml tube (with the currency exchange, I paid over AU$70.00 for this), this makes it the most expensive sunscreen I've ever used. Is this worth the hefty price tag? To be honest, I didn't see any difference to my skin in terms of that whole day and night cycle thing. Perhaps it's because I haven't used the entire Crescent White range, only the suncreen, but I'm a firm believer of not needing to use just a single entire brand and range of skincare to see the "added benefits". I'm happier using a much cheaper, lighter sunscreen that I can happily douse myself with without all that greasiness. Mind you, this doesn't make my skin look like a greasy wok, but it's definitely more dewy than I'd like.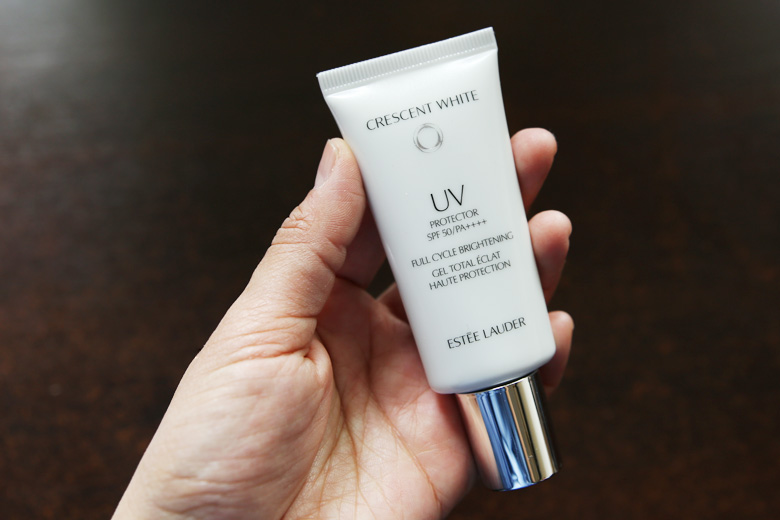 This sunscreen is available in most Asian countries, the UK and the US but not surprisingly, it's not available in Australia, at least, not yet (the rest of the Crescent White range is available in Australia). Australia's TGA (Therapeutic Goods Administration) has strict guidelines about sunscreens and I reckon this is still under testing before it can be sold in Australia, especially with the SPF50 claims. I hope we don't have to wait long for this to finally be released in Australia. Even though this wasn't really my cup of tea, I'm sure there'll be plenty who would love it.
What I like about it: It has a pleasant scent and although it leaves a more dewy finish that I'd normally like, it does make a good base for makeup.
What I do not like about it: It's expensive for its size, too dewy for my liking, finishes too quickly. Even though this left a sheen on my skin that I'm not too keen on, I'm not about to use less of it just so it doesn't look oily on my skin. Sunscreens aren't supposed to work that way.
Have you used this sunscreen or any products from Estée Lauder's Crescent White range? Your thoughts? Yay or nay?