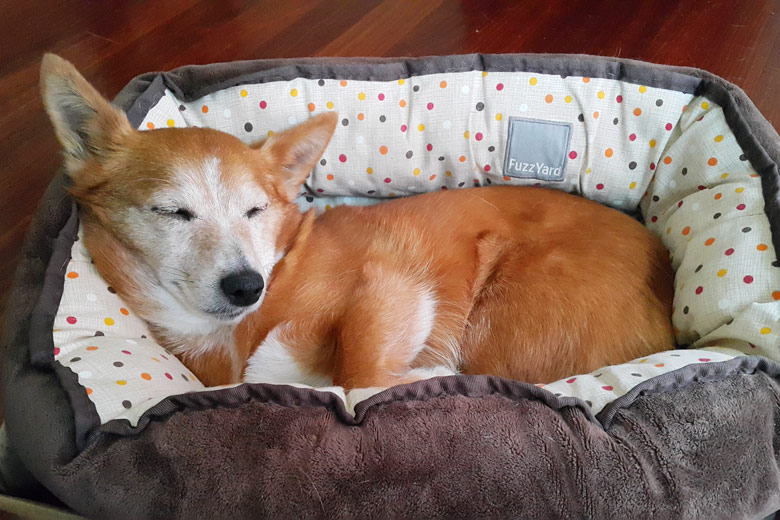 Because she's had such a long day, what with her schedule of sleep, eat, walk and then sleep some more
Burning the midnight oil to meet deadlines, troubleshooting technical issues on websites, working on the blog all day … well, all these can contribute to a long day for me even though I'm working from home. One of the problems of working from home is the inability to "leave work" because it's always there. Sometimes these long days just make me want to crawl into bed and wish I can sleep 24 hours straight on.
There are several things that I now do to chill out after a long day. These help me greatly in winding down my over-stimulated brain, which can go on and on even in my dreams if I don't "turn it off", which makes me even more on edge the next morning.
Screen-off time
There are days when I'd be tuckered out after a long day and the last thing I want to see is a screen. No computer, TV, no iPad and definitely no phone. In fact, I'll mute my phone and ignore all notifications of messages until the next day. Out of all of the things I like to do when chilling out after a long day, screen-off time is the best. The only screen I'd see is my Kindle, but that's not counted as a screen because I use an old version of Kindle which doesn't have a backlight and resembles the look of a book. Even so, sometimes I can't even be bothered with a Kindle; I'd take out my old books and magazines to read instead.
Read a book
This brings me to the second point, which is reading. I adore reading and it's something I must do before bed. There are days when I'd be so tired by the time I get to bed that I can barely open my eyes and even then, I'd need to read at least a chapter before I totally zonk off. The funny thing is, I'd be holding the Kindle but my eyes have closed and I've dozed off!
Take a bath
Or in my case, take a hot shower as I don't have a tub at home. It doesn't matter how tired I am; a hot shower is a must, especially before I hit the sack. It invigorates me and I don't feel so tired. It even helps me to sleep better. If I had a bathtub, I'd have a good soak instead. Sigh, to think I used to complain about the inconvenience of having a bathtub because it's a pain to clean. What I'd give for a tub now!
Exercise
Funny that I should add this in now because up to a few months ago, I'd say "are you crazy?". Even when I don't feel like running or working out at all, I'd go for a 5-minute run. It's quick, it's easy and it really clears the head. Five minutes is all it takes. After a day of brain stimulation, it's time to get the heart pumping!
Walk the dog
On days when I really can't be arsed to exercise at all, I'd take Janey for a long walk. There's something about walking your dog that helps one relax. I'd listen to a podcast or audiobook while I walk Janey. When I've exhausted my brains out working, I'd take her out for a quick walk around the block to clear my head.
Chop veggies
This totally works! All that chopping during dinner prep is cathartic. I call it "chopping my troubles away". 😛
Dance
I'd turn Spotify on to an 80s/90s music channel and dance my heart out. Why not, no one's watching. It feels really good!
Light an aromatherapy candle
I'm a bit of a candle fiend and light one each night. There's something about the flickering light of the candle that calms me down and the scent, particularly an aromatherapy one, really helps me chill too. On shitty days, I'd use the good stuff (e.g. a Dyptique candle). A particularly relaxing brand of candles is Woodwick, where they use wooden wicks that crackle when they burn, making them sound like a fireplace. The sound of a crackling candle is very relaxing.
Laugh in bed
Tim enjoys making me laugh and I love him to bits for it. We'd talk about the silliest things, do funny gestures and then we'd laugh till our sides hurt. Laughing in bed and before bed is one of the best things I look forward to after a long day.
What about you? How do you chill out after a long day at work?