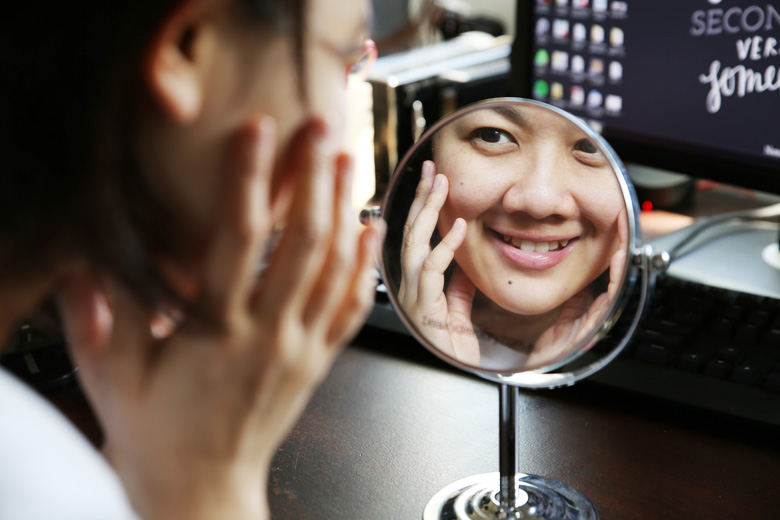 Last weekend, I was doing a bit of decluttering of my skincare and makeup stash and I found a number of old products that I kept from years back that I had loved but don't use anymore. The beauty products I favour these days are very different from what I used to use. I wouldn't have thought I'd be using what I'm using on my skin now. It's funny how the old beauty products we have represent a sort of timeline of how much skin changes as the years go by.
It got me thinking, how have your skin changed over time?
Growing up, I've always thought I had oily skin. My nose was particularly oily and my forehead was a minefield for grease and spots. As such, I've always figured that since my T-zone was oily, the rest of my skin was oily and I would only use products meant for oily/acne-prone skin. My teenage skin was crying out bloody murder at the time with angry pimples most of the time and I would combat it with heavy astringents and pimple cream. Never mind the fact that even though my T-zone was an oil-slick, my cheeks were clear of any spots and my chin was slightly dry.
When I entered my 20s, I finally learned that my skin isn't actually oily but it was a combination of oiliness and normal, er, ness. My skin started to settle down and I was getting less breakouts as the years went on. I would still reach for skincare that are meant for acne-prone/oily skin as I found that while my skin wasn't all-round oily as I thought, I still had a very oily T-zone I had to control. Products meant for acne-prone/oily skin are typically lighter than skincare for normal/dry skin. Even though, in hindsight, my skin could have used slightly richer skincare on my cheeks and chin, overall, it had no complaints. My makeup of choice would be matte foundations, the more mattifying, the better. It didn't even occur to me at the time how flat all those matte foundations made my skin look. I was determined not to have a shiny T-zone.
My skin started to change again when I entered my 30s. While my T-zone is still oily, it's not as oily as it was in my 20s. I started to favour skincare with plenty of hydrating properties. Hyaluronic acid became one of my must-have ingredients in skincare. While I'm still not terribly keen on thick moisturisers, I'm using richer creams that I would in my 20s.
Even my choice of makeup has changed. Gone are the days when I'd go for foundations with matte finish. These days, I much prefer foundations with a satin finish. Sometimes, I'd go for dewy yet radiant foundations. My skin can't take so much mattifying anymore as it develops more and more fine lines (these mattifying foundations tend to accentuate those lines). I've even stopped using so much setting powder on my face. Ten years ago, I'd be sweeping layers of loose powder on my skin to set the foundation, in hopes that it would keep the oily T-zone at bay. These days, one light layer of setting powder would do. Heck, there are even days when I don't use any powder at all.
It would be very interesting to see how my skin changes again when I hit my 40s, 50s, 60s and so on. Do all the changes and aging scare me? I'd be lying if I said it doesn't. My heart skips a beat whenever I see a newly-developed line on my skin, whether it's on my face or body. But that's part of life, isn't it? Who knows what those changes will bring? 🙂
What about you? How has your skin changed over time? Do you find yourself favouring types of beauty products that you typically wouldn't years ago? Do those changes scare you?