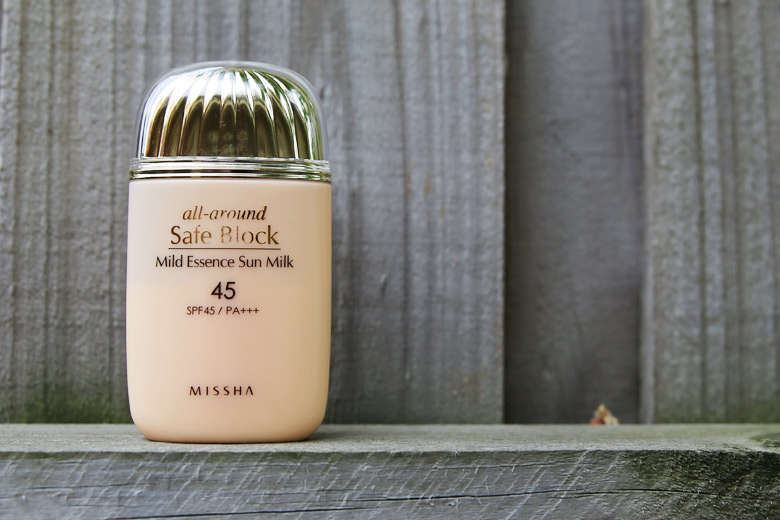 Last week, I wrote about a Korean foundation that I received from Skinship (an Australian online store that sells only Korean cosmetics). That was the first Korean foundation I've tried and today, I'd like to share with you my thoughts on the first Korean sunscreen I've tried, which is the Missha All Around Safe Block Mild Essence Sun Milk SPF45. This was also kindly sent to me by Skinship. In fact, they contacted me in the first place regarding my blog posts on my favourite Japanese sunscreens and thought I might want to try out one by a Korean brand instead. You know me; when it comes to sunscreens, it's always a HELL YES. 😛
I started using this sunscreen 2 weeks before I left for Malaysia and I decided to take it with me on the trip as my go-to face and body sunscreen. The bottle is pretty small and light, which made it perfect for travelling.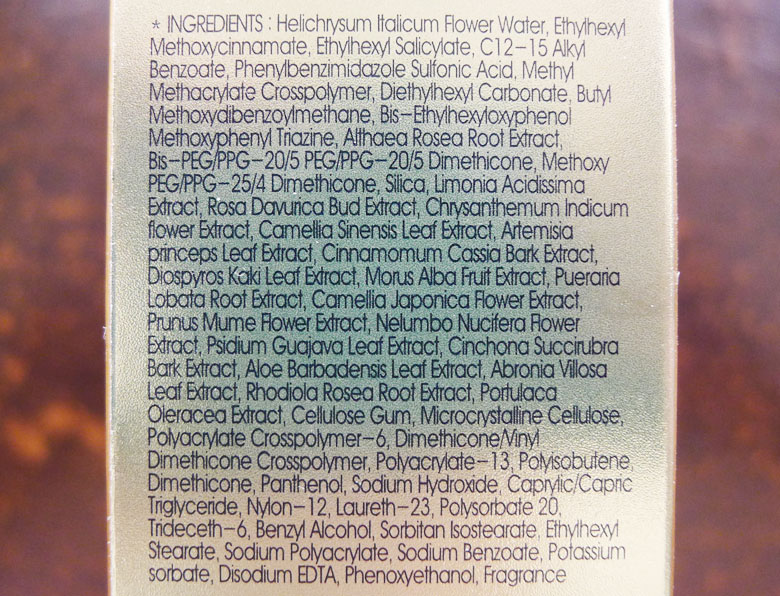 In terms of texture and consistency, this is reminiscent of many Japanese sunscreens I've used. It's very watery and comes out of the bottle looking like milk. You'll have to shake the bottle well before using the sunscreen. As it's so watery, each time I gently squeezed the bottle for the sunscreen to be dispensed, it almost always spurts out extra liquid. I've lost count of the number of times sunscreen got on my shirt, glasses, table, wooden floor and carpet. It doesn't matter how slowly I squeezed the bottle; high chances are that there will be something squirting on my shirt. It's not a deal-breaker but it is bothersome.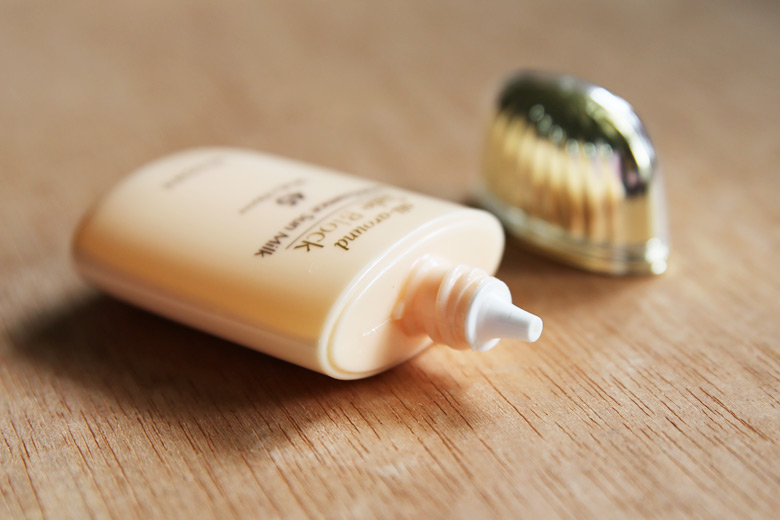 This blends and wear on the skin quite well. It's incredibly lightweight; I often forget I'm wearing sunscreen when I have this on. When I used this in Melbourne, it didn't look at all oily on my skin. In fact, it created a good base for my makeup, which is something I love about Japanese sunscreens. I particularly like using this on my arms and legs as it's so light and non-sticky. It has a light floral fragrance, which is a warm welcome from all those not-so-pleasant sunscreen-y scents.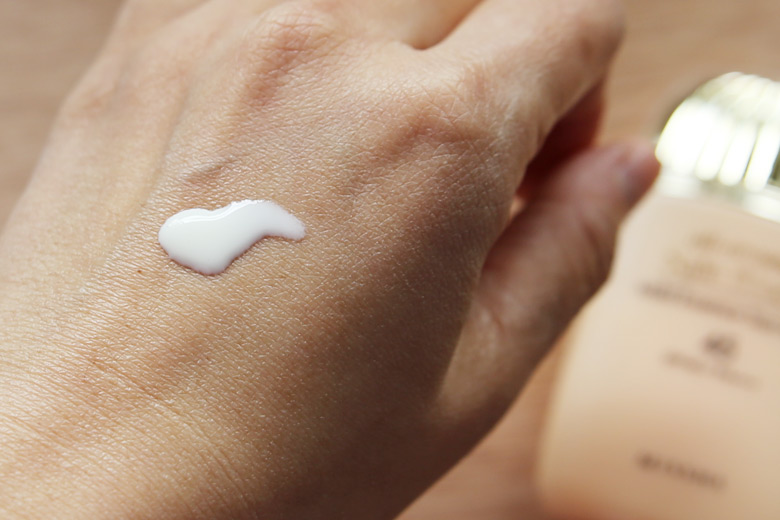 I thought that given how light this sunscreen is, it would be perfect to use in Malaysia's hot and humid weather but here's the thing: this actually made my skin greasy when I used it in Malaysia. It didn't wear as well as it did in lower humidity conditions. Even though this didn't feel sticky on my skin, my skin looked and felt oily. When I continued using this when I came back to Melbourne, it was oil-free again on my skin. Funny how our skin reacts to different levels of humidity, eh?
Overall, this is a decent sunscreen. It isn't something I'd use in high humidity environments but in Australia where it's dry, I have no issues with it at all. Okay, maybe the spurty bit. There's only so much spurting of sunscreen on my shirt and glasses I can take. 😛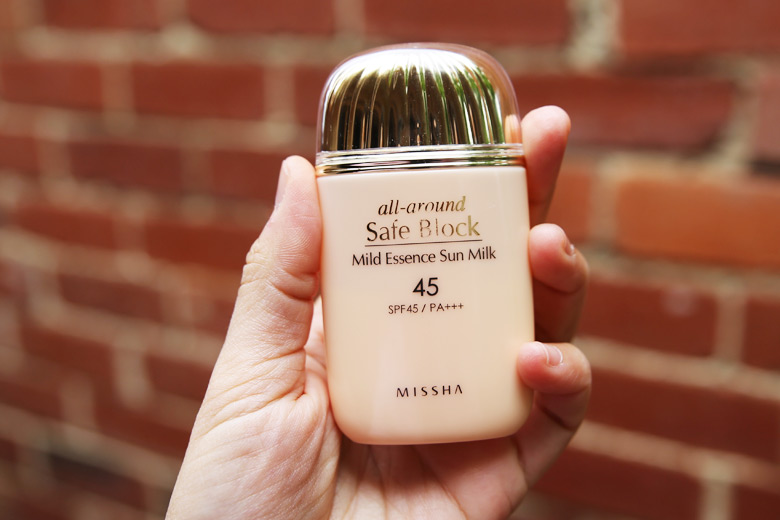 I'm definitely keen on trying out more Korean sunscreen now that I've given this a go. At the moment, my favourite sunscreen of all is Biore's UV Aqua Rich Watery Essence. But who knows, perhaps one day my Holy Grail of sunscreens may be a Korean one after all.
Missha All Around Safe Block Mild Essence Sun Milk SPF45 is available at Skinship for AU$24.95. You can also get this at certain Asian beauty cosmetics stores in Melbourne (e.g. the Missha store in Boxhill, VIC) but their prices are pretty high. I've compared this price with the official Missha store's, and this is still cheaper on Skinship.
What I like about it: Very lightweight, oil-free in low humidity conditions, not sticky, blends easily, high SPF, good base for makeup.
What I do not like about it: It doesn't dispense very well (excess liquid spurts out of the opening), leaves a slightly greasy sheen when used in high humidity conditions.
Have you tried this of any of the sunscreens by Missha? Have you tried any other Korean sunscreens? If so, which one would you recommend I try next?
This product was provided for editorial consideration. For more information, please read our
disclosure policy
.