When it comes to packing for traveling, one of the problems I have when packing skincare is decanting serums. When skincare products are packaged in open jars, transparent bottles or even decanted to tiny open jars, they run the risk of reducing the efficacy of the ingredients when they're exposed to air. As much as possible, I'll bring the full-sized bottles of serums with me when traveling, even if they're in glass packaging and add to the bulk and weight of the luggage. But sometimes, even that can get pretty cumbersome, especially when you're flying with a low-cost budget airline.
A few months ago, I came across an Italian brand called MonoDerma and what they produce are serums that come in tiny single-use pods, which are also known as MonoDermoDose pods. They have the E5 5% Tocopherol (Vitamin E) serums, A15 Exfoliating Anti-wrinkles (0.15% retinol) serums and C10 Lightening Anti-aging (10% ascorbic acid/Vitamin C) serums that are housed in small biodegradable jelly pods. There are 28 pods per box, which means each box will last you almost a month.
I've used the C10 Lightening and A15 Exfoliating serum pods and I must say, this is a very good idea to keep the active ingredients as untainted as possible. The only time they're ever exposed to air would be when you're breaking off a pod to use. The pods are packaged in what looks like a oral contraceptive pill case, where there are 28 secured flaps that you open to house each pod. Even though each case is quite big, it's light and easy to pack for traveling.
I liked these so much that I've repurchased two boxes for future travels!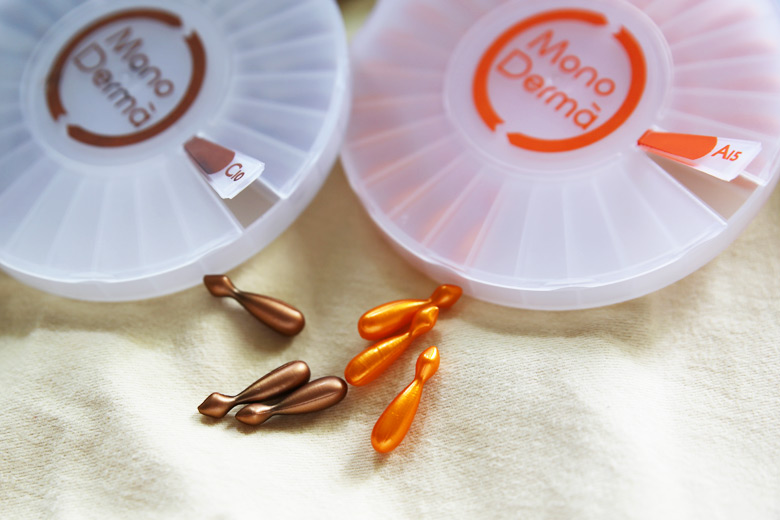 Ingredients:
C10 serum: Cyclopentasiloxane, Ascorbic Acid, Dimethicone Crosspolymer, Dimethiconol, Methyl Methacrylate/Glycol Dimethacrylate Crosspolymer
A15 serum: Cyclopentasiloxane, Dimethicone Crosspolymer, Methyl Methacrylate/Glycol Dimethacrylate Crosspolymer, Polysorbate 20, Retinol
As far as serums go, I have no negative issues with them. The C10 serum tingled a little when I used it, which is quite strange given that I've used higher strength Vitamin C serums, but it didn't cause any adverse effect on my skin. My skin appeared brighter and more radiant with the use of each pod. The same went for the A15 retinol serum. Even though the retinol concentration is low (I normally use 1% retinol), it was still good enough to soften my fine lines and give my skin an overall smooth and soft feeling and appearance.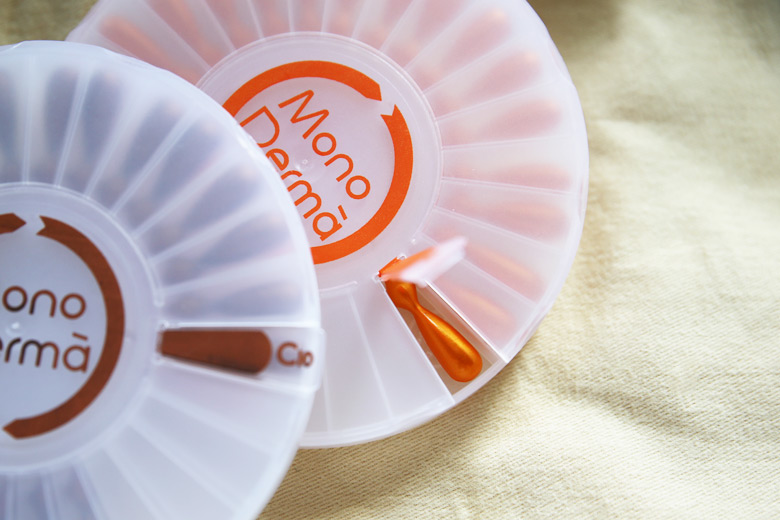 The only problem I have with these MonoDerma pods is that each box only lasts you up to a month, and to me, that's not economical. Similar serums that I've used and are currently using normally last me at least 3 months. Having said that, this is a brilliant idea to maintain the properties of the active ingredients in each serum, preventing its inactivation by sunlight and contact with oxygen. If MonoDerma came up with one that has at least double that amount for the same price, I would sing even more praises about these serums because the pods aren't just a good idea; the serums are very decent too.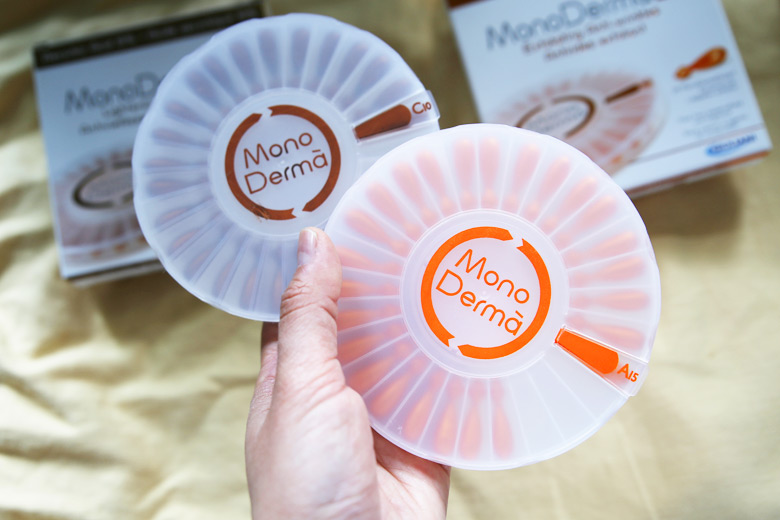 Each MonoDerma MonoDermoDose pack of 28 serum pods retail at AU$49.95. Each pod is single-use only and is enough to cover the entire face, neck and decolletage. You can save half of it for the next use if you want to, but I'd just use up the entire pod each time, to be honest. MonoDerma is available at Amcal pharmacies nationwide.
What I like about it: Each single-application pod ensures the quality of the ingredients, the serums work as well as claimed, ideal for traveling.
What I do not like about it: Each box only lasts up to a month, not economical.
Have you tried these serum pods by MonoDerma? What do you think of the idea of keeping serums in single-use pods like these? A great idea or simply gimmicky?
This product was provided for editorial consideration. For more information, please read our
disclosure policy
.