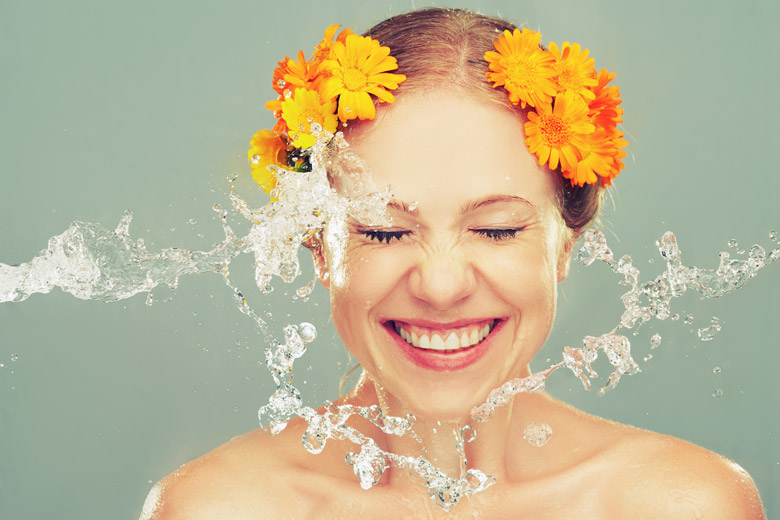 I remembered many years ago when Evian first came up with the idea of a facial mist. At least, back then, I thought they were the first to come up with it because so many celebrities were seen spraying their face with fancypants Evian water and all I could think of then was "gee, what a waste of good water!". Little did I know that years later, I'd be spraying my face silly with that Evian water to stave off the summer heat!
To tell you the truth, it took me a long time to grasp the concept of a facial mist, especially the "thermal water" ones. It was hard to fathom paying that much money for a bottle of was essentially water in a can, regardless of where it came from. But as I slowly started to explore these thermal water facial mists, I realised that it wasn't as useless as I thought. They didn't only provide much-needed relief on warm skin on a stinking hot day, they helped keep the skin hydrated when travelling on planes too.
Over the years, I've used a number of facial mists and today, I thought I'd share with you the ones worth mentioning and worth checking out. They range from thermal sprays to hydrating mists.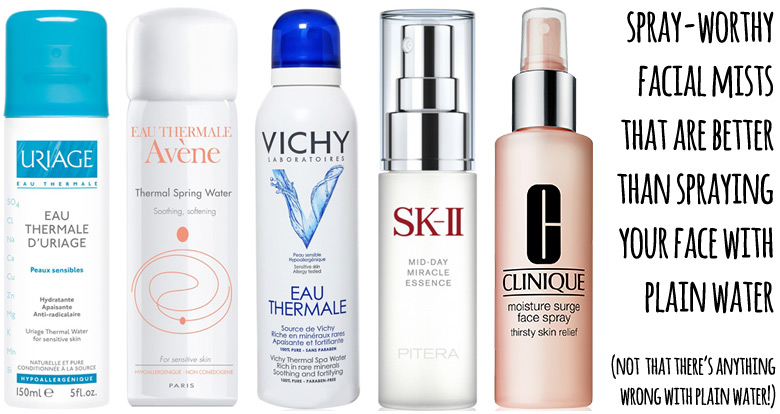 Uriage, Avene and Vichy Eau Thermal (thermal water)
I've lumped these three together as these are essentially thermal water sprays from some la-di-dah springs in France. I can't tell the difference among the three as they give me the same results, so I just buy whichever cheaper and is on sale. These are fantastic in summer. In fact, I'll have one in the fridge, one in the home office and one in my bag come summertime to stave the heat off. I've used this on many flights to different countries and each has served me well. I like to spray my skin with either one of these and before it completely dries, I'll pop my skincare on. A cold can from the fridge, sprayed on the face, is just as good as an ice-cold beer. Or so I've been told, since I'm not a fan of beer. 😛
Thalgo Reviving Marine Mist Cellular Revitaliser*
Like the Uriage and Avene thermal waters, this too comes in a pressurised can. This is different from the thermal sprays as it contains red algae extract, which is supposed to be revitalising on the skin. I find this slightly more hydrating on my skin even though it looks like I've just pretty much sprayed water on my face. I like to use this after cleanser and before my serums.
Clinique Moisture Surge Face Spray
The Moisture Surge moisturiser will always have a dear place in my heart as it was one of the first expensive moisturisers I've used that I loved. The face spray is obviously not a replacement for the moisturiser but it's a good alternative for thermal sprays as it contains moisturising properties, which makes this even better to use on flights. It smells similar to the Moisture Surge moisturiser.
SKII Mid Day Miracle Essence*
I recently had the opportunity to try this out, and I took it to Malaysia with me. I sprayed it liberally on my skin during each 7+ hour flight to KL and it kept my skin well hydrated. I usually need a moisturiser after using thermal sprays but my skin didn't feel parched with just this on. I used it in lieu of toner and it worked just as well. The Mid Day Miracle Essence doesn't contain quite as much pitera as the Facial Treatment Essence but it certainly sufficed during my travel period.
You'll notice that I didn't include the very popular Caudalie Beauty Elixir in the list. While it works just as well as most of them, I'm not a fan of the scent at all and it's pretty pricey for what it is. Of course, the SKII in comparison would be more expensive but it worked better on me than the Caudalie Beauty Elixir did.
Now that summer is just around the corner, I'll be giving more facial mists a go. These work very well in my opinion and they're worth checking out. All but the Thalgo spray has 100ml and under versions that you can bring on the plane with you. Since it's actually getting warmer even though it's just spring, I'll be popping one of these into the fridge very soon. Come to think about it, I better stock up on an extra bottle or two. I heard that this summer is going to be a real scorcher!
Do you use facial mists/sprays? If you do, which one's your favourite? Do you have any to recommend that isn't on the list? If you don't use them, do you reckon they're just water in a can?
Products marked with * were provided for editorial consideration. This post contains several affiliate links. By purchasing something via these affiliate links (at no extra cost to you), you're supporting Beautyholics Anonymous, which I highly appreciate. For more information, please read our
disclosure policy
.