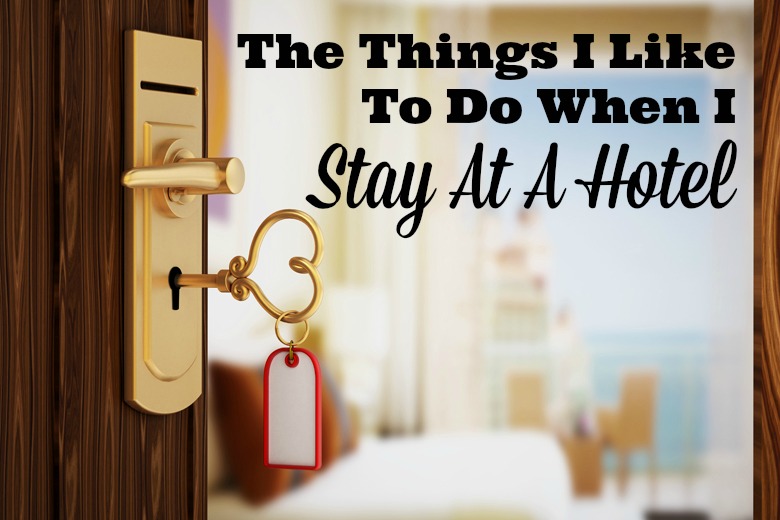 © destina
I don't know about you, but I love staying at hotels. Germaphobes will be absolutely horrified at the idea because goodness knows how dirty hotel rooms are since they're never really that thoroughly cleaned (my aunt used to bring a black light with her to every hotel room she stayed in to see how dirty the place was. I don't know why she tortured herself like that given that she wasn't really that fussed about a super clean room. She stopped after a while when even the most expensive hotels she'd been to gave her a fright). I, on the other hand, practise the very important mantra of "ignorance is bliss" so unless there are remnants of chips or blood under the bed, I'm good. I want those crisp, white sheets. 😛
I didn't actually realise this until a few months ago when I was away at Gold Coast for the Problogger Event conference and I stayed on my own at the RACV Royal Pines hotel that when it comes to staying at hotels, I have a sort of ritual or a set of things I have to do when I first step into a hotel room. I've been very fortunate to be able to stay in many different hotels in my life so far and as such, I've started to do all these on autopilot.
I thought I'd share some of what I do when I stay at a hotel with you today, in no particular order. Maybe you do these on autopilot too!
The first thing I always check out is the bathroom. It doesn't matter if the bed is tiny; if the bathroom is big, then the hotel is a very good one in my books!
Check where my nearest fire exit is.
Take my shoes off right outside the bathroom or near the door. It's probably cleaner to wear shoes but like a typical Asian, I don't like wearing shoes indoors, especially in a bedroom. If there are bedroom slippers in the room, I'd put them on but if not, I go barefoot in the room.
Take photos of the room before I mess it up. I like to look back at photos of hotels I've stayed in.
Clear away magazines, brochures, information folders, etc to one corner. These usually go on the desk or coffee table. This way, I don't miss any of my things amidst the clutter.
Remove the bed runner. It only serves to make a white bed look better and nothing else. Between you and me, I prefer a white bed anytime. Housekeeping always puts it back and I always take it off. Ooops.
Remove unnecessary cushions. How do people sleep with 10 cushions and pillows on the bed??
Immediately decide on a side of the bed to sleep on, especially if I'm travelling with Tim or someone else. I usually like to sleep further away from the door.
Check where the powerpoints are.
Hang all tops, jackets, dresses and pants.
Pop toiletries bag in the bathroom. Take out what's necessary for daily use and put on the counter top. Makeup stays outside the bathroom.
Pop my toothbrush and toothpaste in a clear glass, which is usually provided in every hotel room.
Place a cup/glass/saucer beside the bed where I'll be sleeping. I place my wedding band, rings, watch (only if it doesn't tick loudly) and other valuable jewellery in the glass. This way, I don't lose track of these items (less risk of them rolling or falling onto the floor without my knowledge) and I always remember to check the cup/glass/saucer for those items before I leave.
If I'm staying on the first floor (this is rare because I dislike staying on the ground or even first floor), I check that all doors and windows are locked and I draw the blinds. Even if the view is gorgeous outside. Privacy and safety are very important to me, particularly if I'm traveling alone. Even if I'm staying on a higher floors, windows are always locked.
Boil water using the room kettle if tap water is not potable. My in-laws once told me that a very fancy international hotel they stayed in didn't provide rooms with a room kettle and staff gave them funny looks when they requested for one. I thought a kettle in hotel rooms was standard issue!
Boiled water goes into all glasses and cups the room comes with. I'll either leave them on the table and if there's space, in the mini bar.
Lock the room door with the dead bolt and/or chain. Closing the door will lock it but it doesn't prevent people from accidentally coming in with a room key. I've had incidents when I'm taking a shower and housekeeping entered my room because I couldn't hear their knocks on the door due to the running shower. Or when I'm just walking about in my underwear, which I tend to do when I'm getting ready to head out.
Wedge a door stop on the door to prevent intruders from breaking in (when I remember to bring one!).
Turn on all the lights, especially if I'm traveling alone. I don't like dark hotel rooms.
There are more that I do on autopilot, I'm sure, but I'll leave it here for now. Perhaps there's a tip or two in there that you can pick up for when your next hotel stay. If you have any tips for hotel stays, please do share them with us in the comments below. I'd love to know more! 😀
Do you have any "hotel room rituals"? What are the first things that you do when you enter one?