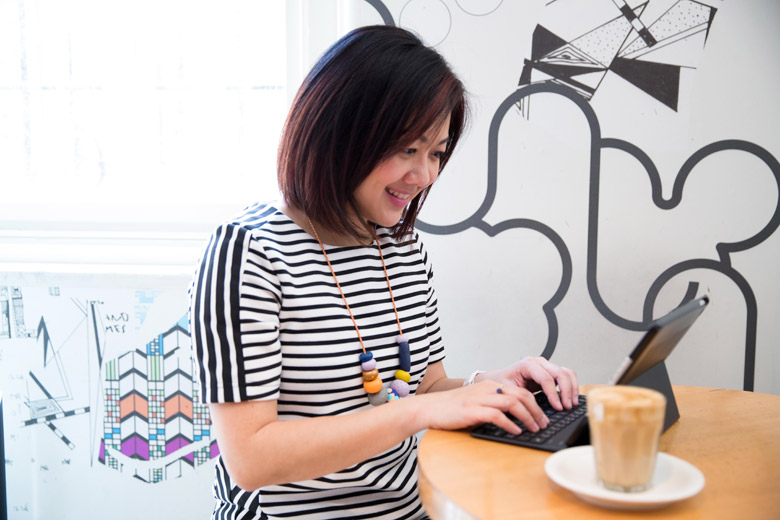 Whenever I meet new people at blogging events or parties, a common question I get is "how long have you been blogging?". They're often very surprised and in awe when I mentioned that I've been blogging for over 8 years, and that I must be some sort of blogging guru, when it fact, I'm not.
I've mentioned this to a few people and I guess I'm telling you this now but sometimes, I feel like a fraud telling people I've been blogging for such a long time because 1) it really doesn't feel as though I've been doing it this long and 2) I don't have the "social media numbers" to back it up. Social media was something I only concentrated on for the past few years and when I started, the only bloggers who'd be on Twitter and Facebook (no Instagram back then) were tech bloggers. I won't be surprised if those people whom I've met checked out my social media platforms and think "has she seriously been blogging this long? Look at the number of Instagram followers she has. It's pathetic!".
On the other hand, I'm able to tell them how blogging has changed from when I started. How things are so different now, how big the social media scene is now compared to having a blog. How beauty blogging started with blogging about what we have and what we purchased with our own coin, to almost only writing about what's been given to us for free. How as beauty bloggers, we should be supporting each other instead of bringing one another down, the latter of which I've been seeing a lot lately.
Over the years of blogging, I've learned a lot of things. I've picked up a lot of technical know-how, better photography skills and much more. But as a person, I've learned a lot about myself.
I developed a thicker skin
Thicker skin is something almost all bloggers pick up when they've been blogging for a while. You have to have thick skin when it comes to dealing with negative comments and trolls. You have to have thick skin to be able to negotiate advertising for your blog. You have to have thick to skin to able to hustle for opportunities for you and your blog. You have to have thick skin to maintain your stand amongst younger, prettier bloggers. And that's what I picked up with blogging. I don't have hide-thick skin just yet and while negative comments will still irk me when they come, they don't punch me in the gut so much anymore like they first did many years ago when I received my first negative comment.
I learned to be patient and grateful with what I have
Rome wasn't built in a day and neither are our blogs. Only a tiny percentage of blogs will explode to massive reach and status; 99% of us will still be growing ours on what seems like a snail-like pace. It's very easy to be impatient and disgruntled as to why it's so damn hard to gain an extra follower when it seems so easy for others. For the past 2 years, I've been feeling resentful and frustrated, but slowly, with time and help of my readers, I let go and learned that patience truly is a virtue. I concentrated on building one platform at a time. I learned to be patient (I had to be, or else I'd go nuts!). And it paid off.
I plan my time better
Even though I run the blog full-time, writing blog posts isn't the only thing I have to do. There are photos to take, images to curate and create for content, newsletters to write, comments and emails to reply and on top of that, I have other projects on the side that generate income. There are often days when I seem to have a million and one things to do to meet looming deadlines. I've never actually used a planner properly to plan out my time and to-dos well until I started blogging full-time. Once I learned to use a planner to my advantage, I cannot imagine going about my day without one now. Blogging on the whole has helped me learn to plan my time better and learn to batch my working process without trying to do everything at once.
I work far harder doing something I love than something I don't
I haven't worked harder than I have at jobs than I have in blogging. It's not to say that I wasn't a hard worker when I was working at an office at a 9-to-5 job. But I had no passion in doing what I was doing before and when the official working hours were over, I was out of the office before anyone could catch me. Things are very different when I'm working for myself, especially when I'm blogging. Even though I have an official "stop-work" time, I often go way past my working hours and find myself burning the midnight oil. But it's something I do very willingly, simply because I enjoy it. I enjoy interacting with readers on social media, I enjoy writing, and most importantly, I enjoy bringing a smile to a reader's day. It's really true what they say, "find something you love to do and you'll never have to work a day in your life."
Blogging is a journey. It's not just writing what I know anymore. It's not just about the pretty pictures. It's not just about the next beautiful blush I'm going to share with you. It's about learning that I have a voice, and that I need to use it wisely. It's about learning about myself and push myself beyond what I think I'm capable of. There are many times when I've thought perhaps it's time for me to give blogging up and do something else because how long am I able to sustain this? How long am I able to keep up with younger bloggers coming to the scene? To be honest, I don't have the answer.
But the lessons I've learned and are continuing to learn is something I'm not ready to give up. Who knows what's around the corner, eh?
What about you? What has blogging taught you as a person? What have you learned about yourself that you only knew through blogging?