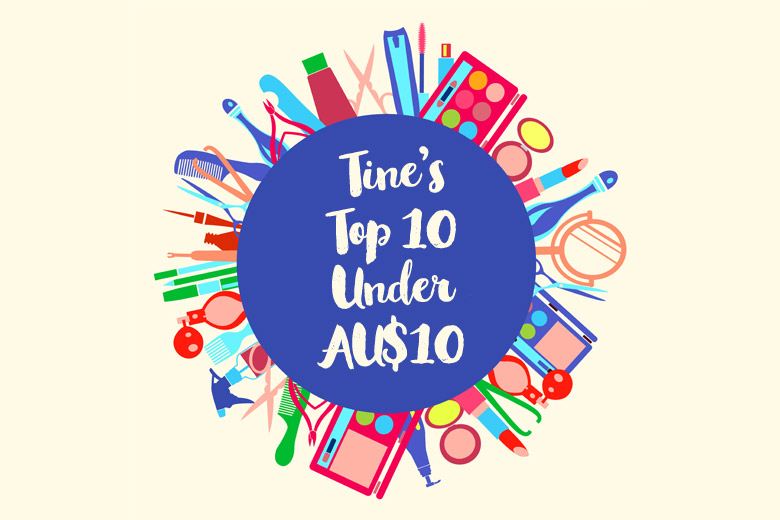 One of the beauty topics I enjoy reading on blogs and watching on YouTube is "Top X Under $X". It could be top 10 lipsticks under $10, or top 20 moisturisers under $20 and so on; it goes to show that there are very good beauty products in the drugstore/pharmacy that are affordable and doesn't require a kidney to purchase. I've been meaning to do a similar post for quite some time now but haven't really gotten around to it simply because, well, everything is just bloody expensive in Australia, isn't it?
Yes yes, I understand that we have higher wages hence higher cost of living, and I'm not going to go into that today. I understand that. It doesn't mean that I still don't baulk at the prices of the same products available in the US that are half the price of what we'd get here. And that's with the declining Australian dollar!
To be honest, when I was "researching" this post (and by that, I meant a bit of Googling here and there), I thought it was going to be a challenge searching for 10 great beauty products under AU$10. I browsed the Priceline website and as I was writing down the good products I've used, I was very pleasantly surprised to find that it actually wasn't that hard after all. We DO have some great skincare, hair care and makeup for less than a tenner. Fancy that! 🙂
Having said that, unfortunately I wasn't able to find enough products that I've used and loved for under AU$10 that I can put them in their respective categories. Instead of "top 10 moisturisers for under AU$10" or even "top 10 skincare products for under AU$10", it's just going to be general top 10 under 10. Hopefully as I discover more affordable gems, I'll be able to add to the list.
So here it is, a jumble of my version of a Top 10 Under AU$10.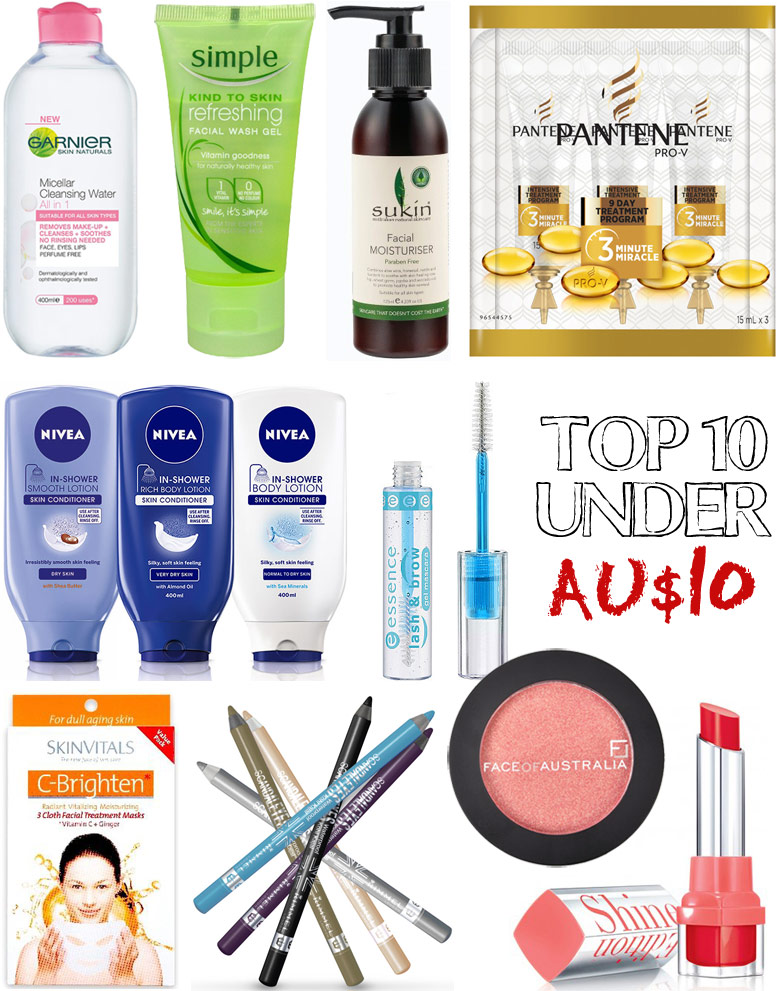 Face of Australia Blush (AU$9.45)
The blushes from Face of Australia may appear simple and unassuming but they're surprisingly high quality and richly pigmented for the price. One of the shades, O'Peachy is said to be a dupe for the popular NARS Orgasm. While I wouldn't say the quality is a dupe for NARS', the shade is pretty darn similar.
Simple Refreshing Face Wash Gel (AU$3.99)
This is one of my favourite cleansers and I consider this on par with a lot of the more expensive cleansers I've tried. This is my travel staple for cleansers. It doesn't dry the skin out and does a decent job in cleansing the skin. This fell off the shelves at many pharmacies a while back and I'm so pleased it's finally back to stay.
Pantene 3 Minute Miracle Treatment (AU$8.99)
This is the best hair mask I've used. Ever. I've tried so many hair masks from countless of haircare brands, and so far, none of them worked as well as these tubes from Pantene. I've brought boxes of these back from Malaysia and I restock boxes of these whenever there's a 50% off sale at the supermarkets. When I had long hair, each application only needed half a tube. Now that I have short hair, each tube lasts me 4 applications. I bring this with me when I'm traveling to use as hair conditioner. LOVE THESE.
Essence Clear Lash and Brow Gel (AU$4.10)
Good brow gels needn't be expensive, as proven by Essence. Their clear lash and brow gel works just as well as many clear brow gels I've used, and they're less than a fiver. It doesn't leave the brows stiff and unnatural, unlike a number of more expensive brow gels I've tried.
Garnier Micellar Cleansing Water (AU$12.99)
Okay, technically, the retail price for this is AU$12.99 but I've bought many bottles of this and to this day, I've never once paid over ten bucks for it. Some may disagree with me but I find this awfully similar to Bioderma's micellar cleansing waters. Heck, if not for the difference in scent, I wouldn't be able to tell the difference between the two. This is gentle on the skin and doesn't sting my eyes when I use this to remove non-waterproof eye makeup.
Sukin Facial Moisturiser (AU$9.99)
Sukin does decent skincare products and their facial moisturisers don't disappoint. The Sensitive version of the moisturiser is similarly priced. This no-frills moisturiser keeps the skin well moisturised without any greasy residue on the skin. Don't expect this to do anti-aging wonders to the skin (I leave that to serums anyway). As a moisturiser, this is very well-priced and something one can't go wrong with.
Nivea In Shower Body Lotion Skin Conditioner (AU$7.99)
I thought this was the genius invention of 2014. Not everyone is a fan of this but personally, I think it's really good. Yes it leaves a strange water-resistant sheen on the skin in the shower but it's not greasy and it leaves the skin feeling soft and smooth after a shower. I don't even need to apply extra body lotion after my shower when I have this on.
Skinvitals facial sheet masks (AU$3.99 per sheet)
Y'all know my favourite facial sheet masks are from L'Herboflore, My Beauty Diary and SKII. But before I got into those, my love for facial sheet masks actually began with the ones from Skinvitals. They have different types of masks, and they're even doing 3D masks now, but my favourite ones are still the classic masks. They leave the skin feeling very boing boing after each use. Priceline stopped stocking them for a while (I couldn't find them at several Priceline stores) but they're finally back in action. Good stuff!
Rimmel Scandaleyes Waterproof Eyeliner (AU$9.95)
If you're looking for good waterproof eyeliners, Rimmel has you covered. I don't normally like eyeliner pencils (I prefer liquid eyeliners) but these don't budge. They're THAT good. Rimmel has what is possibly the best and most natural-looking nude eyeliner for the lower waterline to brighten the eyes. They're very highly raved and it's no wonder why.
Bourjois Shine Edition Lipsticks (AU$9.50)
Hmm I didn't remember these lipsticks to be under a tenner! They must have lowered the price for these because I certainly paid almost AU$20 for one! The Shine Edition lipsticks don't pack a punch in colour; they're more of a tinted lip balm and they're good. I've had mine in my bag for a long time before relinquishing that spot to new lippies. No lip balm is needed under these lipsticks. They're creamy on the lips and don't feel dry. Me likey!
There are more great products for less than AU$10 but I'll just leave it at ten for now. You don't even have to get these from Priceline pharmacies; a lot of these are available at lower prices at Chemist Warehouse. Look out for sales at supermarkets like Coles and Woolworths as they often have good sales for a lot of these brands (I've lost count of the number of times the Garnier Micellar Cleansing Water has gone on sale at 50% off). And if you get them at supermarkets, they go into the *ahem* grocery bill so it's not too naughty a sneaky purchase. 😛
Have fun shopping!
What's your top 10 under AU$10? Or under what's equivalent or dollar-to-dollar to your currency? What gems have you discovered that are cheap and good?
This post contains several affiliate links. By purchasing something via these affiliate links (at no extra cost to you), you're supporting Beautyholics Anonymous, which I highly appreciate. For more information, please read our
disclosure policy
.