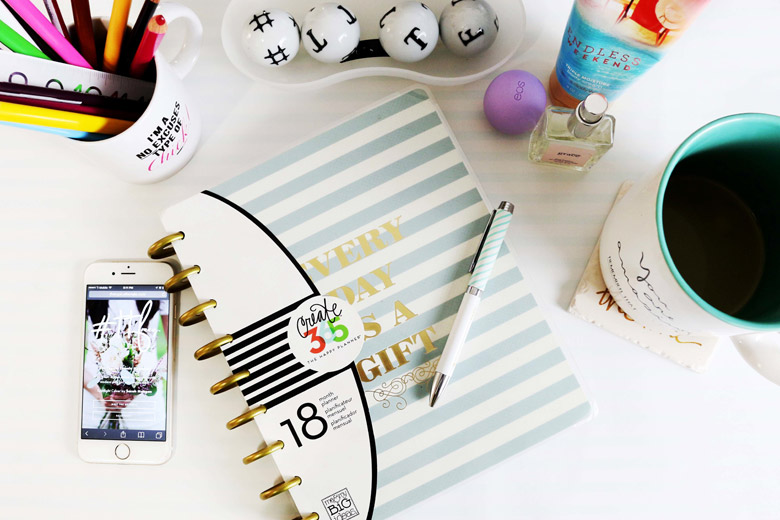 I have a weakness for planners, diaries and notebooks. You'll probably faint if you see the amount of money I've spent on the notebooks I either rarely or don't use, planners that are either half-used or not touched at all and the sheer amount of diaries sitting on my shelf. And you thought I'm just nuts about makeup and skincare; wait till you see the stationery collection of mine. Oh yeah, it will blow your socks off. 😛
I've been trialing and testing out different planners over the past couple of years, and I've stumbled upon some really good ones. If you're looking for a new planner/diary to plan your 2016 (which is coming in just under a month omgwheredidthetimego), here are some that you might like to check out. I give these 2 enthusiastic thumbs up!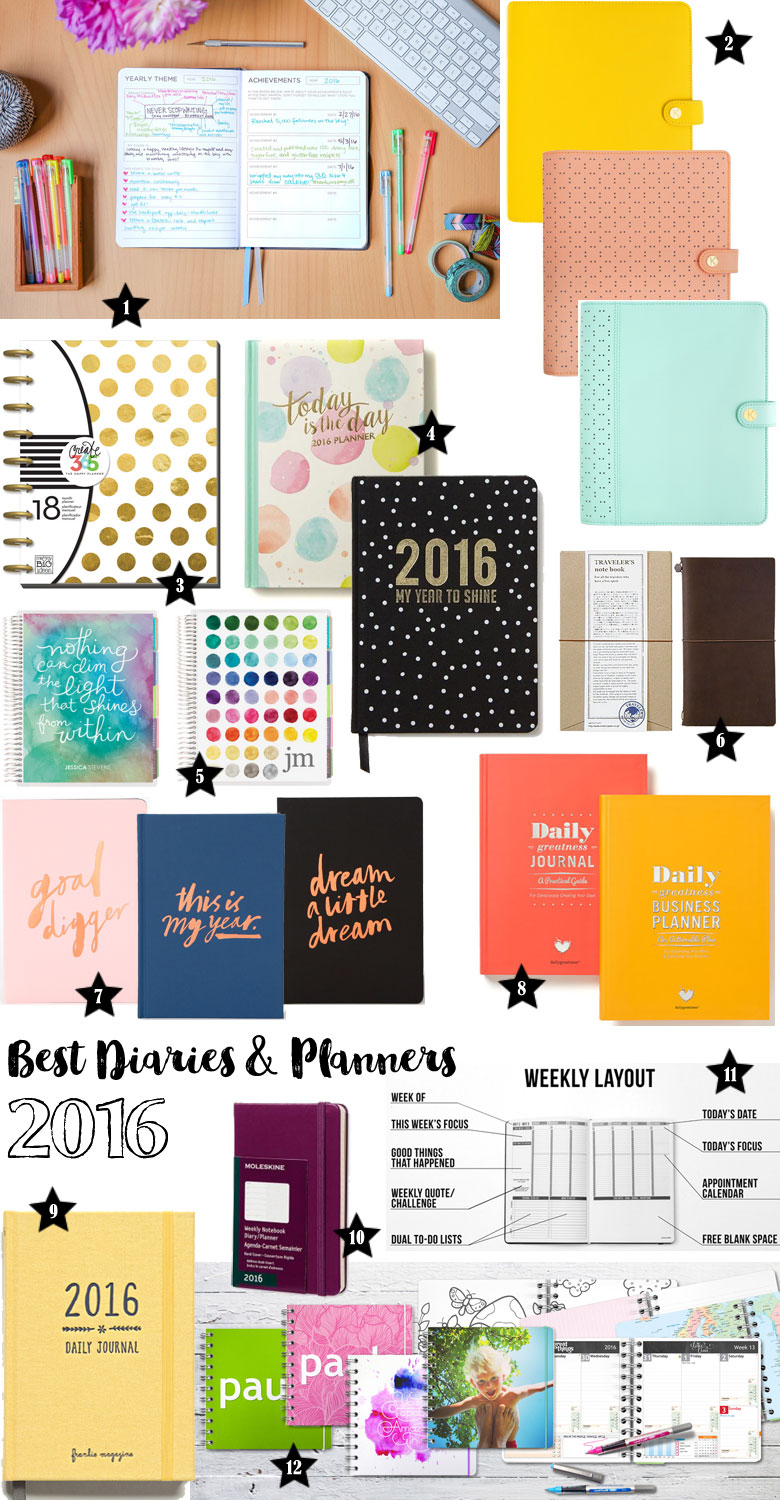 The Spark notebooks are the brainchild of Kate Matsudaira, who created these via her Kickstarter campaign a year or so ago. These aren't just notebooks; they're undated weekly and monthly planners as well. The sleek black design is board meeting-friendly and it's great for planning. Matsudaira recently launched her Spark Planners, which are similar to the notebooks but dated to 2016 and without the note pages at the back of the books. Personally, I prefer the notebooks as they're more flexible and can be used at any time of the year. I've had great customer service with them as well.
Some call Kikki K the poorer cousin of Filofax but if you've seen Kikki K planners, you'll know that's absolutely not the case. In fact, Kikki K comes out with even more beautiful ring-bound planners than Filofax does and at much better prices too. If you're what the planning community call a "ring planner", you cannot go wrong with Kikki K's planners. Each season, they come up with gorgeous planners that you cannot help but want to own multiple pieces of. Believe you me, there are Kikki K planner collectors out there who would collect almost every design they have!
Just like Erin Condren's Life Planners, the Happy Planner has exploded in the planning community lately and it's no wonder why. They're cheaper than the ECLPs and as they're disc-bound, you can easily remove the inserts (something that cannot be done with the ECLPs). They're still growing and while they don't have as many planner covers and ways to customise it, I see great potential with the Happy Planners.
If you're looking for very affordable and cheeky diaries, you can't go wrong with Typo. In terms of quality, they may not be in the same leagues as Kikki K, Moleskine or the other planners I mentioned here but they do exactly the same job as a diary/planner does: they help you plan. Typo diaries are great for students. If I had these when I was at uni, I'd be mighty chuffed.
Ahh the planners that pretty much took the planning community to a whole new level. When it comes to planners, it's hard not to have heard of Erin Condren's Life Planners. I used one last year and it helped me boost my productivity greatly. Even though I didn't continue with it this year, it's still one of my favourite planners to use. The multi-coloured planner isn't corporate-friendly but for personal, family use, it's great. The only issue I have with Erin Condren is how expensive and slow shipping was to Australia. I made the mistake of ordering a metallic cover, and that cover alone delayed my order by 2 months. When the planner finally arrived, the cover wasn't even as good as the original ones I ordered. Having said that, everything else was A-okay. I wouldn't hesitate recommending this to anyone. By the way, the amount of stickers you can find on Etsy for ECLPs is mind-staggering!
This year, I decided to try out a different type of planner, and I stumbled upon the world of traveller's notebooks. There are plenty of indie brands that do traveller's notebooks. As for me, I prefer the one by Midori. Traveller's notebooks are simply notebooks bound by elastics and a leather or fabric cover, and were traditionally use to record one's travels. These days, you can use them as a planner too, which is what I did with mine. After using ring and spiral-bound planners for so long, it was refreshing to use a notebook once more. They're much easier to write on without needing to bump into the coils or rings. The best thing is, you can have a notebook for simply everything!
I first heard of Mi Goals when I bought one of their cheeky "Get Shit Done" notebooks. The diaries are no different. The paper quality is great and the layout simple and easy to use. There are inspirational quotes peppered throughout the pages of the diaries. Worth checking out!
Instead of diaries and planners, Daily Greatness does journals and very beautiful ones at that too. Even though these are not created to plan out your days, weeks and even months like a diary would, they help you to reach certain work and health goals. I have two Daily Greatness Journals: one for business planning and the other for exercise tracking. Even though they don't actually help you plan out a year's worth of activities and to-dos, they're sufficient in helping you monitor what you're doing to reach your goals.
Frankie has always done pretty diaries and 2016's is no different. The linen hardback cover gives the diary a vintage appearance and the paper quality is excellent.
I love Moleskine notebooks and their diaries don't disappoint. They're plain diaries that are not dissimilar to any other diaries. When it comes to Moleskine, you're buying into the tradition of using notebooks that have been used by famous artists and writers like Vincent van Gogh, Pablo Picasso, Ernest Hemingway and more. The paper quality is excellent and really, it looks good anywhere.
If you want very detailed planning, down to the nitty gritty, then the Passion Planner is the way to go. This was also a Kickstarter project, this time by Angelia Trinidad, and it was a huge success. I got this to try out early this year and while it turns out it's not really for me, I must commend the amount of detail Trinidad has put in to make this planner help one focus as much as possible. There are tips in the planner on how to create and reach your goals, how to focus on each task at hand, etc. If you typically have a lot going on for you and are very busy with lots of things to do, appointments to meet and so on, I highly recommend giving this planner a go. The details go beyond any other diaries and planners I've ever come across.
I love the Personal Planners mainly because of how customisable they are. Even though they may not look nor feel as good as the Erin Condren Life Planners or any other planners mentioned here, the selling point about Personal Planners is that you're able to customise it to your needs. You can design and add the cover you want, change the weekly layout to your liking, add different features to the bottom of the pages, change the type of notepaper you want and much more. The best part is, with all the customised features, they're cheaper than most planners mentioned here.
Do you use a diary/planner? If you do, which one will you be using for 2016?