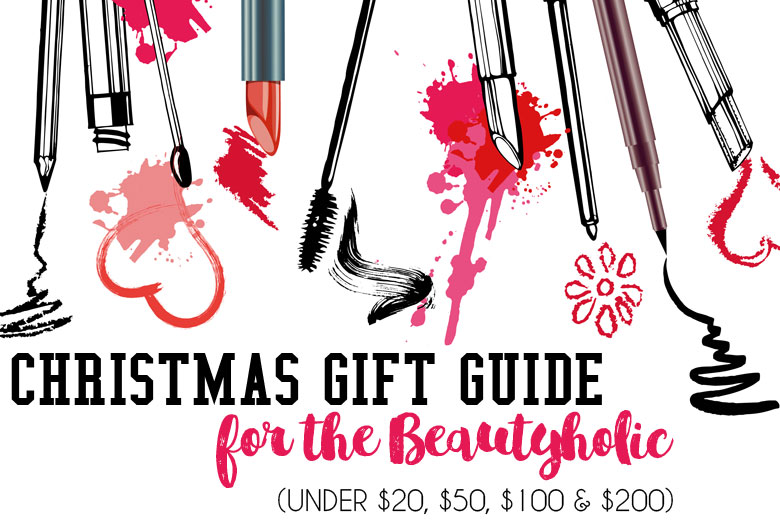 Happy Monday and welcome to the first day of Tine's Christmas Gift Guide for 2015! We've well and truly entered the silly season and I can't be more excited. I usually hoard December issues of magazines simply for their Christmas gift guides. It's not so much of what I can buy for others than what I'd prefer to *ahem* get for *ahem* me. 😛
I enjoyed doing last year's Christmas gift guide and when I asked on Facebook if you'd like me to do the same this year or if you're sick to death of gift guides, the answers were a very resounding "DO IT!". What can I say, I do aim to please.
These are gifts that I would love very much myself (*hint hint*) and I've even bought one or two. I love Christmas beauty sets because they don't just come in beautiful packaging, you get better value out of the items compared to buying each item separately. It's a good time for me to stock up on things I like too. Y'know, being economical and all. Ahem again.
Have fun, spend wisely and happy shopping!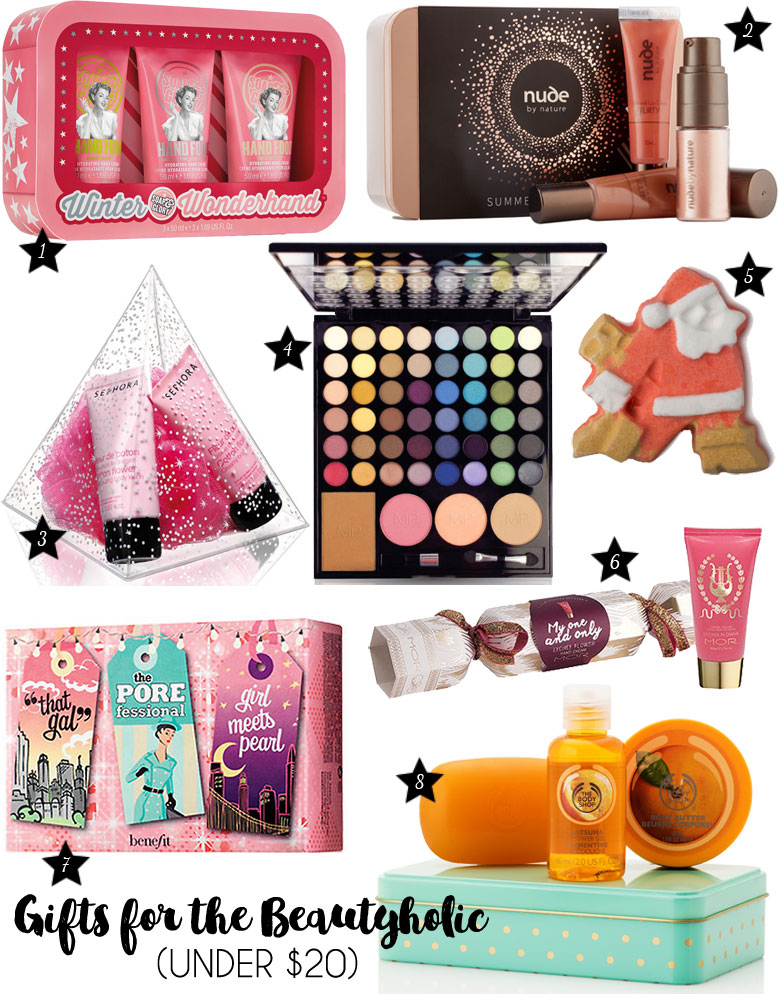 1. Soap and Glory Winter Wonderland (AU$18.00)
2. Nude By Nature Summer Radiance Set (AU$19.95)
3. Sephora Collection Mini Pouch Cotton Flower (AU$18.00)
4. Models Prefer Colour Basics (AU$15.00)
5. LUSH Dashing Santa Bath Bomb (AU$6.25)
6. MOR My One and Only Lychee Flower (AU$12.29)
7. Benefit You Go, Gals! (AU$19.00)
8. The Body Shop Satsuma Trinket Tin (AU$19.95)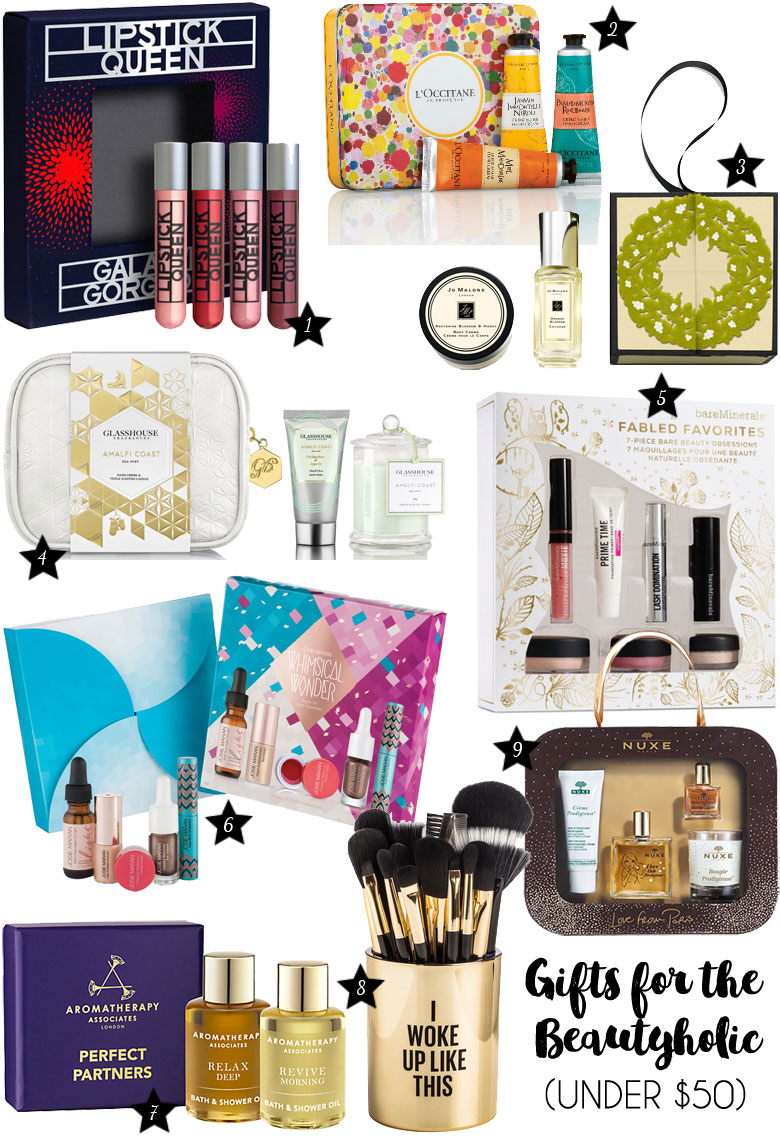 1. Lipstick Queen Galactic Gorgeous Set (AU$35.00)
2. L'Occitane Pierre Herme Hand Cream Trio (AU$32.00)
3. Jo Malone London Christmas Ornament (AU$45.00)
4. Glasshouse Fragrances Amalfi Coast On The Go Duo (AU$29.95)
5. Bare Minerals Fabled Favourites (AU$35.00)
6. Josie Maran Cosmetics Whimsical Wonder Holiday Colour Collection (AU$49.00)
7. Aromatherapy Associates Perfect Partners (AU$38.00)
8. Kit Cosmetics Makeup Brush Organiser (AU$28.00)
9. NUXE Love from Paris Coffret (AU$39.94)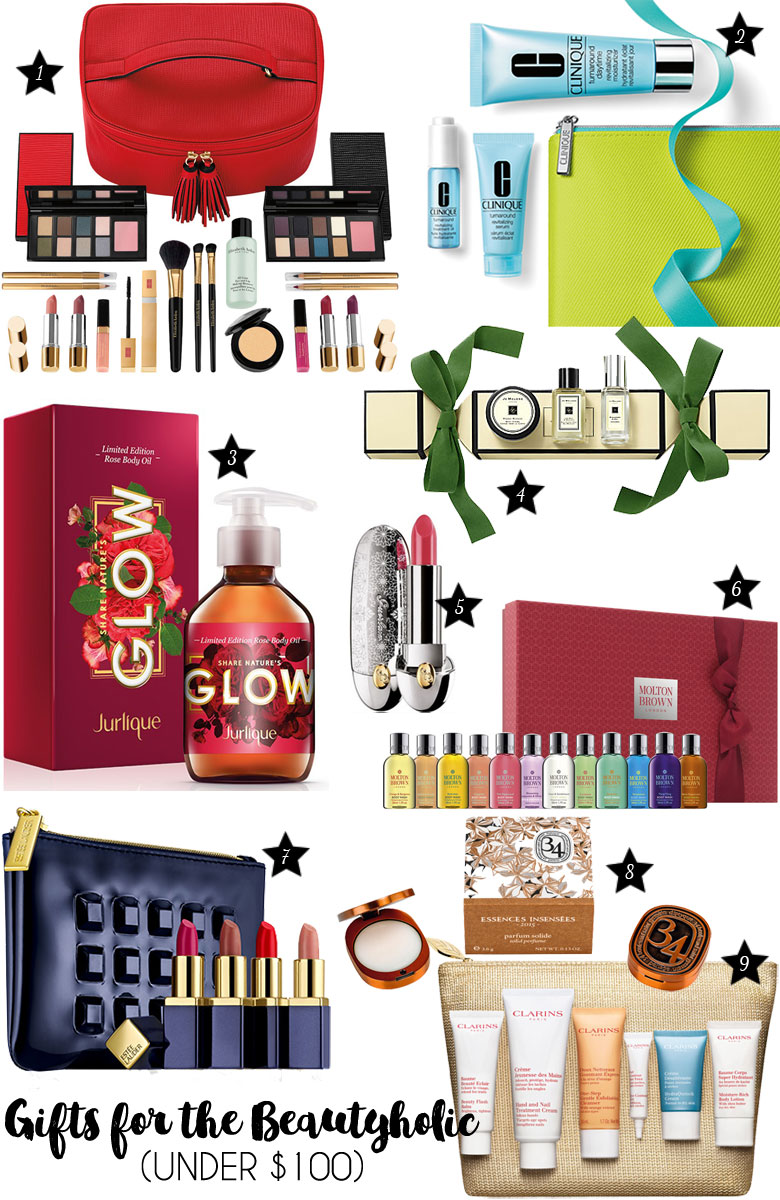 1. Elizabeth Arden Christmas Blockbuster (AU$99.00)
2. Clinique Energised, Glowing Skin Set (AU$70.00)
3. Jurlique Limited Edition Rose Body Oil (AU$88.00)
4. Jo Malone London Christmas Cracker (AU$65.00)
5. Guerlain Rouge G De Guerlain Lipstick (AU$68.00)
6. Molton Brown Stocking Fillers Collection (AU$60.00)
7. Estee Lauder Be Envied Pure Colour Envy Sculpting Lipstick Collection (AU$60.00)
8. Diptyque Essences Insensées Solid Perfume (AU$72.00)
9. Clarins Gorgeous Getaways (AU$80.00)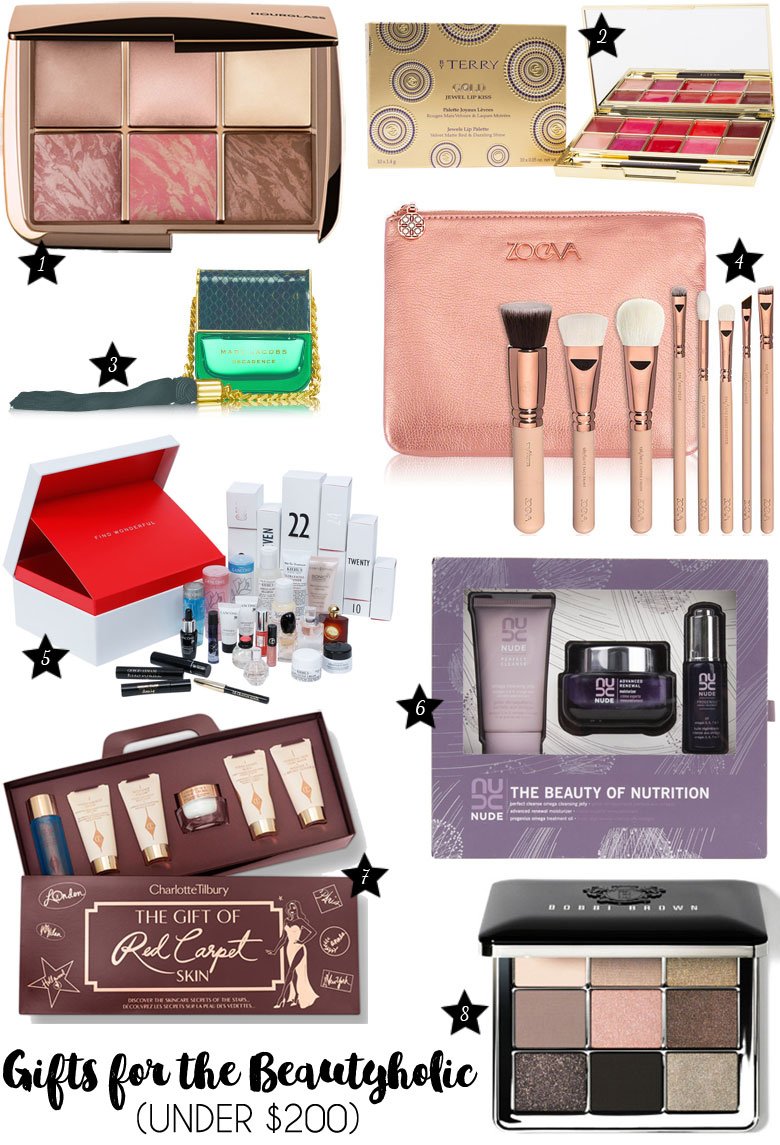 1. Hourglass Ambient Lighting Edit (AU$117.00)
2. By Terry Gold Jewel Lip Kiss Palette (AU$165.00)
3. Marc Jacobs Decadence Eau de Parfum (AU$190.00)
4. ZOEVA Rose Golden Vol 2 Luxury Set (AU$126.00)
5. MYER 2015 Beauty Box (AU$160.00)
6. Nude Skincare Beauty of Nutrition Set (AU$112.00)
7. Charlotte Tilbury The Gift of Red Carpet Skin (AU$115.00)
8. Bobbi Brown Sterling Nights Eye Palette (AU$125.00)
This post contains several affiliate links. By purchasing something via these affiliate links (at no extra cost to you), you're supporting Beautyholics Anonymous, which I highly appreciate. For more information, please read our
disclosure policy
.