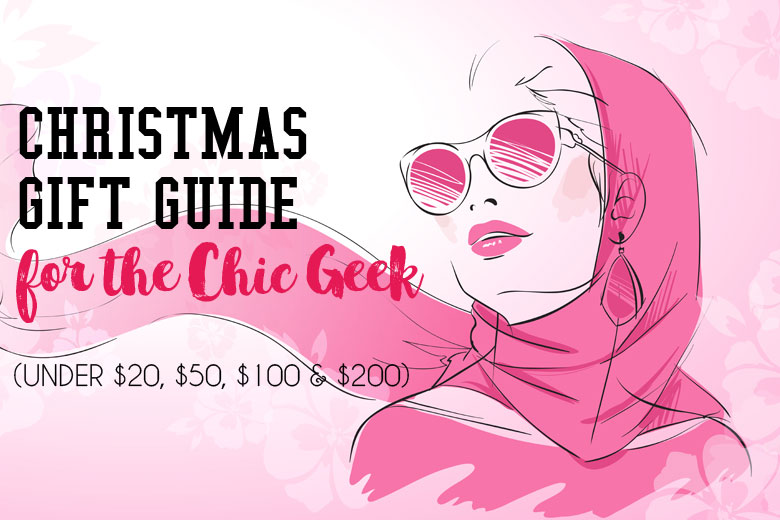 Welcome to day 4 of Tine's Christmas Gift Guide for 2015! Today, we have lovely gift ideas for the chic geeks. I adore new gadgets and these look like so much fun!
When I was doing a bout of window shopping in stores and browsing online, I must say that it rather peeved me to see that tech gifts for ladies were pretty much phone covers. Come on, there are far better things than just fancy phone covers! Still, I did include a couple in here that are pretty cute but between you and me, I much prefer the rest. 😉
I'm lucky to have a couple of items in this list but I'd be mighty chuffed if someone gave me anything from this page (*hint hint nudge nudge*). Yes yes it's more like my wishlist than anything else but oh you know what I mean! If you're a gadget-y girl like I am, methinks you'll enjoy these too!
Happy shopping!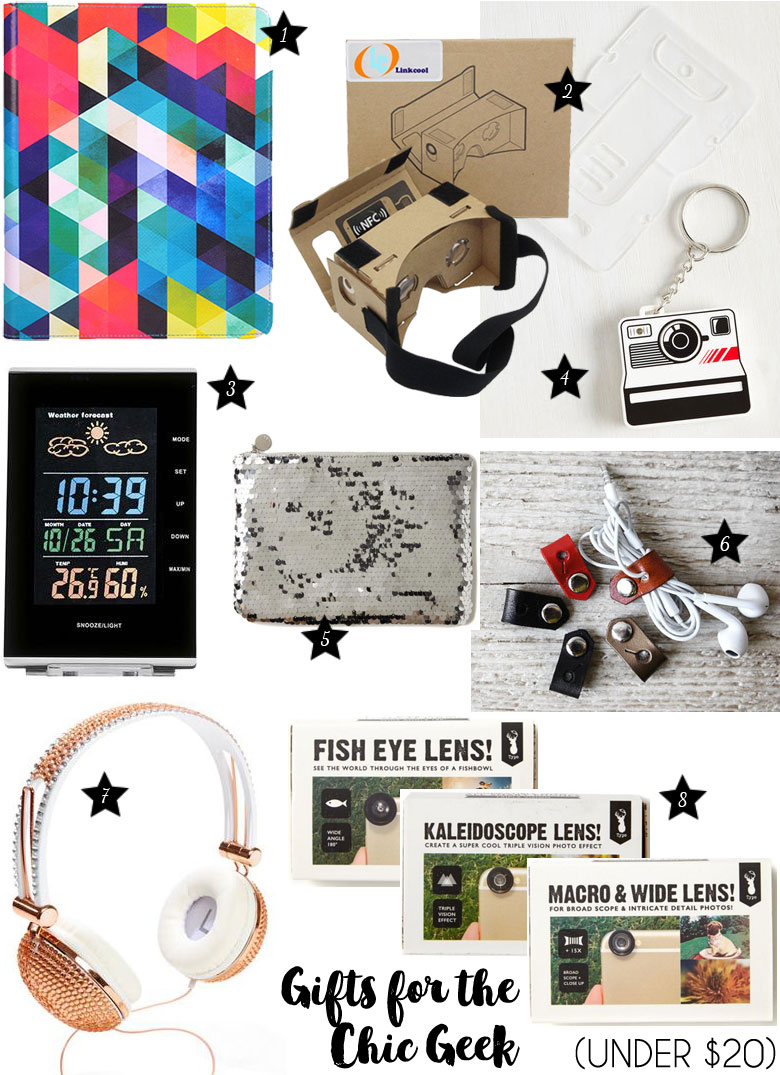 1. Target Universal 10″ Tablet Cover (AU$15.00)
2. Google Cardboard 3d Virtual Reality Glasses (US$12.98)
3. Digital Weather Station (AU$19.00)
4. Mind the Snap Smartphone Remote (US$17.99)
5. Rubi Tech Clutch (AU$19.95)
6. Leather Cord Keeper by Exsect (AU$9.54)
7. Luna Rose Headphones (AU$15.00)
8. Typo Phone Lens (AU$12.99 per box)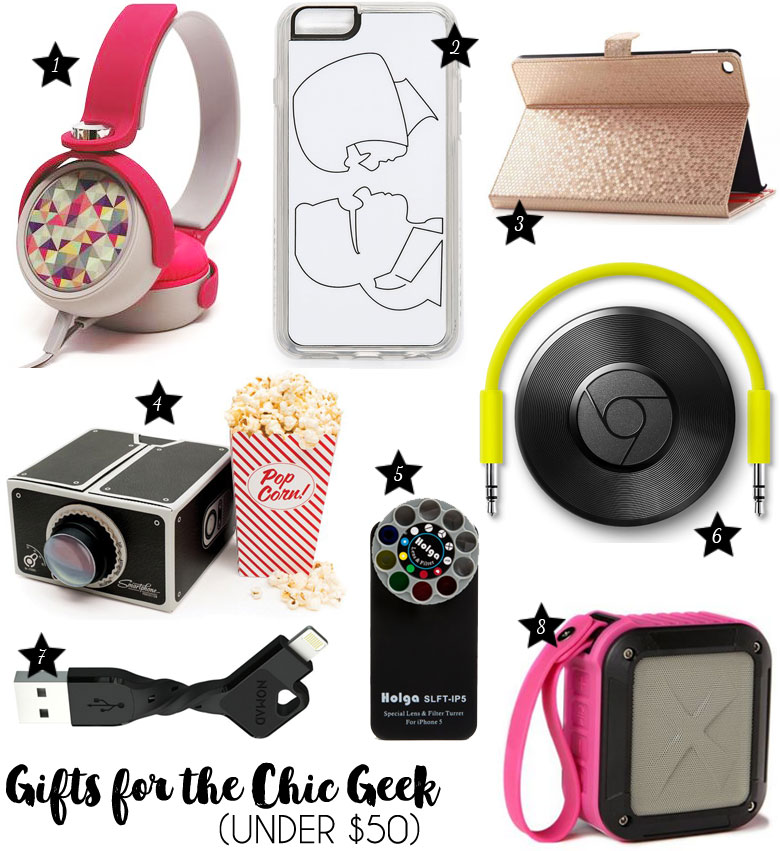 1. Flea Market Geo Over-Ear Headphones (AU$24.95)
2. Zero Gravity Besties iPhone 6/6s Case (AU$32.95)
3. Rose Gold iPad Air 2 Smart Cover (US$17.29)
4. Independent Smartphone Projector 2.0 (AU$49.95)
5. Holga iPhone Lens (US$30.00)
6. Google Chromecast Audio (US$35.00)
7. Nomad ChargeKey (AU$29.45)
8. Cotton On Outdoor Bluetooth Speaker (AU$39.95)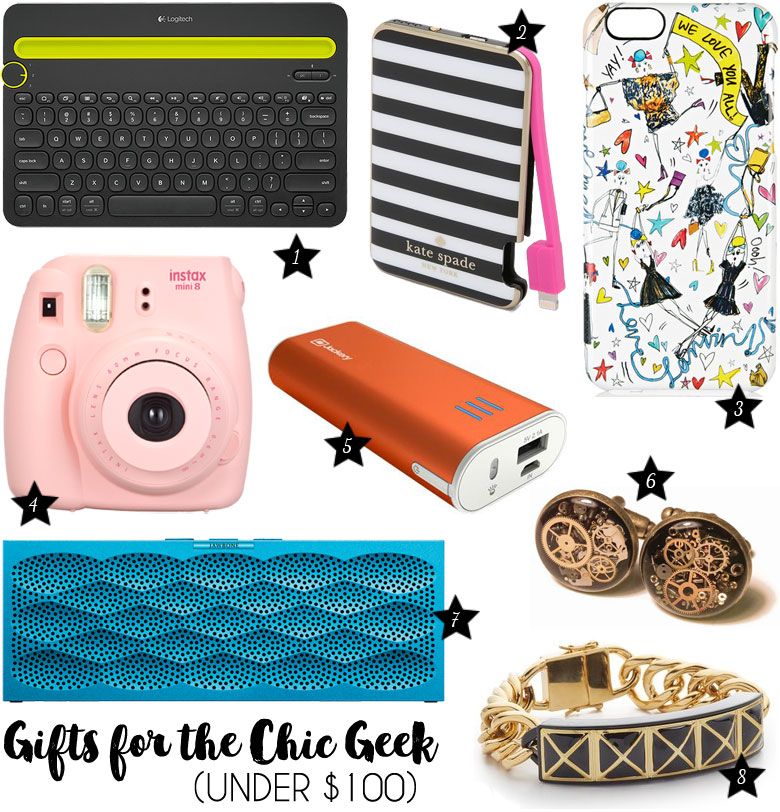 1. Logitech Bluetooth Multi-Device Keyboard K480 (AU$69.00)
2. Kate Spade New York Slim Phone Battery (AU$82.37)
3. Lanvin Printed iPhone 6 Case (AU$76.00)
4. Fujiflm Instax Mini 8 Instant Camera (AU$99..00)
5. Jackery 6000mAh Power Bar (AU$69.95)
6. Steampunk Cufflinks by JewelryFX (AU$55.12)
7. Jawbone Mini Jambox Portable Speakers (AU$99.00)
8. Rebecca Minkoff Smartphone Notification Bracelet (AU$79.62)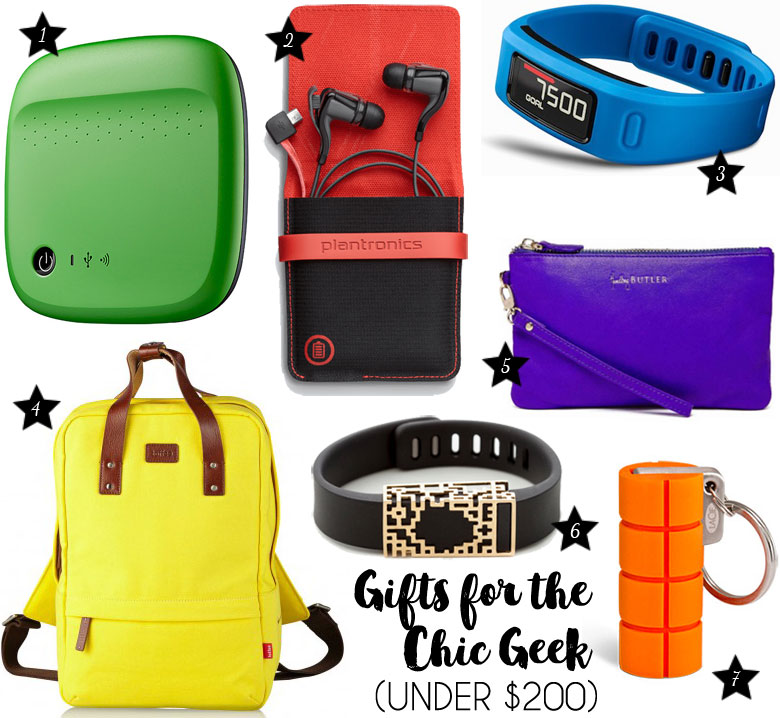 1. Seagate 500GB Wireless Storage (AU$139.00)
2. Plantronics Backbeat GO 2 (AU$149.95)
3. Garmin Vivofit Fitness Band Bundle with Heart Rate Monitor (AU$137.00)
4. Toffee Centennial Backpack (AU$149.95)
5. Mighty Purse with Smartphone Charger (AU$109.95)
6. Polished Brass Lucas Slide for Fitbit Flex by bytten (AU$106.01)
7. LaCie RuggedKey 64GB USB Drive (US$89.99)
This post contains several affiliate links. By purchasing something via these affiliate links (at no extra cost to you), you're supporting Beautyholics Anonymous, which I highly appreciate. For more information, please read our
disclosure policy
.