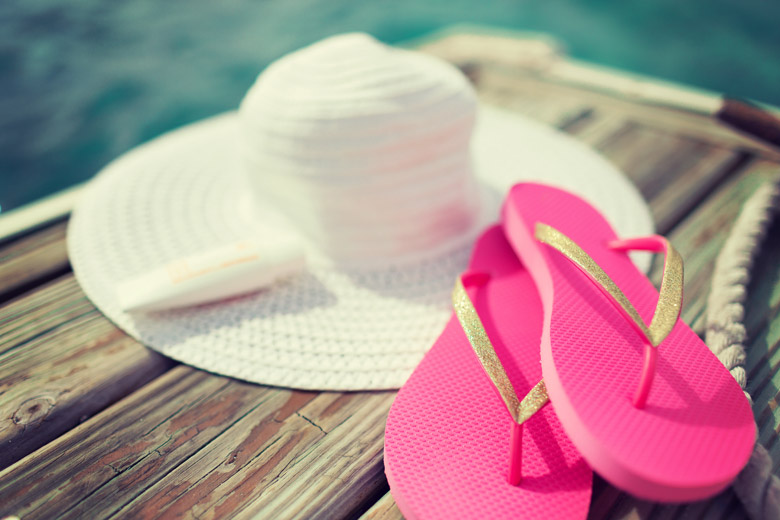 Oh I know, I know. Probably should have come up with a better title for this blog post but hey, let's call a spade a spade, eh? 😛
As much as I enjoy waxing lyrical about Japanese sunscreens, unfortunately they're not widely available for everyone to try them out. I'm often asked if there are any good sunscreens from Western brands that aren't heavy, stinky, greasy and leave that awful white/grey cast on the skin. And you know what? Yes there are!
I've been trialing a number of Western sunscreens for a good amount of time and I thought I'd share the ones that I like with you today. While I still love my Japanese sunscreens and will continue to use them whenever possible, I wouldn't hesitate to use these sunscreens either.
Here's something I need to tell you first about these Western sunscreens, or Western sunscreens in general: they feel nothing like the ultra-lightweight Asian sunscreens you may be used to. They don't have that light, sometimes watery gel/gel-cream texture that most if not all Japanese/Korean sunscreens come in. They also leave a thin film of that "sunscreeny" sheen and feeling on the skin. I've tried a good number of Western sunscreens over the years and none of them even comes close. Unfortunately, for a lot of us, Japanese/Korean sunscreens aren't easy to come by so we have to go with easier-to-find sunscreens that are mostly from Western brands instead. The ones I've found to not just be tolerable but actually good to use on the skin will have a rich and creamy consistency. It's the level of thickness and spreadability that determines whether these Western sunscreens are good to use or not.
All these sunscreens are broad spectrum, which protects against UVA and UVB radiation. While they're white creams and go on the skin white, they blend out easily and don't cast a white shadow on the skin.
In my opinion, these have passed the "they don't suck the big one" test.
Clinique City Block Sheer SPF 25 (RRP AU$36.00)
The original City Block was the very first sunscreen I used regularly many years ago. My experience with sunscreens back then were awfully greasy ones from Coppertone and Clinique's City Block made such a difference. While I didn't like the scent (I still don't), this tinted cream is light and doesn't leave the face looking like a greasy wok. There's also a Super City Block in the range that has a higher SPF of 30 but I prefer this.
La Roche-Posay Anthelios XL Fluid SPF 50+ (RRP AU$27.99)
I didn't like the original formula of the Anthelios XL Fluid, which was why I never mentioned this on the blog until today. I recently picked up a bottle of the new formula from Priceline and what a difference it was to the old one. While this is just as lightweight as the previous one, the new formula doesn't feel as greasy and doesn't leave a noticeable gritty feeling on the skin like most Western sunscreens do. The small bottle makes this very bag-friendly.
Neutrogena Ultra Sheer Clear Face Sunscreen SPF 30 (RRP AU$16.99)
Before I fell in love with Japanese sunscreens, I used to really like Neutrogena's Dry Touch sunscreen. It's funny because while it was really thick, once it goes on the skin, it leaves a matte finish and doesn't feel heavy at all. The Ultra Sheer Clear Face sunscreen is much lighter than the Dry Touch; in fact it's quite watery. Like the Dry Touch, this also leaves a matte finish on the skin and doesn't make the skin look like an oily frying pan. The Clear Face sunscreen doesn't come in higher SPF like the Dry Touch's SPF 50 but comparing the two, I much prefer this.
Cancer Council Kids Sunscreen SPF 50+ (RRP AU$10.00)
This is slightly thicker than the rest of the sunscreens mentioned here but even so, it doesn't feel heavy on the skin once the cream is blended properly on the skin. I prefer to use this on my body but I've had no issues using this on my face and neck either. I much prefer the Kids version compared to the other versions by Cancer Council because it's lighter and better yet, it doesn't smell of sunscreen. This doesn't contain any less sun protection ingredients than the adult version but the dosage should reflect the size of an adult.
Olay Complete Defence Daily UV Moisturising Lotion SPF 30* (RRP AU$14.99)
I used this ages ago as my sunscreen and as I use it today, I remember why I liked it back then and still like using it now. It's light, it's pleasantly fragranced (no stinky sunscreeny smell) and it doesn't make my makeup go on funny.
Dermalogica UltraCalming Super Sensitive Shield SPF 30 (RRP AU$64.00)
This is the only physical sunscreen in the mix with its active ingredients as titanium dioxide and zinc oxide. It's also by far the lightest and easiest-to-use physical sunscreen I've tried. It's hard to love physical sunscreens because so many of them are incredibly thick and gloopy so to me, this is truly a gem.
Dermalogica mediBac Oil Free Matte SPF 30 (RRP AU$64.00)
When it comes to lightweight Western sunscreens, I can't recommend the ones by Dermalogica enough. I've used bottles of this and love it. It has a very light texture and goes on the skin matte. If you have oily to combination skin, you'll like this one.
Mecca Cosmetica To Save Face SPF 30+ (RRP AU$38.00)
This is a very good seller in Mecca and it's not hard to see why. It's a lightweight sunscreen that blends well on the skin and doesn't leave a greasy sheen on the skin. Oily to combination skin folks may not like this so much but if you have dry skin, this will work for you.
Emma Hardie Amazing Face Protect & Prime SPF 30* (RRP AU$94.95)
I had no idea that Emma Hardie, the brand that came up with that cult cleansing balm, even do sunscreens! The Protect & Prime can be used on its own or under makeup as a primer. As for me, I like using this on its own. This lightweight, delicious-smelling cream (smells of lavender) leaves a satin sheen on the skin. I can't feel as though I have anything on my skin when I have this on.
Nivea Sun Light Feel Every Day Sun Lotion SPF 30 (RRP AU$10.99)
This is a very lightweight sunscreen that blends and absorbs very quickly onto the skin. I was pleasantly surprised at how light this sunscreen is because I've tried the other sunscreens by Nivea and I wasn't a fan. Now this one I can certainly get on board with. This is dry to the touch once absorbed.
Banana Boat Sport Cool Zone SPF 50+ Clear Spray (RRP AU$16.99)
I don't normally advocate sunscreens that come in an aerosol can because you need a hell lot more sunscreen that what you can spray on your skin. However, I've added this to the list because it also comes in a very handy bag-friendly size that you can keep in your bag at all times. We often don't reapply sunscreen once we've had our initial layer on, so this will do the trick. It will not provide sufficient UV protection unless you spray A LOT of it on your skin but some protection is better than no protection at all.
Conclusion:
When it comes to Western sunscreens, good ones to go for are sunscreens meant for children and/or sensitive skin. They're often fragrance-free (they don't have that godawful sunscreen-y scent that most of us dislike), lighter in texture and consistency and are free of preservatives. This also means that you cannot keep these sunscreens for long. You're meant to change sunscreen at least annually anyway regardless of whether you've finished up a tube or not so this shouldn't be a problem. As these sunscreens are lighter, they won't be icky and greasy, which will make you WANT to reapply after a couple of hours.
I hope this helps in your search for good Western sunscreens. While they're not as light as Japanese/Korean sunscreens, these are still good ones to use and ones that I wouldn't hesitate to recommend. Remember that it's not just the face and neck that need sunscreen; your arms, legs and areas that are exposed need them too!
Do you have a favourite Western sunscreen? Do share it with us if you do!
Products marked with * were provided for editorial consideration. This post contains an affiliate link. By purchasing something via these affiliate links (at no extra cost to you), you're supporting Beautyholics Anonymous, which I highly appreciate. For more information, please read our
disclosure policy
.