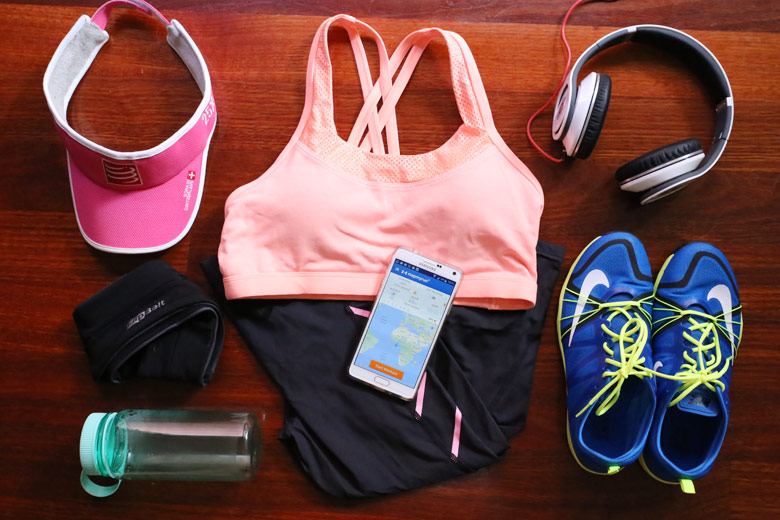 Okay so technically, this post isn't about exercising, running or plain gettting off your bum. Technically. It may seem like a frivolous thing, this "activewear" or as I saw it on telly the other day, "athleisurewear" (*roll eyes*), but believe you me when I tell you that when it comes to activewear, I'm very serious about it. Imagine me putting on my serious face.
Thaaaaaat's right.
Seriously though, there's power in good activewear. Compare these two scenarios:
1. You go running/working out in your usual home lounging shorts, ratty ol' T-shirt, a regular bra and any ol' pair of sneakers you have lying on your shoe rack, OR
2. You go running/working out in proper sports leggings/shorts, sturdy sports bra, shoes that are meant for running/working out. And maybe a ratty ol' T-shirt but that's where I draw the line.
I don't know about you but #2 motivates me to run/work out any time. Even when I'm just doing yoga at home, I don't do it in my home lounge wear. I make sure to change to my exercise leggings and a sports crop top. It's a placebo effect but a good one that gets me off my butt nonetheless.
Needless to say, I love activewear. In fact, I'm sort of addicted to it; I cannot go past Lorna Jane, Lululemon, Nike, etc without at least going in to check out the merchandise. Thankfully, they're usually frightfully expensive so unless there's a good sale going on, I usually leave the store empty-handed. And before you think that I'm one of those people who wear workout gear out but don't actually exercise, I don't. The only time I'd be at a cafe in my exercise gear is after I've ran, which means I'll usually be sweaty and stinky. My 2XU compression tights are reserved only for running, not doing grocery runs. 😛
I thought I'd share my favourite brands/types of activewear with you today and where I get them. Activewear isn't cheap to begin with but if you search deeper, you'll be able to find some good gems at affordable prices.
I adore Target for their activewear. As this whole activewear lifestyle is getting more and more popular, Target Australia has worked even harder to expand their activewear line and I must say, they're good. While their sports crop tops are just so so, their exercise leggings, shorts and tank tops are great. They even have very affordable exercise gear like yoga mats, Pilates balls, weights, etc. My favourite running tights are from Target and they were only $20 (that's at full price; get 'em when Target does their sales, which thankfully, is often).
Like Target, Kmart has also expanded their range of activewear significantly over the past 12 months. Again, their sports crop tops are a bit of a miss but everything else is A-okay in my books. I have a pair of running shorts from Kmart that I love, and it only cost me $10. They have a wider range of exercise gear than Target. If you're looking for kettle bells, weights, jump ropes, etc, why not give Kmart a go? They're the same as the ones you can get from Rebel Sport but at much lower prices.
Speaking of which, Rebel Sport is also another place I frequent to check out activewear. I'm usually seen at the sale racks because you can get pretty good bargains there (hello Under Armour tights for $15!). Their regularly-priced items are expensive so unless there are sales going on, I don't normally touch the non-sale items.
Big W's activewear range is quite small compared to Kmart and Target, but it's still worth mentioning for Michelle Bridge's activewear range. Personally, I'm not a big fan of hers but I cannot deny that a lot of her activewear is good. In fact, my favourite sports bra to run in is from the MB range at Big W and it only cost me $15. I loved it so much that I went back to buy another one of the same sports bra.
Cotton On has also picked up their game in terms of their activewear and the new ones don't disappoint. They have lovely sports bras and leggings at affordable prices but what I usually go for is their shorts. I'd wait for their 50% off sales; I've picked up several good-quality running shorts for just a tenner each.
I love Lorna Jane's activewear. I used to think that the whole concept is so very rah-rah and I still do, but damn, their activewear's gorgeous. Their quality surpasses Target, Kmart, Big W and Cotton On and unfortunately, so does their prices. I have a couple of sports crop tops from Lorna Jane that I love including their running shorts, tights and undies, all purchased on sale. I've never bought anything from Lorna Jane at full price and to be honest, there's really no need to when they do sales quite regularly. I may not be able to get the newest items but heck, even their out-of-season ones are beautiful.
Like Lorna Jane, Lululemon is also another store that I don't purchase anything at full price because they cost a whopper. Their activewear's really pretty but also very expensive so I normally wait till there's a sale going on. Unlike Lorna Jane, Lululemon doesn't do sales often so I normally only get one item per year.
Active Feet is a podiatry footwear store based in Melbourne and while their shoes are expensive, they're worth mentioning because they have trained podiatrists in store that will access the way you run on treadmills and recommend the right pair of shoes for you. Whether you're a short-distanced but fast-paced runner or you prefer slower-paced but long-distanced running, they'll be able to recommend the right pair of running shoes for you. When it comes to running shoes, I highly recommend getting a good pair that doesn't just last at least a year, but will help prevent injuries based on your style of running. In fact, go ahead and ignore all those pretty activewear if you're not into that sort of thing but when it comes to your shoes, please get a good pair. I got mine from Active Feet when I started running regularly.
I saved the best for last because when it comes to brands like Nike, Under Armour, Adidas, Shock Absorber, SKINS, Salomon, etc, Wiggle's a great place to get those from because their prices are much better than Australian retail. I've gotten my Nike Dri-Fit leggings, T-shirts, sports bras, etc for under $30 each (when they're usually double that price in stores). I've gotten a pair of the latest Asics Gel-Kayano shoes for $80 when it retailed in Australia at almost $200. Wiggle is based in the UK but is now also available in Australia (items are shipped from the UK). This is a very addictive website to be on so beware!
It does sound shallow to think that one is motivated to exercise by proper activewear and I agree that it often is. Our brains tend to compartmentalise certain categories and things; mine goes into exercise mode whenever I put my sports bra, running leggings and a Nike Dri-Fit T-shirt on. When I'm in my ratty T-shirt and shorts, my body goes meh, whatever, I can't be arsed. To me, as long as it works, I'm going for it. Can I help it that I'm really turned on by pretty activewear? 😛
I'm not the only bitten by this. Even Tim reluctantly agrees that when he has proper activewear, he tends to want to run more. There was a time when he reduced his running frequency significantly due to work commitments and when he saw that I started to run more, he said "okay it's time to get new running shorts/T-shirt/shoes – that will get me off my arse and run in the mornnings". And they did! 😛
You can also share your activewear with your partner. Even though I buy my own running tights, shoes, etc, I only have a few running tops of my own because I just nick Tim's when I need one. I like wearing large-sized T-shirts to run in and there's no point in me getting those when I can just use Tim's. There you go, money saved right there. Ahem.
Still, I reckon it's time to stop buying more sports bras. *looking at my 10 pairs*
Are you a fan of pretty activewear too? If so, what's your favourite brand? What do you wear when you exercise?