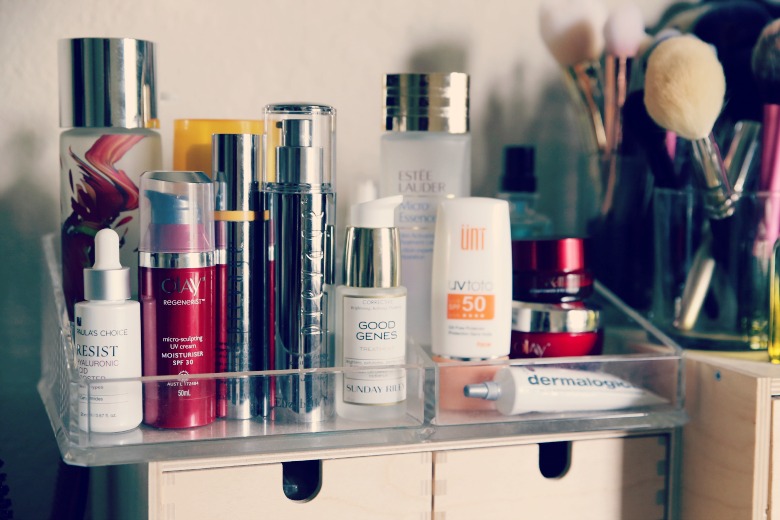 2015 has been a year of skin discovery for me. I don't mean that I've discovered a lot of great skincare but that I've finally found the ones that my skin really loves and that I'm happier sticking to them than keep trying new ones to fit my skin because – dare I say it – I've found THE ONE. Or the ones. My skin couldn't be more pleased and to tell you the truth, I'm happy not to mess my skin up with too many new products either.
Today I'd love to share with you my top 10 beauty finds of 2015. One of them was a real surprise because I actually started out not really liking the product but now can't stop using it. In terms of makeup, to tell you the truth, I barely wore eye makeup all of last year. Barely any eyeshadow, almost zero mascara (I can almost hear some you gasp at that statement at this very moment), a teeny bit of eyeliner and just a lot of eyebrow gel. And you know what? It works! Keeping the skin as tip-top shape as possible and with a glowing foundation and a bit of blush, I find that I could get away without eye makeup. Yes, all this is coming from a beauty blogger. 😛
Without further ado and in no particular order, I present to you my top 10 beauty discoveries of 2015. Simply click on the titles of each product for the links to my reviews.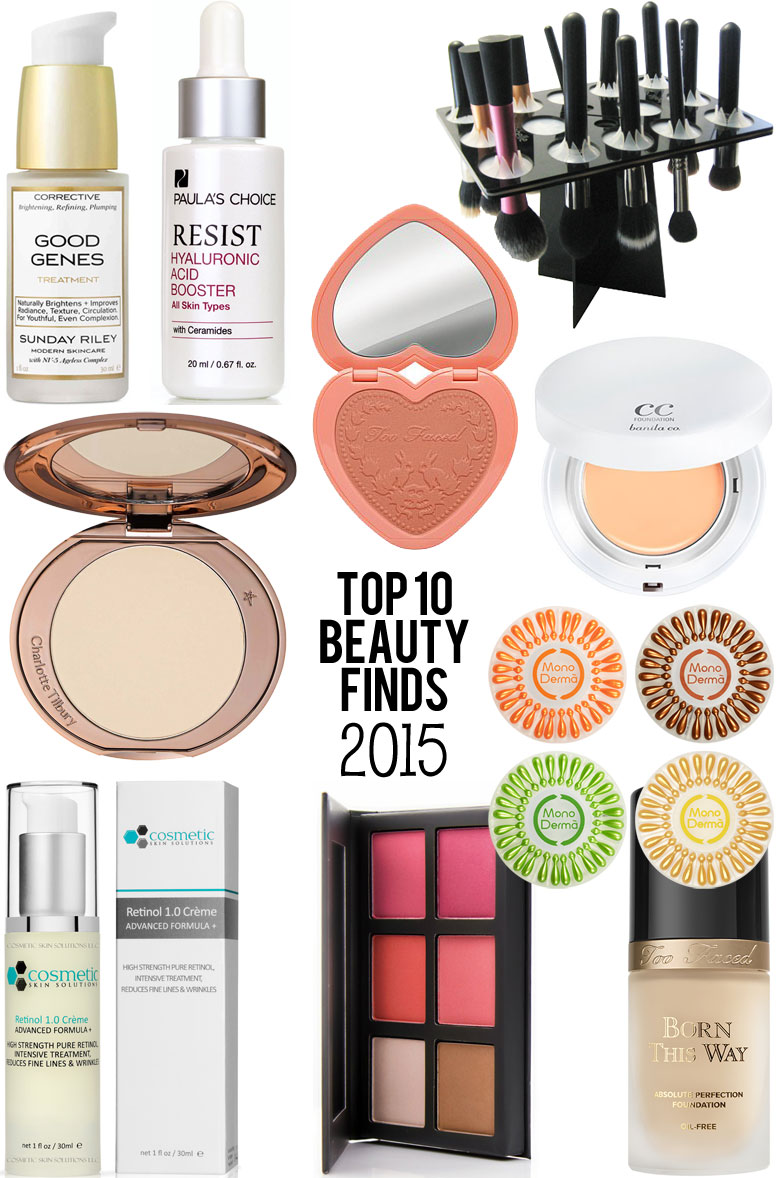 Sunday Riley Good Genes
Okay I know I said the items are listed in no particular order but I must say that out of all the products, this is THE discovery of the year for me. It's the serum that almost instantly gave me smooth skin the very next day. It's funny because I almost gave up on this when I first used sample sachets of this because I couldn't stand the scent (it reminded me of toilet cleaner). I'm so glad that I persisted because I'm currently onto the 2nd bottle and my skin couldn't be happier.
Paula's Choice RESIST Hyaluronic Acid Booster
There's something to be said about a beauty product and how good it is when one stocks up during two of Paula's Choice's quarterly sales. I currently have 4 bottles waiting for me in my beauty cupboard; that's how much I love this serum. I've tried plenty of hyaluronic acid serums over the years but the addition of ceramides to this particular hyaluronic acid serum makes it a cut above. I'm currently on my 3rd bottle, with 3 more waiting for me. Oh yeah.
Too Faced Love Blush in I Will Always Love You
Who knew that I would love something Kim Kardashian's a fan of, eh? Kim K aside, this is a beautiful blush and one that I've been using regularly since I got it, so much so that the embossed design is pretty much faded now. It gives the skin such a pretty glow. It's not too highlight-y nor is it too warm that it looks like bronzer. I haven't been switching up my blushes ever since I got this and that's really telling me something.
Benjabelle Brush Tree
Why did it take me so long to get this? Granted, it's simply a contraption to hang washed makeup brushes which one can easily DIY but nah, ain't got no time for that! No more brushes rolling off the basin or table, and they dry so quickly too. They're easily deconstructed too for easy keeping.
Charlotte Tilbury Airbrush Flawless Finish Skin Perfecting Micro-Powder
This is my setting powder of choice all of 2015. It's what I bring with me when I travel and what I use on a regular basis. It's not heavy that it makes my skin appear too matte; just enough to set the foundation on my T-zone and to prevent that area from looking too shiny. I'm not into overly matte finish anymore and this powder is perfect in giving me just the right amount.
Banila Co It Radiant CC Melting Foundation
This is a bit of a strange find because when I started using it, I wasn't that big of a fan. I mentioned in my review that I would use this on lazy days and guess what, I really did. Not just lazy days when I can't be arsed to use my fingers to apply foundation, but also during the hot summer days when I can't bear the thought of applying foundation on my face but still need that bit of coverage. This still gives me dry patches on bad skin days but it's no longer unbearable. Why then did this make my top 10 list? Compared to all of the foundations I've used – liquid, cream, compact – I'm actually almost hitting pan with it in just a couple of months. Hitting pan! Now that's a big deal indeed.
Cosmetic Skin Solutions Retinol 1.0 Creme
I started using retinol in my skincare in 2014 and even at 0.5% concentration of retinol, I could already see a difference in my skin. I decided to give 1% a go with Cosmetic Skin Solution's Retinol 1.0 and what a difference it has made on my skin. My fine lines are less pronounced, my skin is smoother and softer, and there's an overall luminosity on my skin. I'm so pleased at how much it improved my skin that it didn't even bother me that the packaging was wonky when I got it (the pump I got wouldn't work).
Paula's Choice Blush It On Contour Palette
In terms of value, Paula's Choice's Blush It On Palette is a winner in my book. The blushes are richly pigmented and the contour powders are not chalky nor dirty. It's no NARS of course but for good colour pay-off, quality and affordability (less than AU$10 per shade), I must say that this is a great palette.
Too Faced Born This Way Absolute Perfection Foundation
I got this foundation purely to see what the hype was all about and I ended up using this more than my favourite foundations. Heck, this shot up the list to my top 5 foundations! It's a matte foundation but it's not too matte. It's lightweight, easy to blend and makes my skin appear radiant, particularly after a few hours of wear. It's no wonder this foundation is so darn popular. I totally get it!
MonoDerma MonoDermoDose Serum Pods
This made the list because of its innovation and ease of use when travelling. The serums are no-nonsense and high quality and the pods make sure that the ingredients don't oxidise or lose their efficacy from exposure to air and light.
There you have it, my top 10 beauty finds for 2015. I can't wait to discover more beauty gems in 2016. Who knows what I'd fall in – or even out of – love with this year. Too many beauty products, not enough skin and hair to use them on! 😛
What's your #1 beauty find in 2015? What's that one thing that makes you go omg-I-wish-I-discovered-it-sooner?