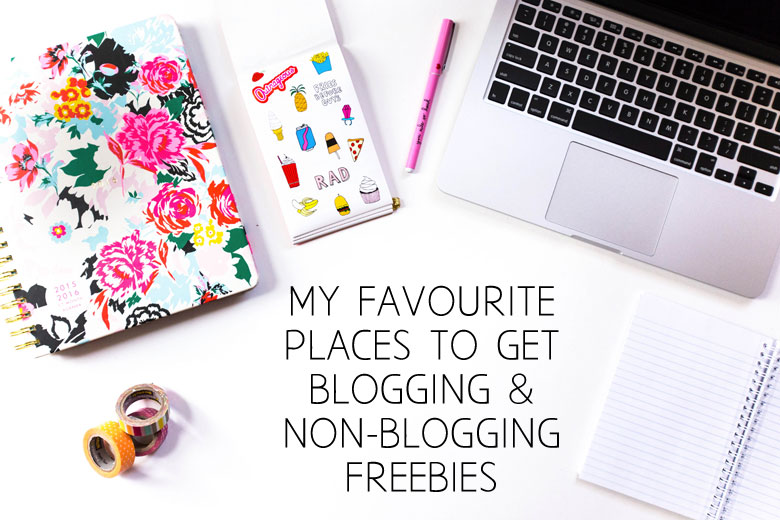 A show of hands … who loves freebies? Actually, I should be asking, who DOESN'T love a freebie? Haha yep, I thought so. Everyone loves a good freebie! 😛
I'm constantly on the search for beautiful designs for my web development work and for my blog. The problem is, most of the time, these designs aren't free. As much as I'd like to support artists and graphic designer's works, I don't have unlimited financial resources to buy them all. This means that I need to resort to free images and designs whenever possible.
Today I thought I'd share my two favourite places to get blogging and non-blogging freebies. If you're looking for free images, designs, blog themes, printables and much more, you don't have to look very far. These two websites are my go-to for all these and more.
The amount of freebies e.g. ebooks, printables, downloads, etc that you can find on Pinterest is astounding. I love how generous bloggers are in not only sharing their content for free but so many of them create freebies for anyone to download. If you're looking for any sort of planning-related printables, you don't even need to buy them; just search for "planner printables" on Pinterest and go crazy. If you're looking for blog-planning templates, instead of Googling for an answer, it's easier to find them on Pinterest instead. You can even find free blog themes, social media icons, email newsletter templates, etc offered by bloggers and web designers on Pinterest!
Oh I rue the day I discovered Creative Market. It's a beautiful black hole that sucks me in every single time. I've lost count of the amount of designs I've purchased on Creative Market. If you're not sure what Creative Market is, it's a website where you can buy photos, graphics, website themes, fonts, and much more. Forget boring and unrealistic stock images; the ones you can get from Creative Market are so much better. They also have the largest repository of beautiful fonts I've ever seen.
But wait, I said freebies, didn't I? Ahh … you see, if you sign up for their mailing list, each week they'll send you a newsletter with 6 new free designs to download. These will be designs that are usually for sale on Creative Market but for just a week, they're offered to subscribers for free for personal use (you will need to buy an extended license for commercial purposes). I've downloaded so many beautiful fonts, WordPress themes, mockup templates and much more for free over the months I've been a subscriber. I don't typically like to sign up for many mailing lists because they inundate my mail box but I'll happily do it for Creative Market and look forward to their weekly freebie emails. And no, I'm not sponsored by Creative Market to tell you how awesome they are!
It's important to note that while these freebies are offered to you for free, credit should be given where credit is due. If you're using a free blog theme that's offered by a web designer for free, please credit that designer in your blog. If you're using any of the free images that are available for download on your blog, please credit the creator of those images and include their link with the credit.
As for freebies offered by Creative Market, it's very important to read the descriptions of the free designs as they will tell you the condition of use for those designs. Most if not all of them will be for personal use only. If they're only going to be used on your blog and not for commercial purposes, you'll be fine.
Have fun searching and downloading. Ah I do love a good freebie, don't you? 🙂
Do you know of any other great resources for freebies? Do share them with us; we'd be so grateful!
PS: Speaking of freebies, the image I used for this blog post was offered by Allison from Wonderlass for free. If you haven't checked out her blog already, go check it out now because you will LOVE her. She has one of the most fun and informative blogs out there on blogging, photography and entrepreneurship.
Bloggie Wednesdays
is a series of articles just on blogging. They contain tips, how-tos, discussions about anything and everything you need to know about blogging and how we can be better bloggers. If you have any suggestions, tips and tricks about blogging you would like to share with us, or if you have any questions you would like me to address, please let us know in the comments.