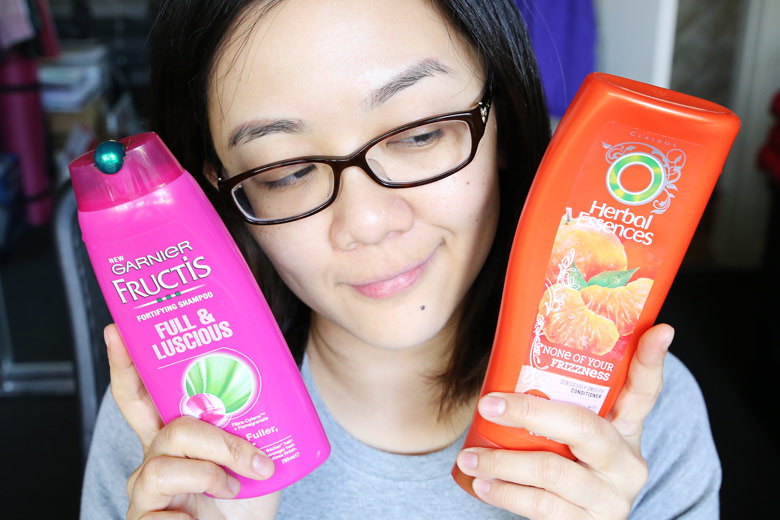 Shampoos and conditioners are always recommended to be used as a pair from the same brand and range. "For best results, use with brand X's matching shampoo/conditioner!" is what you'll always see at the back of every shampoo and conditioner. Of course, most of it is marketing talk; each beauty product should be able to be used on its own without needing to be paired with another product from the same brand for best results.
But you see, the thing is, as much as a part of my cynical brain tells me I don't need to use shampoos and conditioners from the same range and brand together, the other part of me says I have to. I don't know why but I have a thing for matchy-matchy shampoos and conditioners.
It's very rare that I buy a single shampoo or conditioner without getting the matching partner. For example, if I picked up a Pantene Aqua Light shampoo, I'd have to get the Aqua Light conditioner too. If you tell me that there's no need to use them together, I know. I KNOW! Somehow I seem to think that I'm breaking up a pair and I couldn't do it.
*cue eye rolling*
The irritating part of using a matchy-matchy pair of shampoo and conditioner is – and I bet most of you experience this too – one always gets used up quicker than the other. For some, the conditioners finish up first. For me, I'd use up an entire bottle of shampoo and still have about half of the remaining conditioner from the same brand and range left. If I restock on the shampoo, I'd use up the conditioner when I'm halfway through the shampoo. Oh the vicious cycle!
Call it a strange OCD part of me if you will, but when I'm done with the shampoo, I'm pretty much done with the conditioner as well. When I move on to another shampoo, I'd use the matching conditioner as well instead of finishing up the old conditioner that doesn't match the shampoo. And this, ladies and the few gents who read my blog, is why I have so many half-used conditioners in my beauty cupboard.
*facepalm*
So you see, I can tell you about not needing to use all of the beauty products from the same brand and range for "optimum results" but here I am, doing the same for my haircare. Mine has nothing to do with the so-called increased efficacy of the products used together; my brain just needs the damn things to match, that's all. Ahh the little eccentricities you learn about me, eh? 😛
But enough about me. What about you? Do you need your shampoo and conditioner to be matchy-matchy too? Or you really just can't be arsed and you'll use whatever is available?