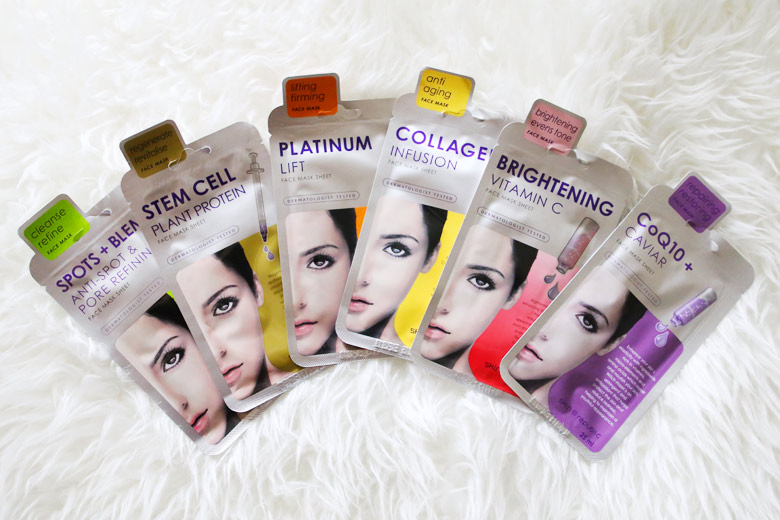 I've been on a bit of a facial sheet mask binge the past few weeks and my skin is absolutely loving it. There's nothing more relaxing and comfortable on a stinking hot evening than a nice cool facial sheet mask on your skin, I tell ya.
As you know, I love my favourite facial sheet masks (L'Herboflore, My Beauty Diary and SK-II) and I'm about to add one more brand into the mix, and that's Skin Republic. This is not to be confused with the Korean brand Nature Republic as Skin Republic is an Australian brand. Having said that, Skin Republic's facial sheet masks are made in Korea so you can be assured that they function and feel pretty much the same as most Korean facial sheet masks.
There are 12 products in Skin Republic's range of masks. There are 6 facial sheet masks, an under-eye mask, a neck and decolletage mask and 4 types of hand and foot sheet masks. Today I'll be talking about their facial sheet masks which are, in my opinion, pretty darn good.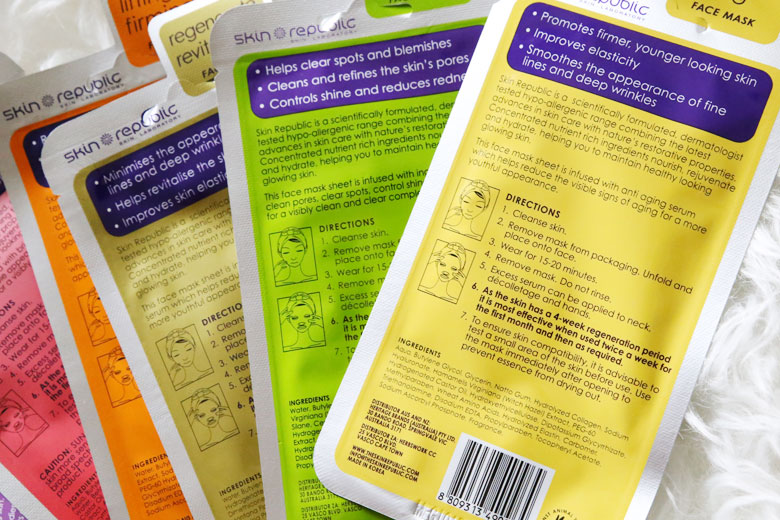 There's a CoQ10 + Caviar (erm, caviar? Really?) repairing and restoring face mask, a Stem Cell Plant Protein regenerate and revitalise face mask, a Brightening Vitamin C Brightening and Evening of Skin Tone face mask, a Collagen Infusion Anti Aging face mask, a Spots + Blemish Anti-Spot and Pore Refining face mask and last but not least, a Platinum Lift Lifting and Firming face mask. Phew that was a mouthful. Each mask has a different function which suits different skin types and needs.
Honestly speaking, with the exception of the Spots + Blemish mask, I couldn't tell the difference among the rest of the masks. They gave a great boost of hydration to my skin leaving it very boing boing the next morning. But if you asked me if there's any other type of physical changes to the skin from any sort of collagen infusion or lifting and firming, the jury is still out on that one. My skin does appear brighter after using any of these masks so it's not just from the Vitamin C mask.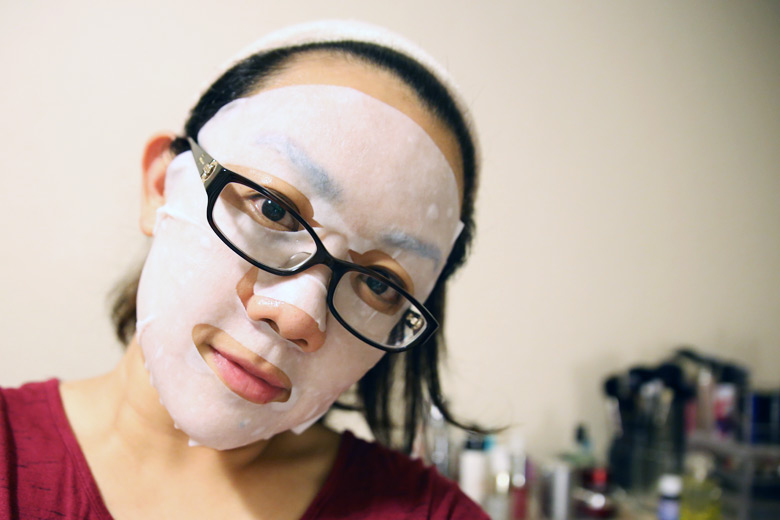 Each mask fits the shape of my face well without needing to tug and refit every few minutes. The paper mask is relatively thick compared to L'Herboflore's masks; in fact, they're almost as thick as My Beauty Diary's masks. Each mask comes heavily soaked in serum and once I've popped the mask on, there's plenty of serum left in the packet. Instead of letting those good juice go to waste, I apply them on my neck, decolletage and even arms and legs. Oh yeah, there's that much serum in each packet.
In short, I really like these masks and I'm glad they're so easily accessible compared to my other favourite facial sheet masks. If you're based in Australia and are looking for good facial sheet masks that don't cost a kidney, do check out the ones from Skin Repulic. I've tried all of these and none of them disappointed me at all.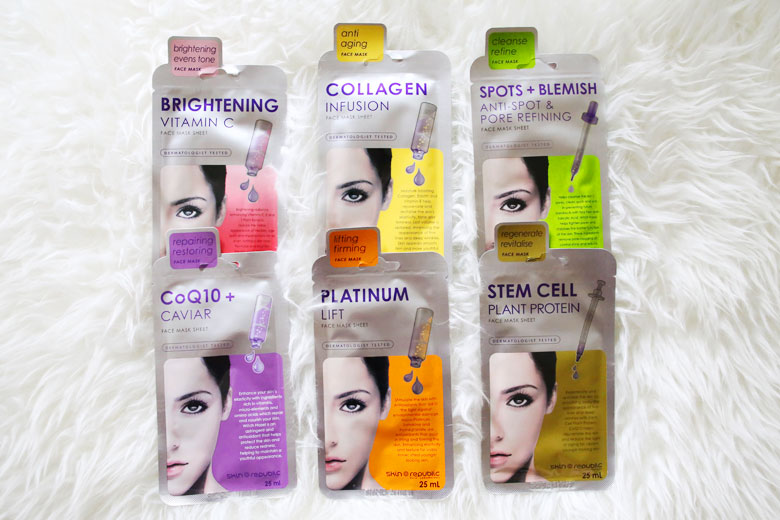 Skin Republic's masks retail at AU$7.99 each and are available at Coles supermarkets and Chemist Warehouse pharmacies nationwide. They're also available online on the Skin Republic website that has free shipping on orders over AU$50.
What I like about it: Fits my face well, very hydrating, doesn't make the skin feel sticky once removed, lots of leftover serum in each packet.
What I do not like about it: Nothing. Me likey these masks!
Have you tried any of these Skin Republic facial sheet masks? If you have, did you like them? Are you a fan of facial sheet masks too?